Scoop: The Manchin-Sinema climate collision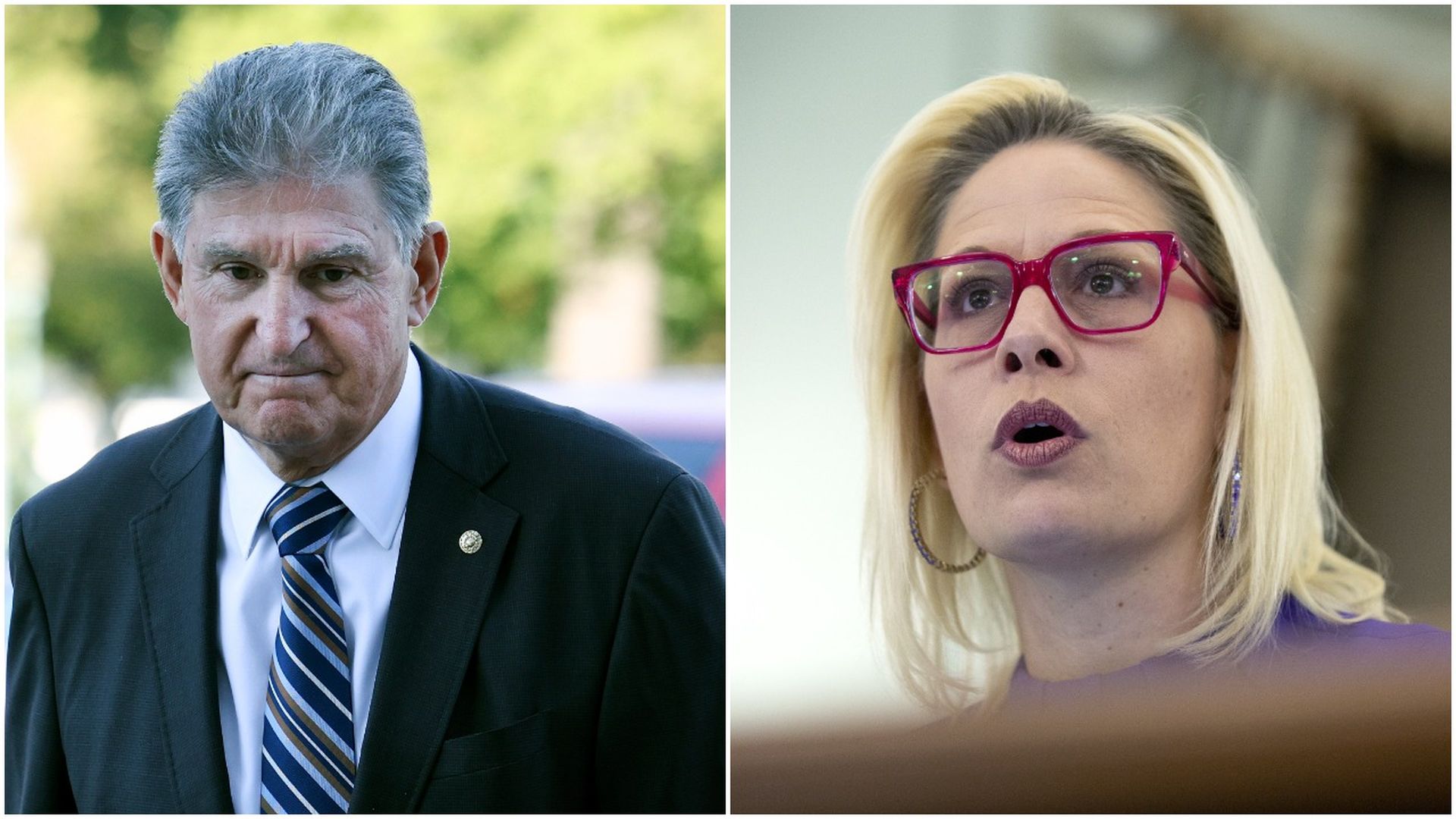 Sen. Joe Manchin (D-W.Va.) is rebuffing pleas from Western Democratic senators, who are citing extreme weather in their home states, to try to gain his support for core climate provisions in President Biden's $3.5 trillion reconciliation package.
Why it matters: Manchin's entrenched opposition puts him on a collision course with another key holdout on the spending bill, Sen. Kyrsten Sinema (D-Ariz.). She's indicated that addressing climate change is one of her top priorities in any compromise.
Addressing Manchin's concerns may create an equal number of problems for Sinema — or vice versa.
Manchin's reluctance to move on climate also has the potential to embolden progressive House Democrats to scuttle the companion $1.2 trillion bipartisan infrastructure bill.
Before voting for the traditional infrastructure bill, progressives are demanding assurances from Manchin and Sinema that they will agree to the $3.5 trillion for new social spending included in the budget reconciliation package.
Driving the news: In a closed-door meeting last Thursday, Manchin rejected entreaties from several senators. The meeting was attended by a dozen members from Western states — but not Sinema.
Along with Senate Majority Leader Chuck Schumer (D-N.Y.), they asked Manchin to reconsider his opposition to the Clean Electricity Payment Program.
It offers incentives to utilities to provide cleaner energy, according to senators and aides.
Some senators sought to project optimism afterward about moving Manchin.
"We've had record hurricanes in the Southeast, flooding in the Northeast, wildfires throughout the West. It's undeniable," Sen. Alex Padilla (D-Calif.) told Axios. "I feel confident we're going to make significant strides when this is all said and done. And that includes Sen. Manchin."
Sen. Ron Wyden (D-Ore.), chairman of the Senate Finance Committee, who also attended the meeting, said: "He had constructive ideas in a number of areas and we're continuing the discussion."
The big picture: The White House continues to press Manchin and Sinema to signal their support for some kind of compromise on the "soft" infrastructure package, or at least provide a top-line number to demonstrate they are serious about a package.
The fate of both bills is hanging in the balance.
"We're obviously at a precarious and important time in these discussions," White House press secretary Jen Psaki said Wednesday.
Between the lines: The former governor of a coal-mining state, Manchin opposes efforts in the House and Senate to force utilities to rely more on clean energy sources.
He cites concerns about power reliability and potential job losses in West Virginia's coal industry.
He's also convinced a transition to cleaner power is already underway.
"They're wanting to pay companies to do what they're already doing," Manchin said on CNN on Sept. 12.
The other side: Sinema clearly wants action on climate and is signaling both publicly and privately it's one of her top priorities.
"Right now, we have the opportunity to pass smart policies to address" climate change, she told the Arizona Republic last week.
Between the lines: Some Democrats think Manchin can be convinced to change his position with special provisions for West Virginia, which has experienced disastrous flooding this year — without sacrificing the broader framework to reduce carbon emissions.
"Sen. Manchin may be interested in matters that are beneficial to his state," Wyden said. "And that's what I have to do as chairman of the committee."
"I can tell you the transition is going to happen, and people in West Virginia realize that," Manchin said during a committee hearing Tuesday. "Just don't leave us behind."
Go deeper