Democrats' moment of truth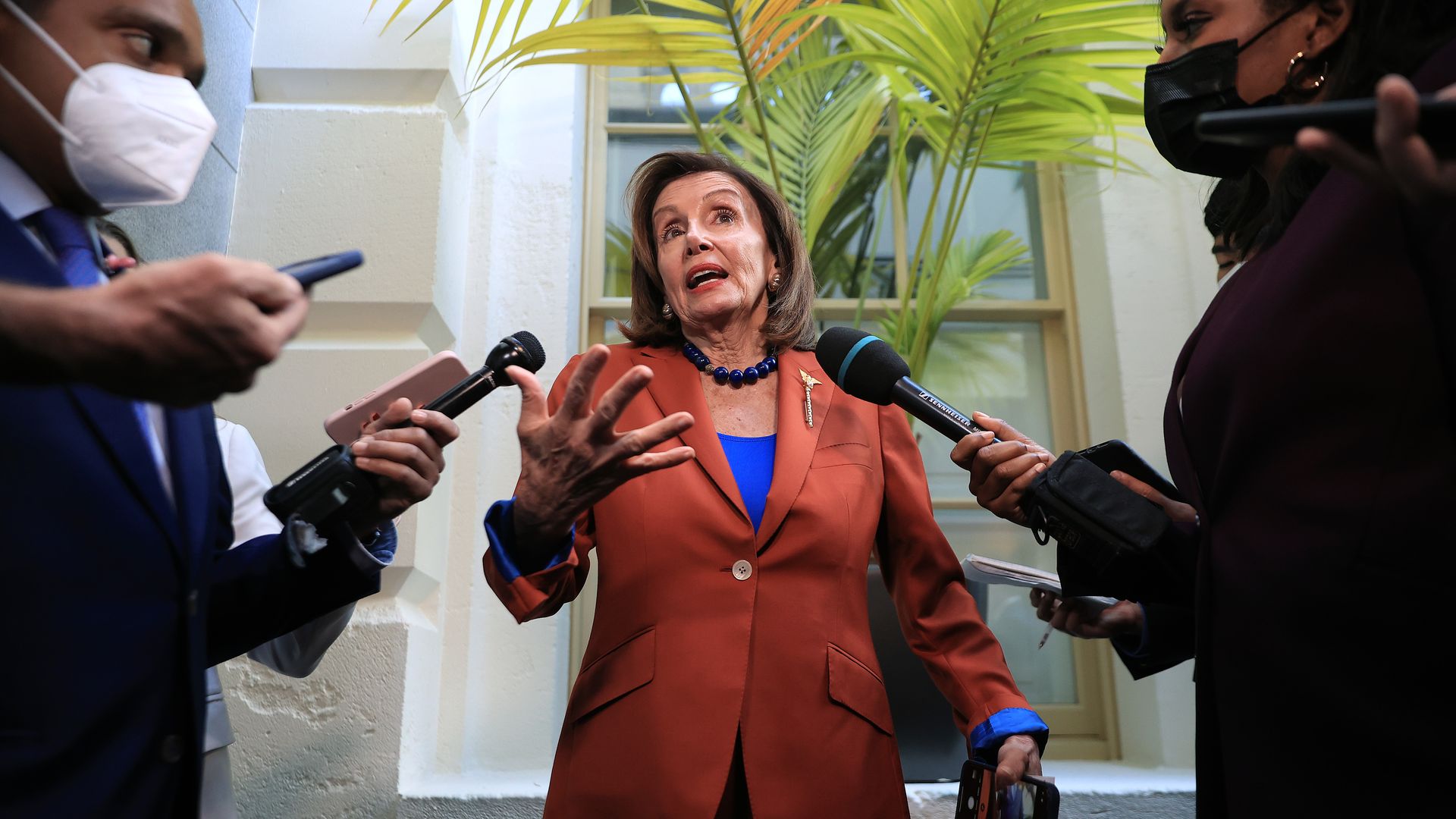 The "put-up or shut-up" moment has arrived for House Democrats.
Why it matters: What happens in the next 24 hours will be a crucial indicator of how long it will take, and how difficult it will be, to fulfill President Biden's agenda.
House Speaker Nancy Pelosi (D-Calif.) promised a vote on the $1.2 trillion bipartisan infrastructure bill on Thursday. House progressives and Senate Democrats remain split on supporting the companion $3.5 trillion budget reconciliation first. Massive spending legislation depends on who blinks.
The impact is less about deadlines — they've been set arbitrarily — and more about the power struggle within the Democratic Party.
The resolution could determine the outcome of next year's midterm elections. The party's divisiveness could ultimately be its demise.
The White House said in a statement Wednesday night: "The engagement that [the president], his Cabinet and senior staff have been pursuing with members of Congress for months will continue going into [Thursday]."
Driving the news: Pelosi already delayed the vote on the Senate-passed, "hard" infrastructure measure once this week, conceding it did not have the votes to pass.
She flexed her leadership muscles during a closed-door meeting with her caucus on Monday, during which she made clear the party should not allow negotiations on Biden's broader reconciliation package to hold the bipartisan bill hostage.
Three days later, she faces the prospect of delaying that vote once again — or risking its failure.
Pelosi has said flat-out she will not bring a bill to the floor unless it will pass.
The latest: As late as Wednesday evening, progressives were still demanding that, at a minimum, the House, Senate and White House strike a specific agreement on the reconciliation package before voting on the infrastructure bill.
They also want an agreed-upon price tag. Neither is going to happen.
Sen. Joe Manchin (D-W.Va.) said Wednesday afternoon it's "not possible" for the Senate — meaning him and Sen. Kyrsten Sinema (D-Ariz.) — to cut a deal on reconciliation before the scheduled House vote.
Rep. Pramila Jayapal (D-Wash.), chairwoman of the Congressional Progressive Caucus, also told reporters her members would defeat the bipartisan bill if it comes to the floor without such an agreement.
"We can always bring it up for a vote again," she declared.
Meanwhile, Democratic centrists say their patience is wearing thin after Pelosi delayed their promised vote this past Monday.
"If the vote were to fail [Thursday] or be delayed, there would be a significant breach of trust that would slow the momentum in moving forward in delivering the Biden agenda," said Rep. Stephanie Murphy (D-Fla.).
What's next: The House is scheduled to adjourn at the end of this week for a two-week recess.
That would further delay debate on the president's signature agenda items.
There's also a chance leadership keeps members in town longer to continue hashing out a deal on reconciliation, as well as addressing the debt limit.
Go deeper