Left: Senate's threat "insane"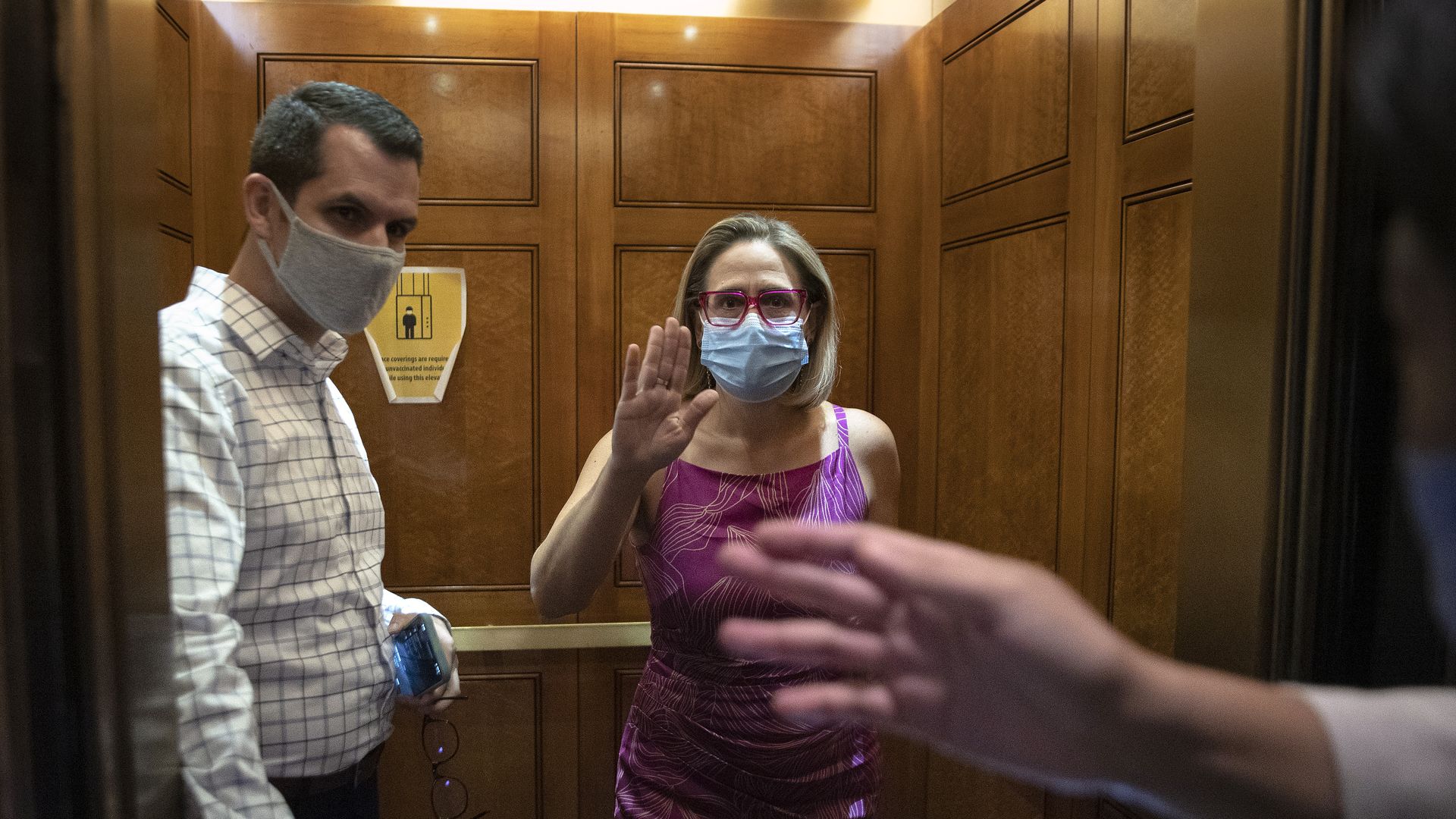 Rep. Ro Khanna (D-Calif.) lambasted Sen. Kyrsten Sinema (D-Ariz.) on Tuesday, saying "it's insane" that "one senator" is blocking attempts to settle on a palatable figure for President Biden's proposed $3.5 trillion budget reconciliation package.
Why it matters: The figure is the linchpin to getting progressive support for the companion $1.2 trillion bipartisan infrastructure package. Khanna's statement reflects broader dissatisfaction among House progressives with Sinema and her fellow holdout, Sen. Joe Manchin (D-W.Va.).
What we're hearing: Khanna and fellow progressive Reps. Veronica Escobar (D-Texas) and Jamie Raskin (D-Md.) suggested to Axios that Sinema is the bigger threat to a final deal — decrying what they argue is a lack of transparency and candidness.
Khanna vented semi-publicly to participants on Yale's semiannual conference call with its CEO Caucus. He branded Sinema's evasiveness as "insane" and an inordinate amount of power for "one senator," two participants told Axios' Jonathan Swan.
Khanna reiterated his opinion later during an interview with Axios, saying progressives "absolutely" need to worry about Sinema more than Manchin.
"Manchin has always been reasonable," he said. "At the end of the day, he'll do what's needed for the party, he always has."
The other side: "Sen. Sinema is negotiating in good faith directly with President Biden and Sen. Schumer, not through the press," Sinema's spokesperson, John LaBombard, told Axios.
Manchin's office declined to comment.
Driving the news: The president met twice with Sinema and once with Manchin on Tuesday at the White House, as Democratic lawmakers seek to settle on a final, lower number for what began as a $3.5 trillion spending bill. Sinema returned to the White House a third time Tuesday night.
Biden also canceled a planned trip to Chicago on Wednesday so he can continue to lobby in Washington.
The meetings came as House Speaker Nancy Pelosi (D-Calif.) is trying to cobble together a deal this week between key progressives and moderates.
Neither camp wants to commit unless Senate Democrats, who already passed the $1.2 trillion bill, also pass the larger Democratic spending bill.
The question is whether progressives will yield if Senate Democrats give a firm outline of any deal they'll accept for the bigger bill — which they hope to pass on a purely party-line vote sometime this fall.
What they're saying: "What is really challenging for many of us is the mystery and the lack of transparency that prevents progress," Escobar told Axios. "The biggest mystery for me is around Sen. Sinema. We pretty much learn things through little snippets in the media."
Raskin said: "People are very understanding of Sen. Manchin's situation, because Donald Trump won his state by more than 30 points, and people appreciate the fact that he is, you know, a Democrat in a tough environment."
Sinema, however, "has always been an independent-minded politician," the congressman added.
Others, like Rep. Pramila Jayapal (D-Wash.), chairwoman of the Congressional Progressive Caucus, insisted both senators are equally problematic.
"If they don't tell us what they want to do, which was the president's message, and if they don't actually negotiate on the entire bill, then we're not going to get to close," she told Axios.
Why it matters: Sinema's resistance to corporate tax increases, and her unwillingness to name a price tag, has won her fans within the business community.
Democrats hope CEOs who support massive federal investments for roads, broadband, family leave or college subsidies can help persuade her to vote with her party on a version of the $3.5 trillion package.
Manchin, once seen as the biggest hurdle, has ruled out a $3.5 trillion price tag but signaled he could support a lower number.
What's next: All eyes are on Thursday's planned vote in the House on the $1.2 trillion package that already passed the Senate with bipartisan support.
While a series of progressives continue to insist they need a vote on the bigger reconciliation bill first, others, like Khanna, think a specific verbal commitment will suffice.
"I think if the White House and the Speaker get behind a detailed agreement that has most of our priorities, that we know won't be amended, I think that is a reasonable place to get people on board," Khanna said.
He added that he thinks such an agreement is doable by Thursday's deadline.
Go deeper