News veterans lead new global fund for public interest media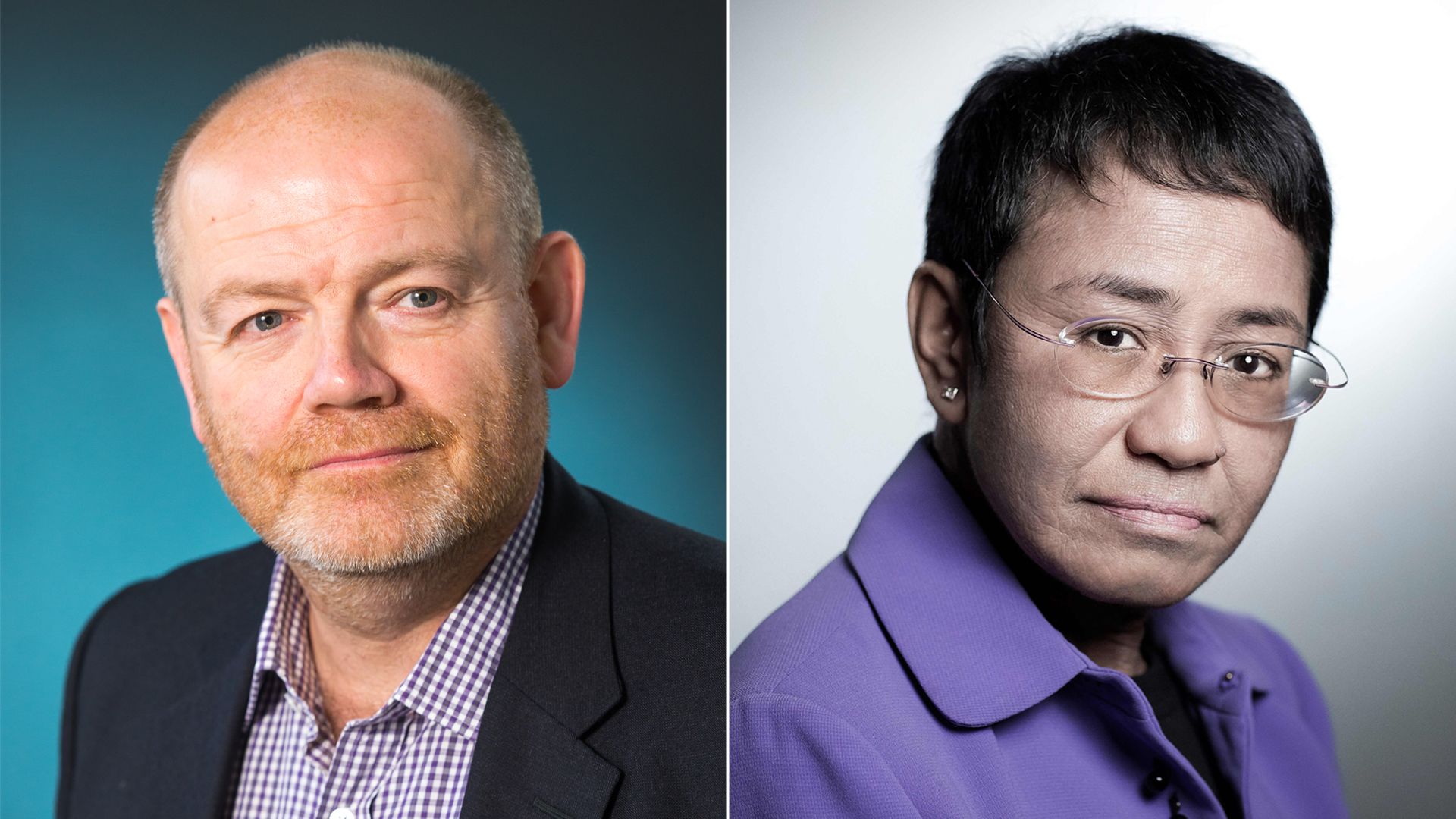 Former New York Times CEO and BBC director-general Mark Thompson is teaming up with Filipino journalist and press freedom advocate Maria Ressa to spearhead a global initiative to support independent media outlets and journalists globally.
Why it matters: Around the world, authoritarians are taking more aggressive actions to undermine the free press, especially in light of COVID-19.
Thompson played an active role in combatting verbal attacks against the press from former President Trump during his tenure as CEO of The Times.
Ressa has faced cyber-libel lawsuits in the Philippines for her work and has been arrested multiple times. Ressa, who was named Time's "Person of the Year" in 2018, and press freedom advocates argue that the arrests and lawsuits are happening as a result of Rappler's critical reporting of the Filipino government.
Details: Thompson and Ressa will co-chair the board of the new initiative, called International Fund for Public Interest Media, beginning Oct. 1.
The fund will be managed by executive director Sheetal Vyas, a former international development strategist. A statement from the group noted that Vyas says the fund is looking to raise an initial sum of $100 million "to begin its support to media outlets in low- and middle-income countries from 2022."
The initiative is currently gathering startup funding. Its founding partners include Luminate, a philanthropic organization founded by Pierre and Pam Omidyar, and BBC Media Action.
Additional operational funding has come from Craig Newmark Philanthropies, John D. and Catherine T. MacArthur Foundation and the National Endowment for Democracy, the statement notes.
The goal of the fund is to work with various stakeholders, including governments, corporations, Big Tech firms, development agencies and philanthropists to bolster independent journalism and press freedoms.
The fund will award grants from the money raised to "media in low- and middle-income countries at the regional level," under the guidance of an independent board.
What they're saying: "Fearless reliable journalism from independent media [organizations] is one of the essential pillars of democracy," said Thompson.
"If you can make people believe your lies, then you can control them," Ressa said. "That's what authoritarians are doing and that's why it's so critical we have vibrant independent media in every country, to uncover truth and hold power to account."
Ressa founded the Filipino news site Rappler in 2012. She has since become a strong advocate for press freedoms.
Go deeper: Press freedoms crumble as authoritarianism spreads
Go deeper