The health care knives are out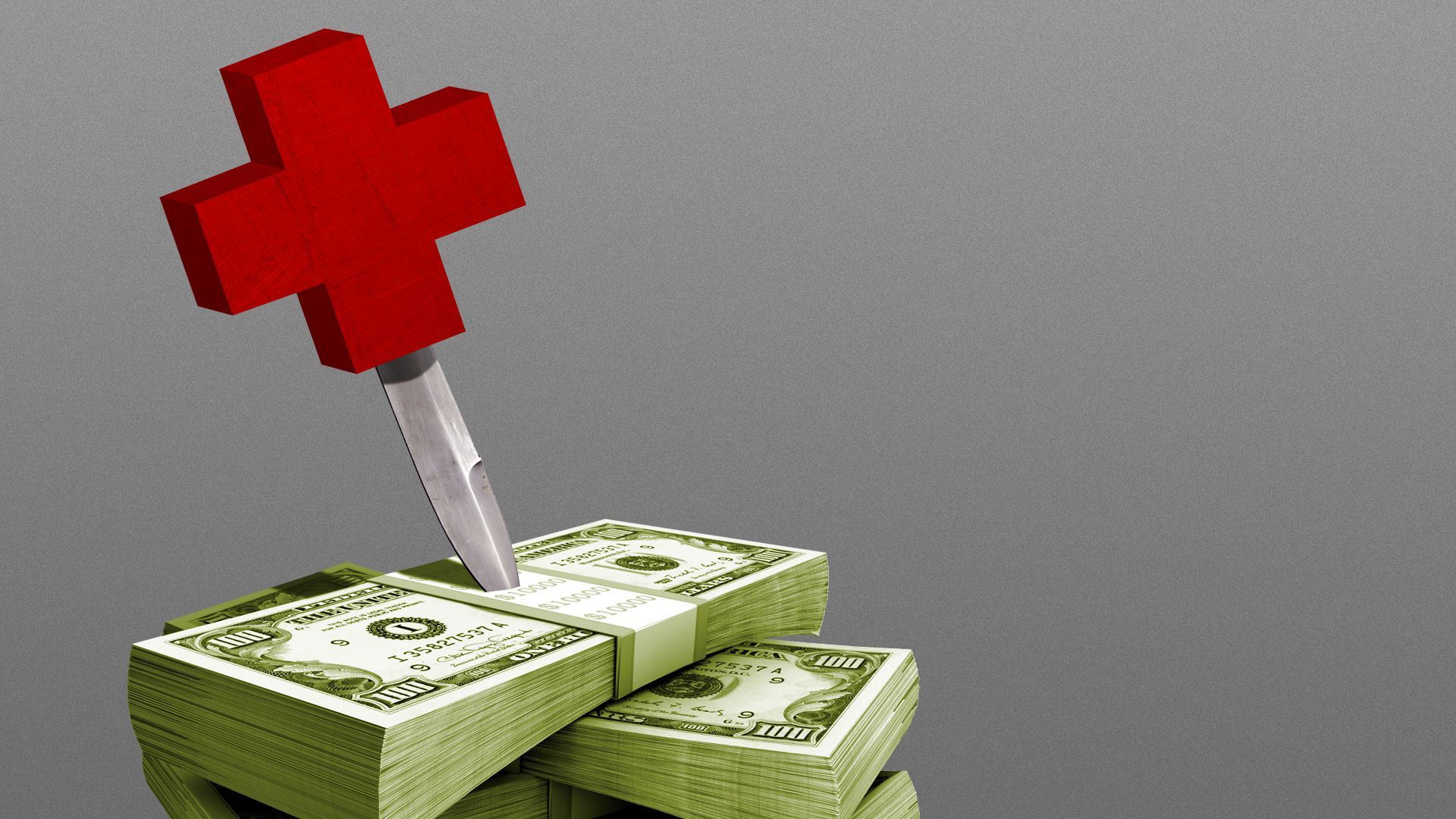 As Democrats grapple with if and how to trim the health care components of their reconciliation bill, they have two options: to slash the value or longevity of the benefits they've proposed, or force other industries to pay up.
Why it matters: Democrats' original plan involved picking a fight exclusively with the pharmaceutical industry. But the more ground pharma gains, the more incentive Democrats will have to attract the ire of other powerful industry groups— or to forego major policy priorities.
The big picture: Democrats are still hashing out the overall price tag of their massive social spending bill.
The health care portion includes its own major revenue source — the federal savings that would be achieved by allowing Medicare to negotiate prescription drug prices would help pay for the bill's coverage expansions.
However, several moderate Democrats have taken issue with the scope of the House's approach to Medicare negotiations, meaning the savings it achieves will likely decrease.
And some moderates have taken issue with spending $3.5 trillion, regardless of how much of it is offset.
If these numbers shrink, so may the amount of money available for expanding Medicare benefits, closing the Medicaid expansion gap, extending beefed-up Affordable Care Act premium subsidies and expanding home- and community-based care.
Between the lines: If they have to ultimately cut new health care spending, Democrats will be in a tough spot.
One simple way to reduce the price tag of some of their proposals is to delay their start date or to have them expire after a certain amount of time. But there's no guarantee that Congress would extend them later on, particularly if Republicans take control.
And delaying their start date means the party wouldn't benefit politically from them in 2022.
If Democrats need to raise more revenue — versus reduce new spending — another option is to cut spending to other health industry groups, like hospitals or insurers. But this would risk mobilizing these industries against the bill.
A third option would be to make the proposed benefits less generous or to increase the patients' share of their cost. For example, seniors could be required to pay a premium on Medicare's expanded benefits.
The American Dental Association is pushing for the proposed dental benefit to be limited to only the poorest Medicare enrollees, arguing that Medicare won't reimburse dentists enough, WSJ reports.
But beyond the Medicare benefit expansion, "there aren't great options to pare back the other big coverage policies in the mix ... without reducing their effectiveness," said Brookings Institution economic studies fellow Matt Fiedler.
Zoom in: One particularly effective way to lower the cost of the Medicare benefits, Fiedler has pointed out, is to exclude Medicare spending on the new hearing, dental and vision benefits from the benchmark used to determine Medicare Advantage payment rates.
That could reduce the cost of the measure by around 40%, because the federal government wouldn't be bumping up its payments to private insurers by as much.
But insurers have made clear that they hate this idea. A recent industry-funded analysis found that the above idea could cause seniors with Medicare Advantage to lose some of their supplemental benefits.
"Asking 27 million Americans to pay for new dental, vision, and hearing benefits in lieu of services they affirmatively chose and have come to rely on is unnecessary and unfair," said Matt Eyles, CEO of America's Health Insurance Plans.
Go deeper