Updated Oct 1, 2021 -

World
Taliban: Twitter account claiming to be university chancellor was fake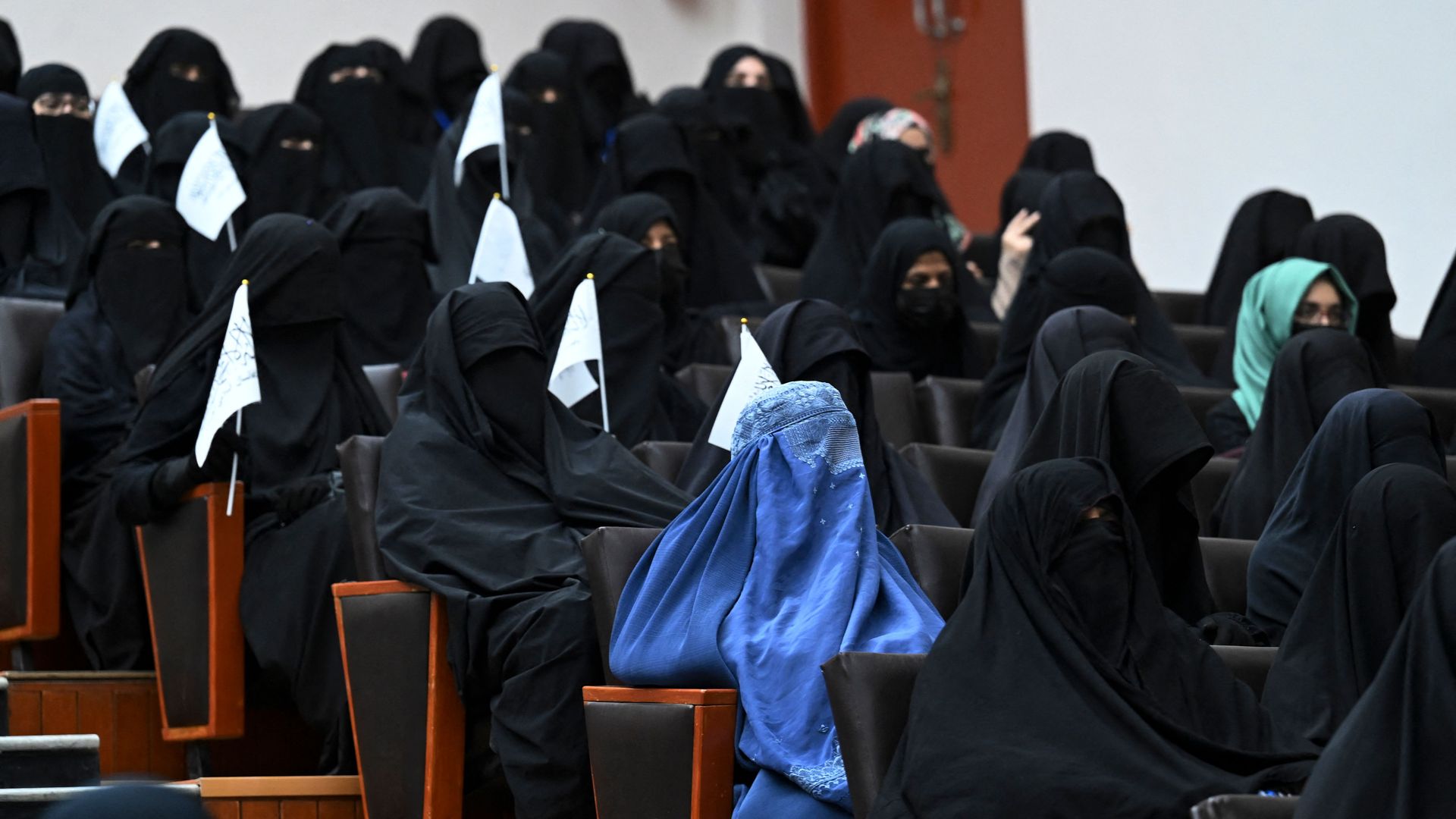 Editor's note: A previous version of this story was based on statements from a Twitter account claiming to be chancellor Mohammad Ashraf Ghairat. The headline and the bulk of the story have been corrected and updated after the Taliban told Axios that the account was not from Ghairat.
The Taliban told Axios Friday that a Twitter account claiming to be Kabul University's newly appointed chancellor Mohammad Ashraf Ghairat is "fake" following outrage over tweets from the account that said women will be barred from the university for work and study.
What they're saying: "[T]he account [belonging] to the university chancellor, it is [a] fake account," Taliban spokesperson Suhail Shaheen told Axios via WhatsApp. "Women have right of access to education and work while observing hijab. Work is underway to formulate a mechanism in this regard."
Catch up quick: On Monday, a Twitter account claiming to be Ghairat warned that women would be barred from working or studying at universities as "long as a real Islamic environment is not provided for all."
Several mainstream media outlets, including Axios, attributed those comments to the chancellor. 
Kabul University on Tuesday wrote on its verified Facebook page the account was fake and that Ghairat "does not have virtual pages in his name." The accounts claiming to be the chancellor were "disseminating fake news, misinformation and rumors in order to confuse and mislead the public opinion and academic community," the school added.
On Wednesday, the Twitter account posted new tweets, saying the user was a 20-year-old law and political science student who was "pretending to be the new chancellor" to "awaken Afghans, and the world to put pressure on Taliban to open the schools and universities" and "rise against brutal and inhuman policies of Taliban." Axios was unable to verify the authenticity of the account.
By Friday, the Twitter account no longer existed.
Kabul University did not respond to Axios' request for comment.
The big picture: Women and girls in Afghanistan have expressed fear they could lose hard-won rights to education, employment and other freedoms, and see a return to the oppressive rule they experienced when the Taliban were last in power in the 1990s.
Taliban officials said earlier this month that female students can continue with their university studies, but classes must be segregated and head coverings are mandatory.
Many public universities have remained closed, however, per Afghanistan's TOLO news. Officials said this week they will reopen after recruitment and new hiring is completed, TOLO reported.
Go deeper