Top Pentagon officials grilled on Afghanistan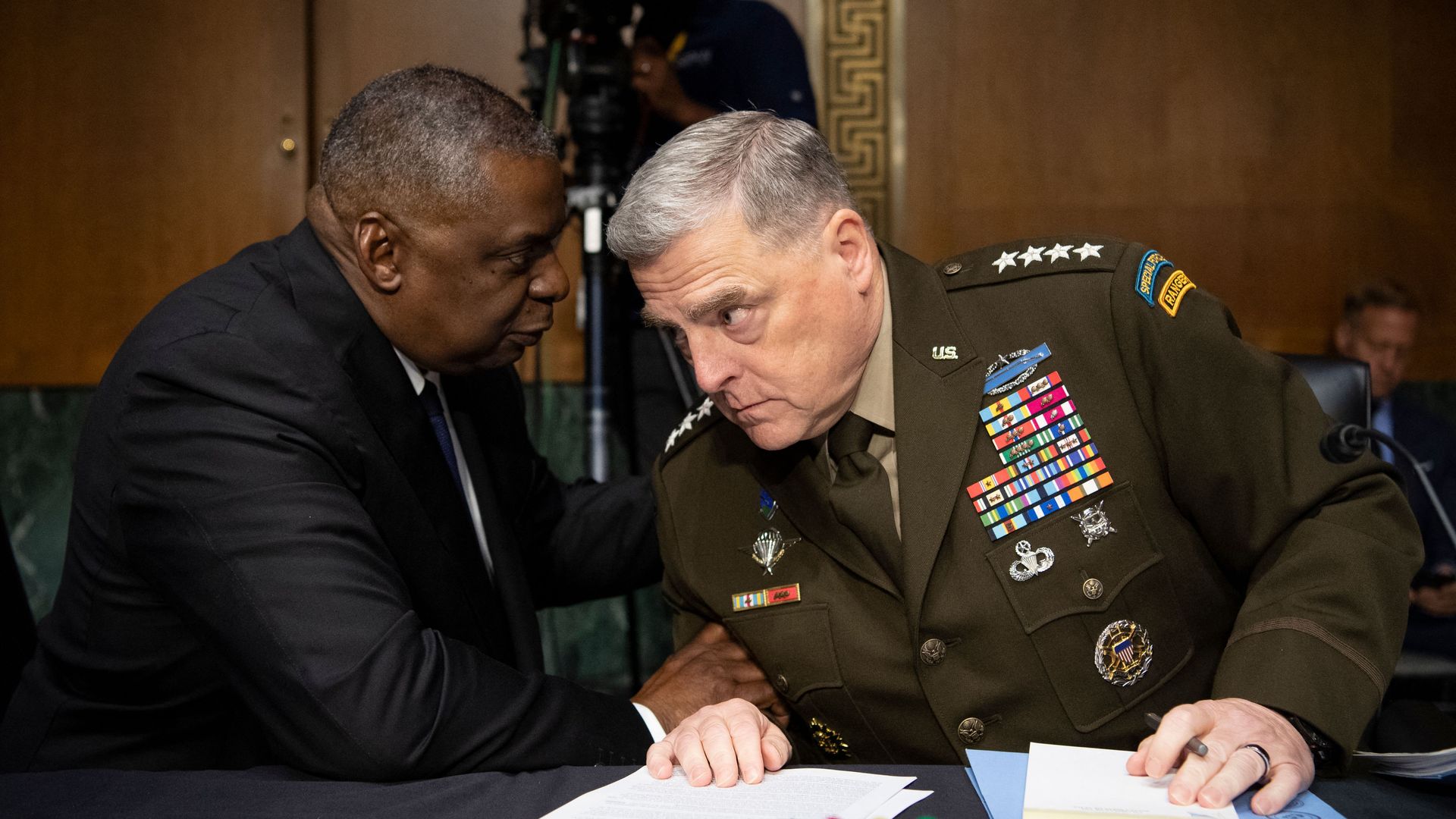 Top military leaders confirmed in a Senate hearing Tuesday they recommended earlier this year that the U.S. keep 2,500 troops in Afghanistan, and that they believed withdrawing those forces would lead to the collapse of the Afghan military.
Why it matters: Biden denied last month that his top military advisers wanted troops to remain in Afghanistan, telling ABC's George Stephanopoulos: "No one said that to me that I can recall."
Driving the news: Defense Secretary Lloyd Austin, Joint Chiefs of Staff Chairman Mark Milley and the head of U.S. Central Command, Gen. Frank McKenzie, are testifying before Congress for the first time since the withdrawal.
Milley and McKenzie declined to discuss specific conversations with Biden but told senators it was their "personal opinion" that the U.S. keep 2,500 troops in Afghanistan.
Milley stressed in his testimony: "I am required and the military commanders are required to give our best military advice, but the decision-makers are not required to follow that advice."
The latest: "The war on terror is not over, and the war in Afghanistan is not over," McKenzie told senators — again contradicting assertions by Biden.
Highlights:
On the chaotic evacuation: Austin said in his opening statement that military leaders began planning for a non-combatant evacuation of Kabul as early as the spring, and that this is the only reason U.S. troops were able to start the operation so quickly when the Taliban captured the city. "Was it perfect? Of course not," Austin acknowledged.
On abandoning Bagram Air Base: Austin told senators that keeping Bagram, the center of U.S. operations in Afghanistan for two decades, would have required an additional 5,000 troops and provided little value for evacuation efforts. "Staying at Bagram — even for counterterrorism purposes — meant staying at war in Afghanistan, something that the president made clear he would not do," Austin said.
On the collapse of the Afghan security forces: "We helped build a state, but we could not forge a nation," Austin said. "The fact that the Afghan army we and our partners trained simply melted away, in many cases without firing a shot, took us all by surprise. It would be dishonest to claim otherwise."
On recommendations for the withdrawal: Milley said in an opening statement that his analysis in the fall of 2020 was that a rapid U.S. withdrawal without the Taliban meeting specific conditions could result in the collapse of the Afghan government and damage U.S. credibility. "That was a year ago. My assessment remained consistent throughout," Milley said.
On Russian bases in Central Asia: Austin denied that the U.S. has asked Vladimir Putin for permission to use Russian military bases to launch counterterrorism operations against targets in Afghanistan but confirmed that Milley was seeking "clarification" on an offer from Putin concerning this issue.
On U.S. credibility: "I think that our credibility with allies and partners around the world and with adversaries is being intensely reviewed by them to see which way this is going to go. And I think that 'damage' is one word that could be used, yes," Milley told senators.
On "over the horizon" counterterrorism: McKenzie said the U.S. does have the limited ability to monitor terrorist threats from outside Afghanistan, telling senators: "We're still refining the best practices on that, but we do have a way forward." He said that details on the strategy are best left to a classified setting.
On the Trump-Taliban peace deal: McKenzie told senators that "the primary accelerant to lowering morale and general efficiency of the Afghan military" was the Doha peace agreement, which the Afghans believed was "forced on them."
Why it matters: The Pentagon's top leaders have come under intense scrutiny over the series of disasters that followed the U.S. exit, including the Taliban's seizure of Kabul, the ISIS-K terrorist attack that killed 13 U.S. service members and scores of Afghans in August, and a retaliatory U.S. drone strike that killed 10 civilians.
Austin, Milley and McKenzie are testifying before the Senate Armed Services Committee on Tuesday and the House Armed Services Committee on Wednesday.
The hearings, which come after Secretary of State Antony Blinken became the first senior Biden official to testify on Afghanistan earlier this month, are only the beginning — bipartisan congressional leaders have vowed to conduct thorough investigations into the failures of the 20-year war.
Go deeper: Milley separately addressed new revelations that he reassured his Chinese counterparts in the last months of the Trump presidency that Trump would not launch a surprise attack against China.
Go deeper