House coalescing around infrastructure deal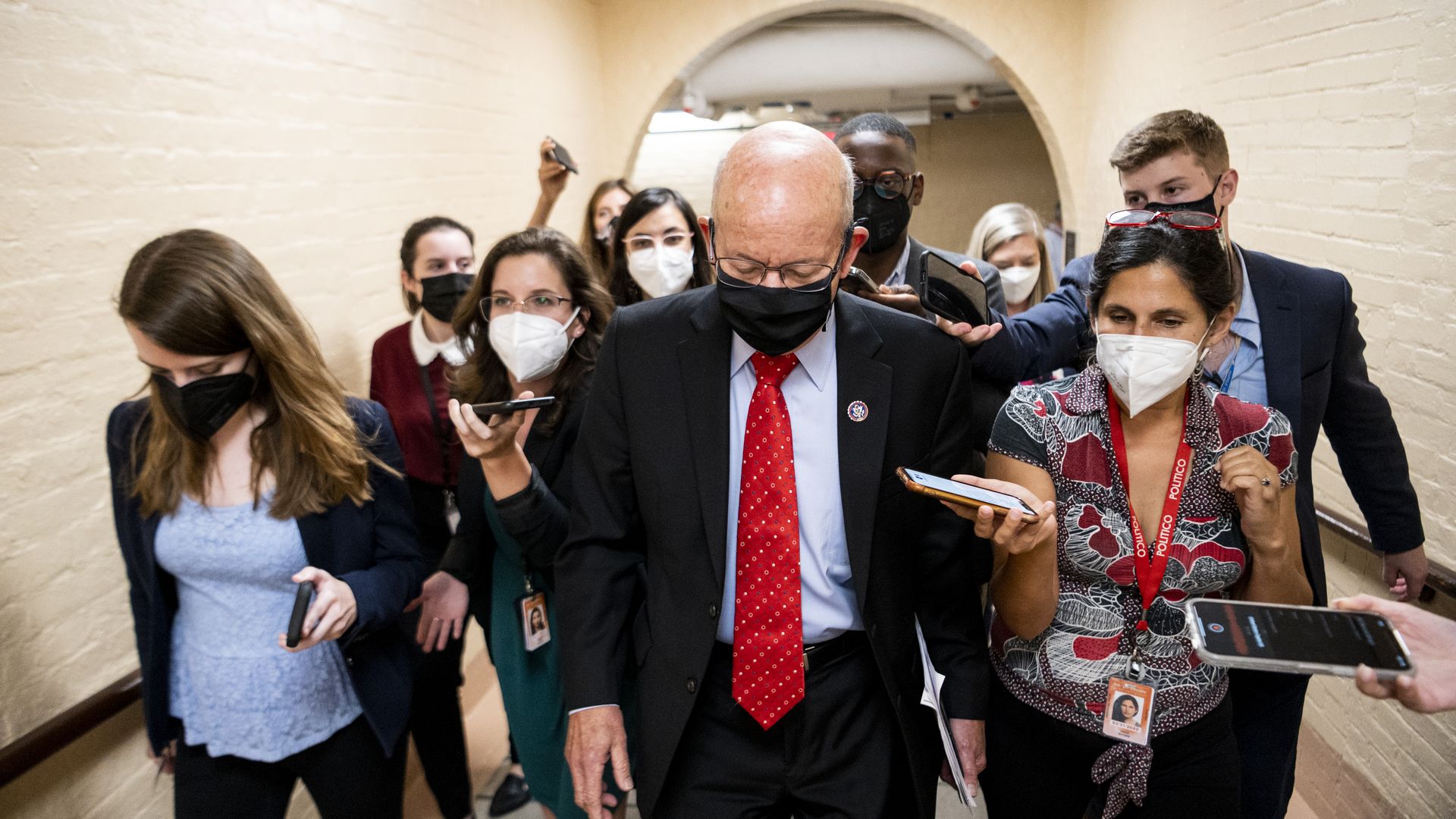 House Democrats started Monday to coalesce around a deal to pass President Biden's signature Build Back Better infrastructure package, with progressive opposition weakening and House Speaker Nancy Pelosi (D-Calif.) seeming to de-link the biggest components of it.
What they're saying: "We can't be ready to say, 'Until the Senate passes the [$3.5 trillion reconciliation] bill, we can't do BIF,'" the speaker told House Democrats, using shorthand for the Bipartisan Infrastructure Framework. She indicated the House would vote on the $1.2 trillion bipartisan bill — focused on roads and bridges — on Thursday.
Why it matters: The movement would be huge. If enough progressives cave, it would open a path to immediate spending on roads and bridges with a promise of future work on climate change and other progressive priorities built into the $3.5 trillion package.
The House Democratic caucus met Monday night after Pelosi and Senate Majority Leader Chuck Schumer (D-N.Y.) spoke with President Biden over the phone.
Pelosi's overarching message to members was they need to project unity and purpose, not divisiveness, several members told Axios.
Several members, mostly moderates facing competitive re-election fights, stood up and spoke. Many emphasized the need for the caucus — read: progressives — to accept the political reality of the Senate.
"The Senate's not going to go along with $3.5 trillion," Rep. Steve Cohen (D-Tenn.) told reporters after the meeting. "We don't need to sacrifice our transportation infrastructure bill on something that the Senate may never come to an agreement on."
"I've been a legislator for 44 years, longer than many [progressives] have been on the Earth. Nobody's been more progressive than me. And I know politics. But you've got a Senate, there's certain realities," Cohen added. "If we can pass the infrastructure bill, we need to do it."
House centrists, who bit their tongues after Pelosi delayed a planned vote on the bipartisan bill from Monday until Thursday, said they're hopeful enough progress will be made on the broader reconciliation package to garner the votes they need.
Rep. Josh Gottheimer (D-N.J.) told Axios he and other centrist Democrats are "totally good" with debating the bill this week and voting on it Thursday, as long as it isn't delayed further.
The big question now is whether enough progressives are still committed to sinking the $1.2 trillion package without a formal vote on the $3.5 trillion package.
"What is the commitment, other than a vote?" said Rep. Pramila Jayapal (D-Wash.), chairwoman of the Congressional Progressive Caucus, told reporters. "I don't know what that would be; that's why I keep saying 'a vote.'"
Rep. Ilhan Omar (D-Minn.), the caucus' whip, said she believes progressives still have the votes needed to vote down the bill if they don't get what they're looking for.
"The bills are linked. And they have to be linked in order for anything to pass the House," Omar told reporters.
Go deeper