Scoop: Labor-management hostility erupts in Gannett newsrooms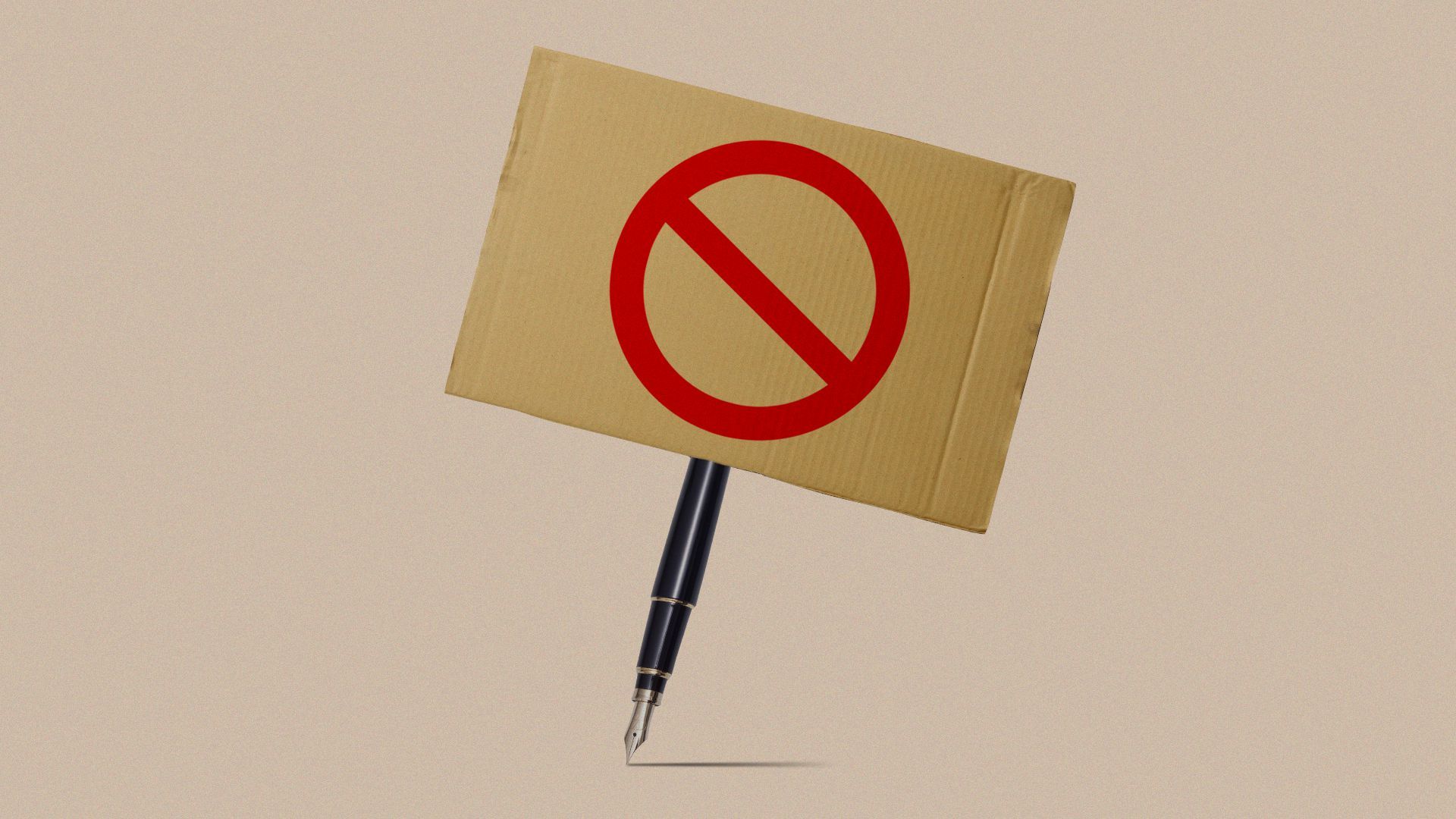 The NewsGuild of New York has filed unfair labor practice charges against Gannett, the largest local media company in the country, according to documents reviewed by Axios.
Why it matters: Conversations with journalists across several Gannett newsrooms reveal attempts by Gannett management to undermine union efforts via alleged threats to pay increases, 401(k) matches and diversity initiatives.
"I felt like I've been gaslit," said Susanne Cervenka, a longtime reporter with the Asbury Park Press.
"It's heartbreaking," says Geoffrey Wilson, a reporter at the Poughkeepsie Journal. "It's very clear that Gannett's priorities are not with its smaller papers."
The big picture: The pandemic sparked a union frenzy amongst local Gannett papers.
Three New Jersey outlets — the Bergen Record, the Daily Record and the NJ Herald — voted to form a union in February.
Since February, around a dozen Gannett newsrooms have voted to unionize or have announced intentions to do so. There are currently over 40 Gannett newsrooms unionized with the NewsGuild.
Driving the news: Earlier this month, the NewsGuild of New York, which represents roughly a dozen Gannett newsrooms across four groups in New York and New Jersey, filed Unfair Labor Practice charges against Gannett's management.
The charges allege that Gannett interfered with the federally-protected right of workers to organize and form a union.
Details: Journalists across the country cite the same types of anti-union posturing from managers around thorny issues like pay, benefits and diversity, equity and inclusion efforts.
Danielle Parhizkaran, a photojournalist with The Bergen Record, said that an editor in her newsroom told an employee during an annual review period they couldn't give raises because of the union. "It scared some people because it was obviously a lie," Parhizkaran said. "There's been a lot of misinformation."
Veronica Serrano, an editorial assistant at the Austin American-Statesman and chair of the Austin News Guild bargaining committee, told Axios that Gannett said union employees at the paper would not have their 401(k) matches be reinstated in July alongside the rest of Gannett's newsrooms. (The company suspended matches temporarily during the pandemic.)
The Austin News Guild worked closely with the Desert Sun, a Palm Springs-based Gannett paper that had also unionized in February, to file an Unfair Labor Practice charge around that issue. The National Labor Relations Board informed the Austin NewsGuild that they found merit in the charge, according to a source familiar with the situation.
Overtime pay has also been an issue. Last week, CNN reported that NewsGuild President Jon Schleuss sent a letter to Gannett CEO Mike Reed warning that the Guild planned to launch an investigation into the company's handling of overtime pay after Gannett staffers tweeted about the issue.
"You would be hard-pressed to find a reporter in any Gannett newsroom that hasn't had to deal with this in some capacity," said Mike Davis, a reporter for the Asbury Park Press.
The other side: "Gannett respects the rights of our employees and also respects the law. We encourage open dialogue, rigorously deny any violation of the law, and have consistently cooperated with the NLRB election process," a spokesperson told Axios.
Overwhelmingly, journalists have cited problems in negotiating with management over diversity, equity and inclusion initiatives.
Parhizkaran said one editor referred to some people as "diversity hires."
"A few of us talking on the side, we all sent exclamation points to each other at that moment," she said. "It rubbed a few people the wrong way, especially ones asked to translate other reporters' stories. It made people feel like they were being taken advantage of."
"The trigger that made me think that I'm a yes on here (on the union drive), is the loss of women in our newsroom," said Cervenka. "Probably starting about two years before our union drive started, I kept seeing my female co-workers walking out the door ... No one ever asked them why. Six women left and were replaced by 5 men."
What they're saying: "Gannett's continued opposition to journalists having a voice in their newsroom is anything but practical," said Susan DeCarava, president of the NewsGuild of New York.
"We have won every Gannett union election by overwhelming margins and I'm proud of our members for standing up to Gannett's union-busting playbook."
The bottom line: Many journalists have cited throughout this process is that they feel more connected to their sister newsrooms than ever before because of the unionization process.
Go deeper