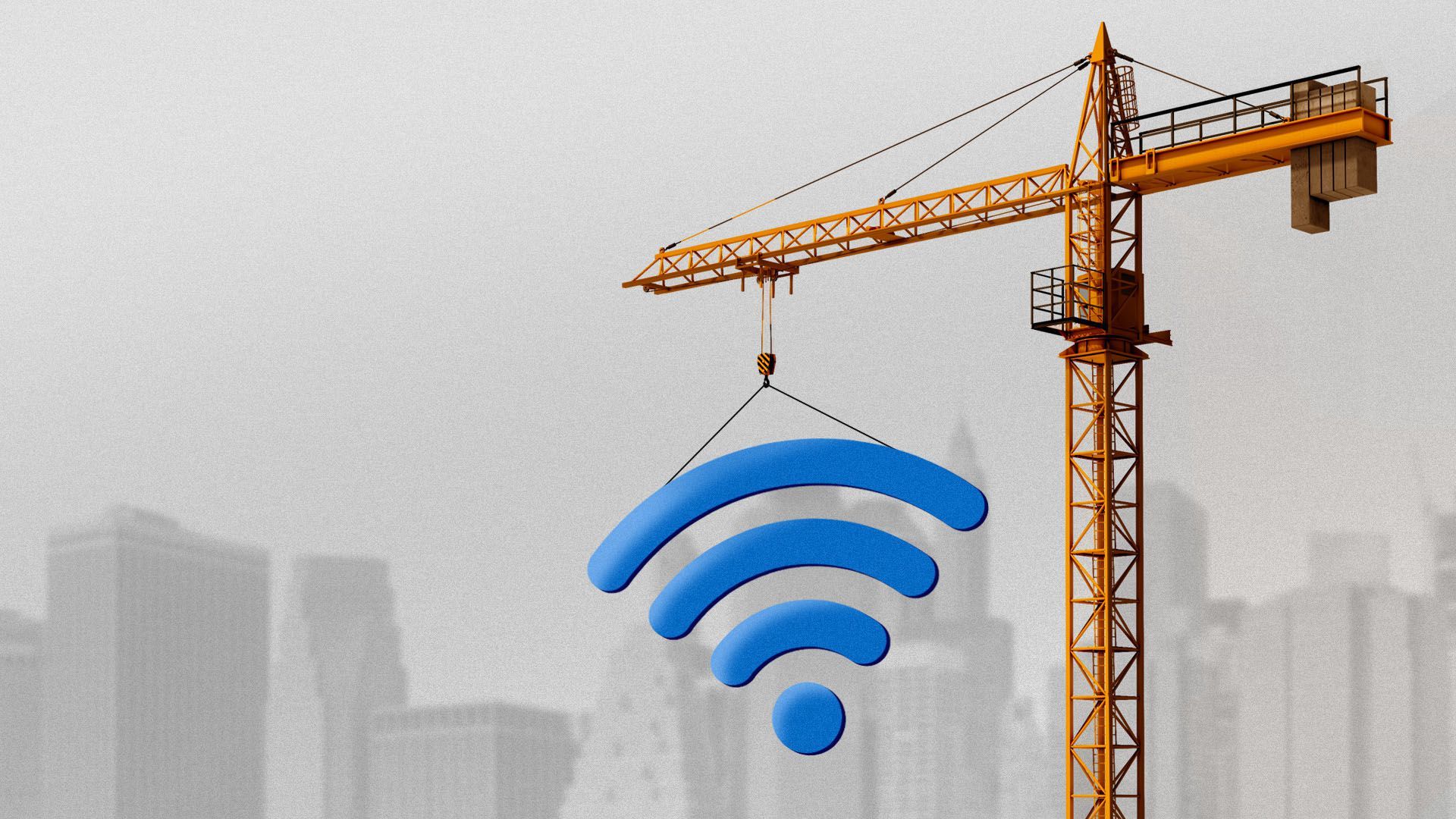 Two years into the 5G era, expensive new cellular networks have blanketed much of the country, but they have yet to change our lives.
Between the lines: It was always going to take some time for 5G's full impact — from faster service to new uses — to arrive. But the pandemic has slowed even some of the initial benefits.
Reality check: While the iPhone and most other high-end smartphones being sold right now support 5G, the bulk of Americans have yet to move to such devices — and the U.S. is one of the earliest adopters of 5G, along with Korea and China.
But even people who have a 5G-capable device may not have seen much change yet.
In part, that's because of the type of network they're connecting to (see below).
It's also because the pandemic turned so many road warriors into homebodies.
Plus: Apple's iPhones, which have been offering 5G for a year now, only tap 5G networks when they believe the speed boost is needed. That's part of a scheme to save battery life.
At the same time, the wireless carriers have yet to get a revenue bump from 5G despite spending billions and committing to spend billions more.
Yes, but: 5G networks have continued to roll out despite the pandemic and are being used for smartphones and more.
"5G is here," T-Mobile CEO Mike Sievert said at the Mobile Future Forward conference earlier this week. "It's not here universally. It is not here equally. But it is here and it is scaling rapidly."
While some insist that the killer app for 5G will be its enabling of new uses like augmented reality, Sievert maintained that smartphones will be the key driver for 5G adoption.
However, carriers are offering huge subsidies to get customers to upgrade to a 5G device amid a trend that has seen consumers hold on to their phones longer.
Verizon and T-Mobile are also delivering 5G to the home — a service known as fixed wireless — in an effort to compete with traditional broadband service.
The pandemic also slowed business adoption of 5G. But the networks are beginning to be deployed as a way to remove wires in everything from warehouses to the pylon cameras used in football stadiums.
Ericsson North America CEO Niklas Heuveldop points to his own new factory in Texas as an example of what 5G can do.
The company, one of the big makers of 5G network equipment, uses the technology to remotely control operations.
5G also helped Ericsson tap the expertise of employees who, in non-pandemic times, it would have flown in to set up operations.
"Without that, the factory would not have launched and we would not have been shipping equipment since April of last year," he said at Mobile Future Forward.
Catch up quick: 5G networks began rolling out in the U.S. back in late 2018 and much of the country's population now has access to at least some type of 5G, though it can come in several flavors. (For a short course on how 5G works, click here.)
Low-band networks can cover large areas and deliver speeds that are anywhere from slightly better to modestly better than 4G LTE.
High-frequency millimeter-wave frequencies, which have been Verizon's focus, deliver the fastest speeds but cover only small distances, making them best suited for densely populated areas and specific venues, such as airports and stadiums.
In between are mid-band networks, such as T-Mobile's 2.5GHz network as well as forthcoming C-band networks from AT&T and Verizon. Those offer more significant speed boosts than low-band but can cover wider areas than millimeter wave.
What's next: The current crop of 5G networks are built on-top of the existing 4G LTE networks.
Still to come are standalone 5G networks that are needed to deliver on some of 5G's biggest promises, including ultra-low latency — the kind of delay-free responsiveness required for applications like remotely manipulating robots and vehicles.
"That's very, very critical for us to achieve most of the 5G use cases," said Amdocs VP Ragu Masilamany. That's also when the carriers can start making additional revenue, he adds.
Go deeper