Republicans' secret lobbying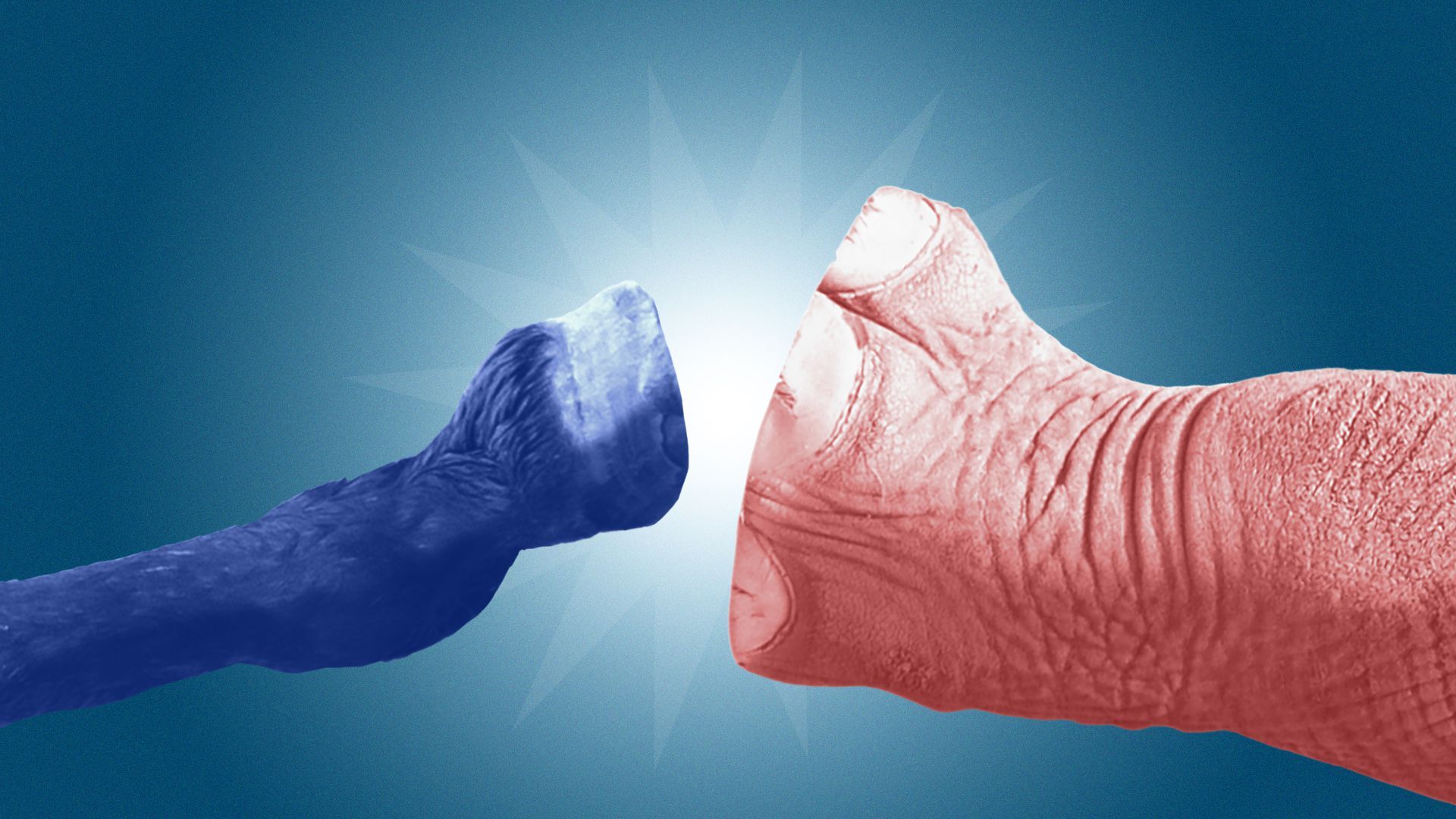 The five Senate Republicans who helped negotiate and draft the $1.2 trillion bipartisan infrastructure bill have been privately courting their Republican colleagues to pass the measure in the House.
Why it matters: House GOP leaders are actively urging their members to oppose the bill. The senators are working to undercut that effort as Monday shapes up as a do-or-die moment for the bipartisan bill.
Progressives say they have dozens of Democrats ready to sink the measure, given they insist the House first pass President Biden's $3.5 trillion "soft" infrastructure package.
House Speaker Nancy Pelosi (D-Calif.) has promised centrist Democrats she would pass the $1.2 trillion bill by Monday.
That deadline has made unlikely allies of centrist Democrats and Senate Republicans.
Sen. Rob Portman (R-Ohio) told Axios he spoke Wednesday with "a number of my [Republican House] colleagues."
They include Rep. Brian Fitzpatrick (R-Pa.), the Republican chair of the Problem Solvers Caucus.
Portman also met this week with Rep. Josh Gottheimer (D-N.J.), the Problem Solvers' Democratic leader. Both Fitzpatrick and Gottheimer have pushed to pass the bipartisan bill first, before moving on to the larger reconciliation bill.
In addition, Portman said he's spoken with moderate Democrats in the Senate — whom he refused to name — in the hope they'll also help lobby their House counterparts during next week's expected vote.
The latest: The push has intensified after the House Republican leaders formally announced Wednesday they were trying to line up votes against the $1.2 trillion bill.
House Minority Whip Steve Scalise (R-La.) told Axios in a phone interview he's spoken with "a number" of Senate Republicans "and, clearly, this is an area we don't agree on."
Scalise said the bill "is bad policy" regardless of whether it's tied to the reconciliation package, claiming it "has little to do with infrastructure."
House Minority Leader Kevin McCarthy (R-Calif.) also opposes the bipartisan bill and claims it's directly tied to the $3.5 trillion proposal.
What they're saying:
Sen. Bill Cassidy (R-La.) said he "wished [Scalise and McCarthy] wouldn't" whip against the bipartisan bill.
"The idea that we're going to maybe pass a better bill sometime in the future is a clear version of a theoretical bird in the bush, when you have a bird in the hand."
Sen. Mitt Romney (R-Utah) told Axios he's spoken with House Republican members from Utah.
He "encouraged them to take a good look at the bill, and explained why I think it's something that they should support."
"I think it would be good for us politically to show that we can work together collaboratively on things that have merit, because there's some things that don't have merit that we want to make very clear we oppose."
Sen. Susan Collins (R-Maine): "I've talked to some [House Republicans] and will be talking with more this weekend," she told Axios. "I'm not trying to counsel; I'm just making the case."
Collins added she's "surprised" House leaders are working against the bill.
Sen. Lisa Murkowski (R-Alaska): "I'm just encouraging everyone — Republicans and Democrats. I think the infrastructure bill that we were able to advance with 69 votes over here deserves to become law. I'm hopeful they'll be moving quickly on this."
Go deeper