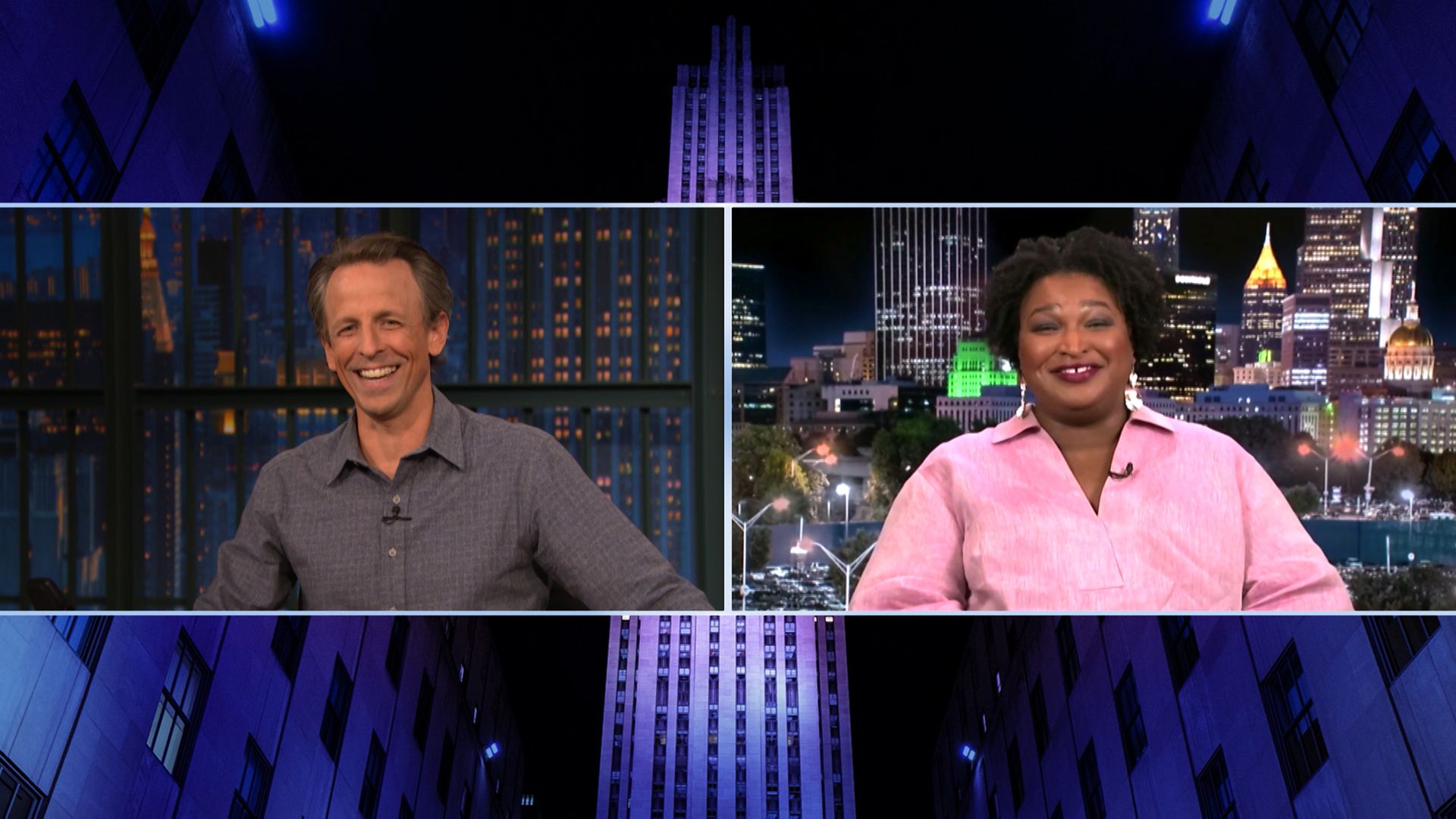 Stacey Abrams this week launched an ambitious national tour that will stretch across months and many swing states ahead of the 2022 midterms — and potentially elevate her standing in the Democratic Party in the process.
Driving the news: Abrams kicked off the tour Tuesday in San Antonio, where she told one local journalist "unequivocally, yes" she'd like to run for president one day. She was in Milwaukee on Wednesday night and will appear in Detroit on Thursday.
The big question: Is the voting rights activist and former Georgia state lawmaker, once under consideration for President Biden's running mate, building to a rematch next year against Georgia Gov. Brian Kemp — or something bigger?
This week, she sent a fundraising email for Democrat Terry McAuliffe in his competitive Virginia gubernatorial race.
Last week, she endorsed the Senate Democrats' Freedom to Vote Act — blessing the compromise driven by Sen. Joe Manchin (D-W.Va.).
And though Abrams hasn't yet made an endorsement in a crowded Democratic primary for the U.S. Senate race in Wisconsin, her moderator for Wednesday's event in Milwaukee is Lt. Gov. Mandela Barnes, who's running.
How it works: Abrams has scheduled 12 stops across 10 states — Texas, Wisconsin, Michigan, Arizona, Colorado, Massachusetts, New York, Florida, Tennessee and North Carolina — through Nov. 20.
She announced her tour in August on Twitter, though it's gotten little national attention to date and modest early coverage from local reporters.
These are paid events, with each venue determining the cost to attend and some offering a meet-and-greet option. Some of the profits go directly to the local theaters hosting them, and arts organizations they support, and some go to Abrams — but her team wouldn't disclose details of her compensation.
Moderators lead the conversation with Abrams around her work with voting rights, politics and social justice, as well as aspects of her personal life. Abrams' team invites local media, elected officials and entertainers to be moderators.
Country singer Trisha Yearwood will moderate in Nashville. Writer Melissa Harris-Perry will moderate in North Carolina.
The backdrop: Abrams built national recognition through her closer-than-expected 2018 gubernatorial fight. She earned kudos for challenging Kemp, a Republican, in long-red Georgia.
Since then, Abrams has built a following around her voting rights activism and turnout efforts.
She earned national acclaim and a huge chit with Biden and Senate Majority Leader Chuck Schumer (D-N.Y.) when she helped Democrats flip her state and take control of the presidency and the Senate.
Through her work with Fair Fight, she helped register at least 800,000 Georgia voters before the 2020 presidential election.
What they're saying: Aaron Zimmerman, vice president of programming for the Tobin Center for the Performing Arts in San Antonio, which is orchestrating the tour, told Axios it took the better part of a year to settle on the final schedule.
The tour stops encompass political hotbeds, as well as purple or blue areas.
"It's an opportunity for folks to get to know Stacey in her multitudes," said Michael Holloman, Abrams' communications director. "We're putting those disparate parts of her identity together and allowing people to see her in a fuller fashion."
Correction: This article was updated to reflect that Stacey Abrams receives some of the profits from her national speaking tour events.
Go deeper