Foiled coup underscores deep divide in Sudan's government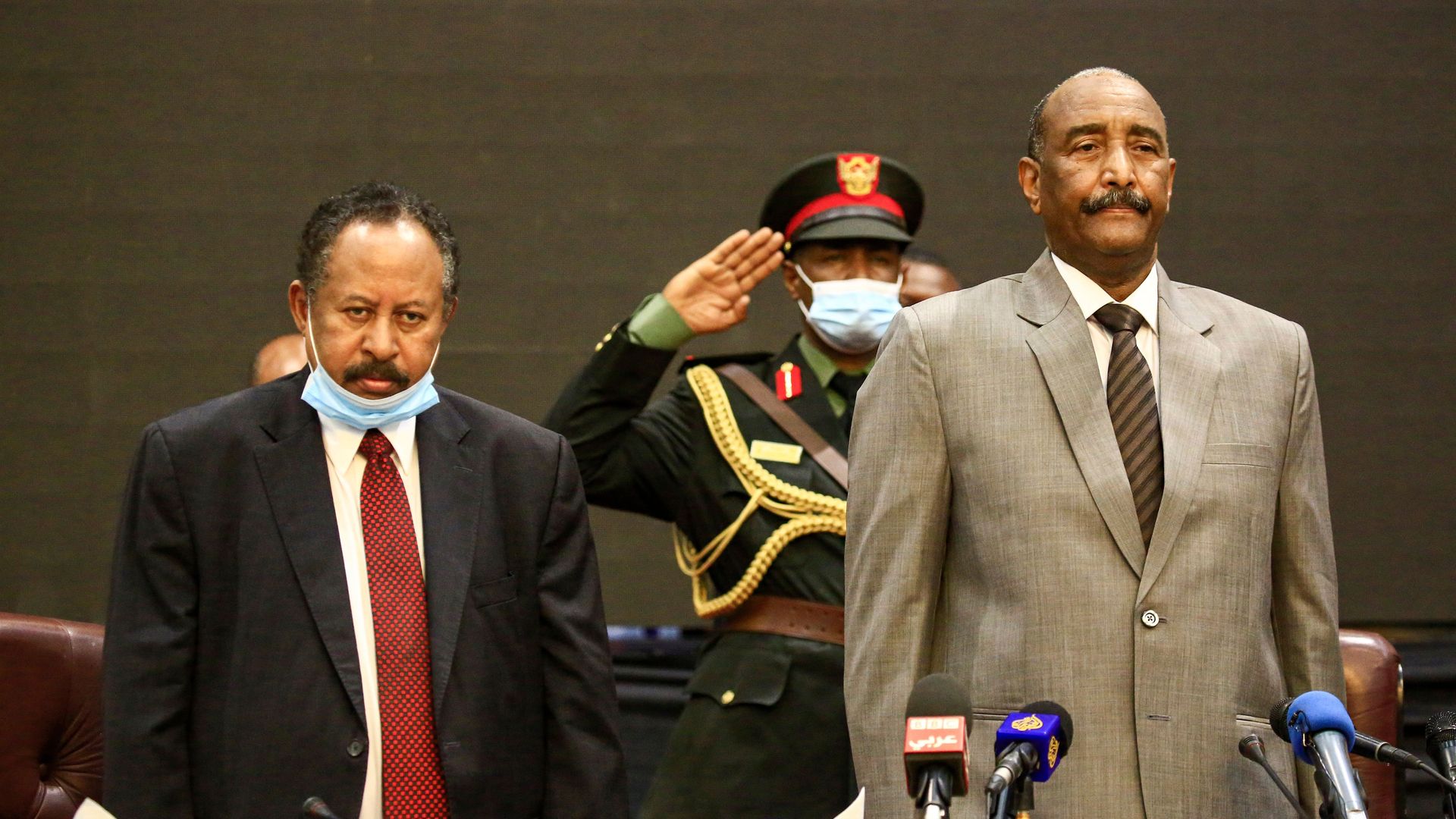 Rather than uniting in the face of a shared threat, a foiled coup attempt in Sudan on Tuesday has further exposed the divisions between the civilian and military elements of the government
Driving the news: On Tuesday morning, Sudanese state media announced that a coup attempt was underway.
A civilian member of the Sovereign Council, Mohamed al-Faki Suleiman, took to social media to urge people to "defend the country" and "protect the [democratic] transition."
Suleiman later declared that everything was "under control" and the "revolution will prevail."
Behind the scenes: At least one civilian member of the Sovereign Council was aware of a coup plot by rogue army officers the day before it transpired, according to sources who received a briefing on the matter.
The big picture: After dictator Omar al-Bashir was toppled in 2019 in a popular uprising, the Sovereign Council took power to manage a three-year transition to democracy, led initially by Gen. Abdel Fattah al-Burhan.
A civilian is supposed to take charge in November and would be Sudan's first civilian head of state since 1989. But it remains to be seen whether the military will cede the position.
Infighting has already delayed the formation of a legislative assembly, which would provide some civilian oversight of the military and be a major step forward in the democratic transition. The coup attempt could complicate things further.
Addressing an emergency Cabinet meeting on Tuesday, Prime Minister Abdalla Hamdok blamed the uprising on elements inside and outside the army with links to the Bashir regime, and he appeared to point the finger at Islamists.
He also suggested that there was a connection between the coup attempt and the unrest sweeping the country, including in East Sudan where a tribal leader has blocked vital roads.
Khartoum itself has witnessed a rising state of insecurity marked by violent crimes and armed robberies.
Yes, but: Burhan contradicted Hamdok by saying there was no evidence that the coup plotters had any political affiliations. Other military officials disputed a government spokesperson's claim that civilians had been arrested.
Between the lines: The coup attempt goes to the heart of some of the key divisions between the military and civilian factions.
Shortly after it was thwarted, Hamdok pressed the need for security sector reform. That's a top priority of the international community, but faces strong resistance from within the military wing of the government, in particular from Deputy Chairman Gen. Mohamed Hamdan Dagalo, who refuses to integrate his Rapid Support Forces into the army.
The coup attempt will also amplify claims that the army remains filled with Islamists and Bashir allies who pose a threat to the democratic transition, and that Burhan has ignored that threat.
Some also suspect that the military is happy to see the civilian government struggle because that could make a military takeover down the road more palatable.
Go deeper