Updated Sep 21, 2021 -

World
Trudeau's Liberals set to form minority government after Canada election win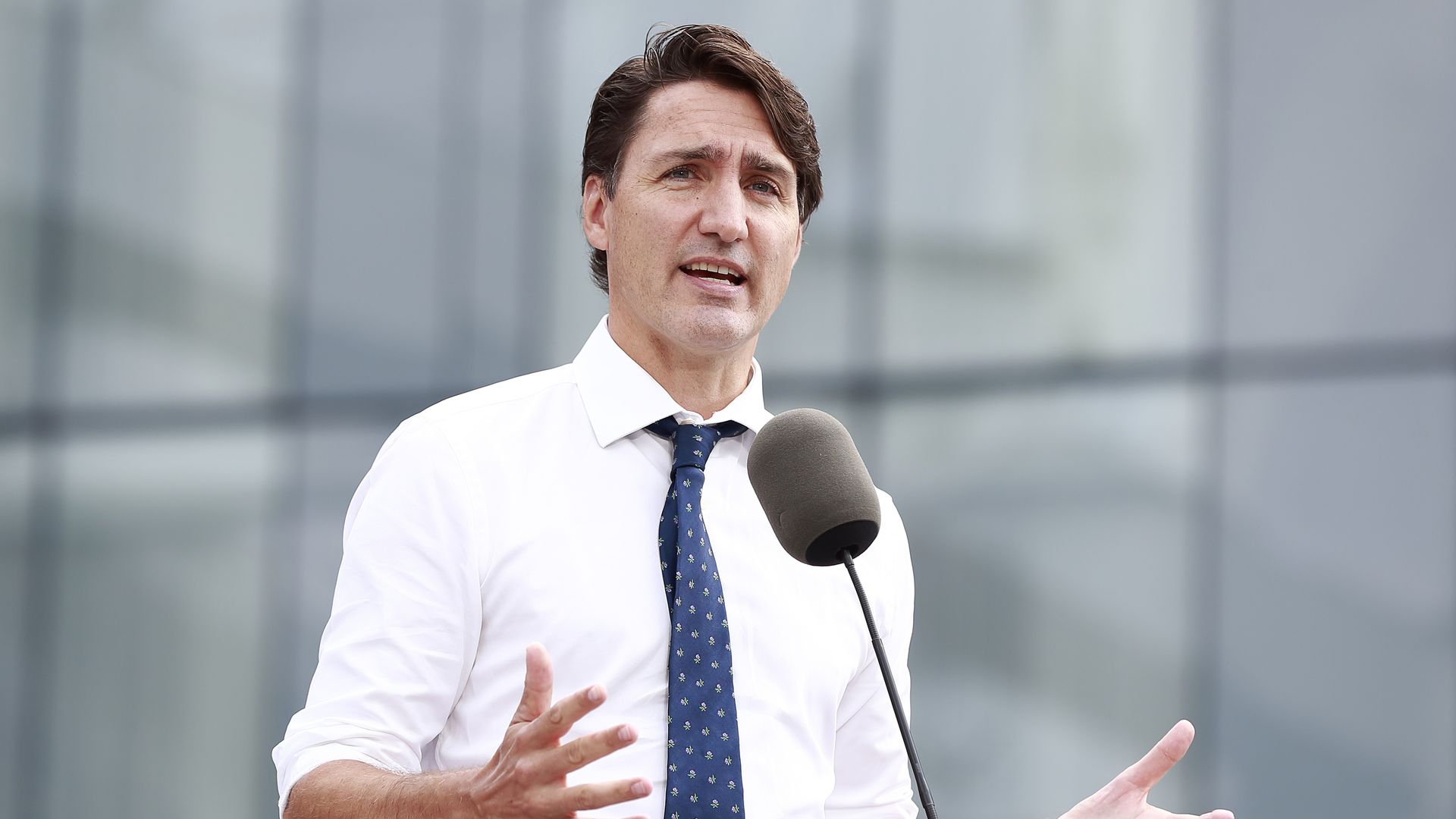 Canadian Prime Minister Justin Trudeau's Liberal government was re-elected for a third term in Monday's parliamentary elections, but preliminary results show it failed to win a majority.
Why it matters: Trudeau has governed Canada with a minority of legislative support in parliament for the past two years. Last month, he called for an election two years earlier than scheduled in the hope of forming a majority government.
By the numbers: The Liberal Party needed to win 170 seats in the 338-seat House of Commons to form a majority government.
Preliminary figures at 3am ET showed the party had won 158 seats, with over 97% of polling stations reporting.
Background: The Liberal Party was ahead in the polls and Trudeau was banking on Canadian voters rewarding his government's handling of the COVID-19 pandemic when he called the snap election.
But the Liberals later lost ground in the polls to hold a slim lead over Erin O'Toole's Conservative Party.
This was reflected in Monday's election, with initial results showing the Conservatives were set to win 119 seats. O'Toole conceded defeat as it became clear the Liberals had won.
What they're saying: Trudeau acknowledged in a speech from Montreal early on Tuesday the unpopularity of his decision to call an early election.
"I hear you when you say you want to get back to the things you love, not to worry about the pandemic or the election," he said.
But Trudeau said that voters were sending the government "back to work with a clear mandate to get Canada through this pandemic and to the brighter days ahead."
"What we've seen tonight is that millions of Canadians have chosen a progressive plan," he added.
What to watch: Election officials have said they wouldn't open the roughly 1 million mail-in ballots cast in the election until Tuesday, so the final election outcome may not be confirmed for another day, per Canada's Global News.
Of note: The day before the election, the advocacy group Canada Proud tweeted out a photo of Trudeau in brownface from an "Arabian Nights" party he attended in 2001 when he was 29.
He apologized in 2019 after images from this event and two others of him wearing racist, dark makeup in the past emerged.
The big picture: Trudeau has served as prime minister since 2015, when his Liberal Party won a majority government. The Liberals also won the 2019 election, but only secured enough seats to form a minority government.
Editor's note: This article has been updated with new details throughout.
Go deeper