Biden claims "era of relentless war" is over in first UN speech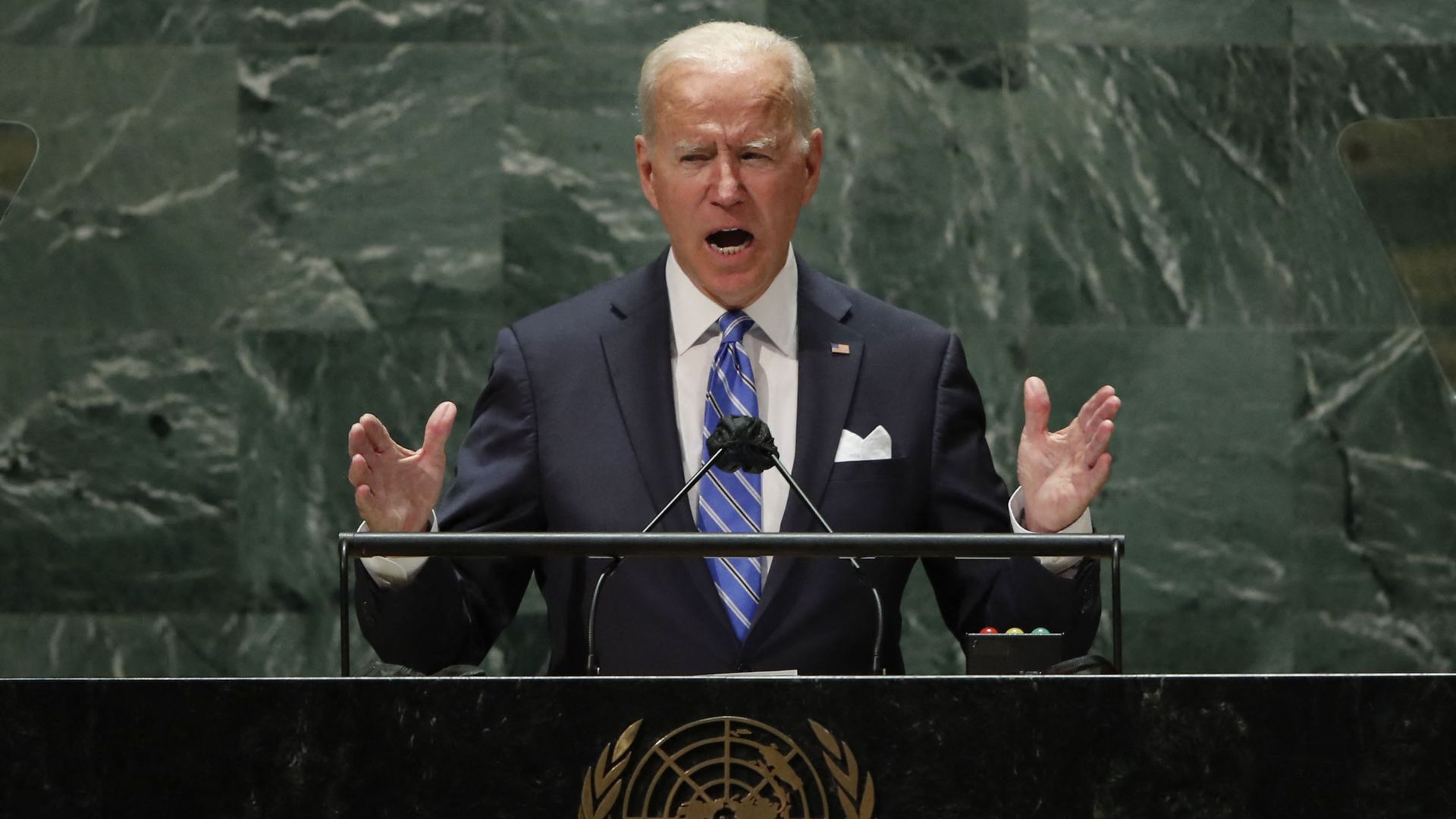 Addressing the UN General Assembly for the first time since taking office, President Biden laid out his vision for how the U.S. will confront what he characterized as a "decisive" next decade in human history.
Why it matters: In the face of unprecedented global challenges — the pandemic, climate change, rising authoritarianism — Biden made a case for multilateralism, democratic values, the rule of law and empathy for common struggles.
The big picture: Under the backdrop of the U.S. withdrawal from Afghanistan, Biden heralded the end of an "era of relentless war" and promised that the next era would be defined by "relentless diplomacy."
"U.S. military power must be our tool of last resort, not our first, and should not be used as an answer to every problem we see around the world," Biden said. "Bombs and bullets cannot defend against COVID-19 or its future variants."
He pledged to devote U.S. resources not to fighting "the wars of the past," but to the challenges "that hold the keys to our collective futures."
Those challenges include:
Ending the pandemic by vaccinating the world and developing new global mechanisms for stopping future pandemics. Biden hailed America's role in delivering more than 160 million vaccine doses to other countries — calling each one "a little dose of hope" — and said the U.S. would announce new commitments at Wednesday's global COVID-19 summit.
Addressing the "borderless" climate crisis with a new U.S. pledge to double public financial assistance to developing countries, including money to help them adapt to present-day climate impacts.
Managing great power competition by revitalizing alliances like NATO and developing new ones like the Quad. Without mentioning China or Russia, Biden said that the U.S. would always stand up for its allies, but stressed it is "not seeking a new Cold War or a world divided into rigid blocs."
Shaping the rules of the world on 21st-century issues like "trade, cyber and emerging technologies."
Facing the threat of terrorism with an updated toolkit, by targeting support systems, countering propaganda and working with local partners "so that we need not be so reliant on large-scale military deployments."
Biden also focused a considerable portion of his speech on human rights and civil conflicts — urging the world to "never allow ourselves to give up on the possibility of progress."
Biden reiterated his support for a two-state solution in the Israeli-Palestinian conflict, committed the U.S. to continue pushing for peace in Ethiopia and Yemen, and said the world would hold the Taliban accountable to its commitments to the people of Afghanistan.
He praised democratic and anti-corruption movements in countries like Belarus, Myanmar and Cuba, and in his only explicit reference to China, condemned the targeting of religious minorities in the northwest region of Xinjiang.
Between the lines: Biden's speech was a resounding rejection of the "America First" rhetoric that the UNGA hall had grown accustomed to after four years of President Trump.
But some allies have found themselves questioning the new president's credibility in the wake of the chaotic U.S. exit from Afghanistan and a new diplomatic rift with France, which threatens to boil over into broader tensions with the European Union.
"We must again come together to affirm that the inherent humanity that unites us is much greater than any outward divisions or disagreements," Biden concluded. "We must choose to do more than we think we can do alone so that we accomplish what we must together."
Go deeper