The COVID booster vaccine discussion is far from over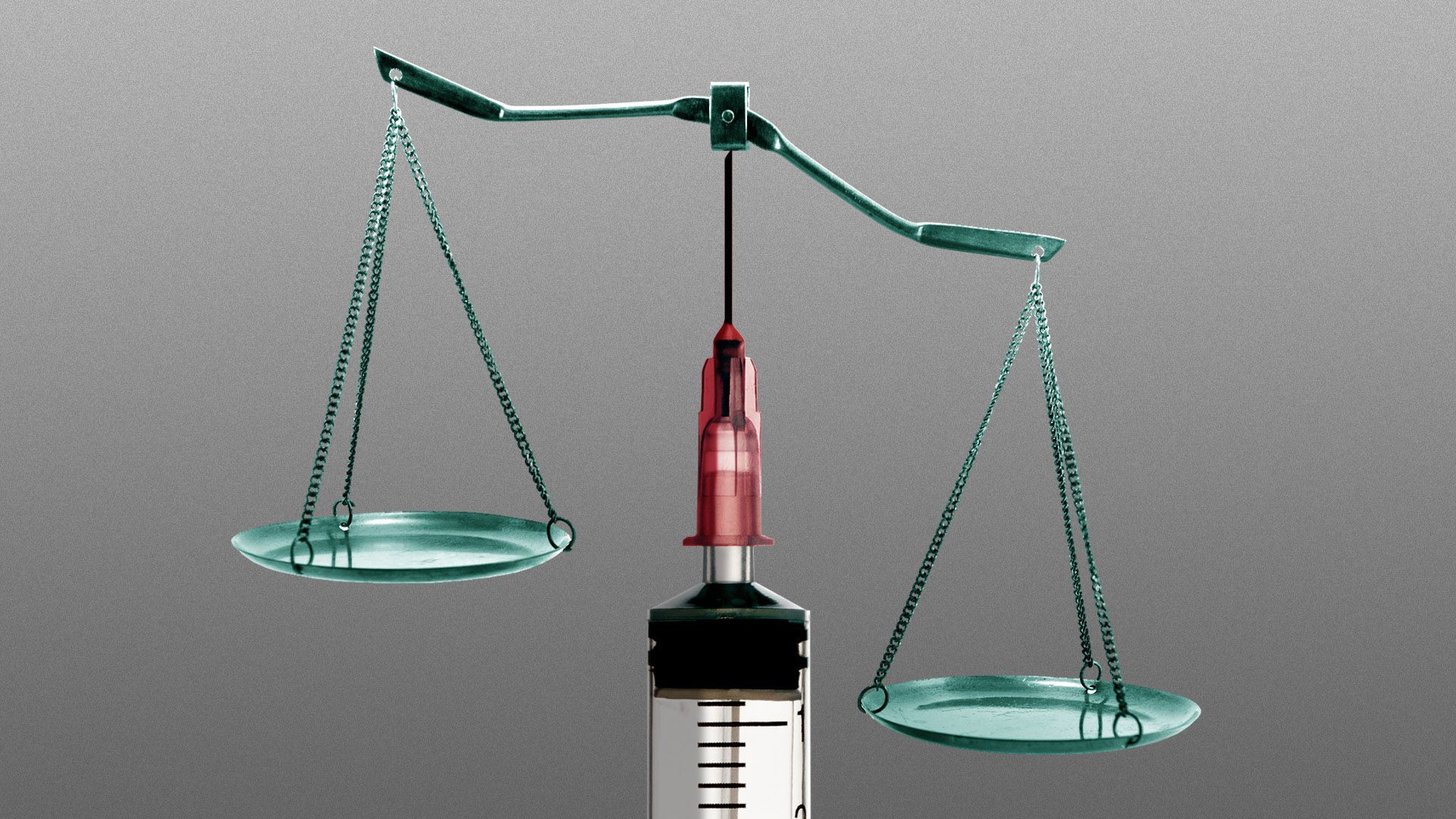 An FDA advisory panel may have green-lit a third shot of the Pfizer vaccine for a somewhat narrow slice of the population, but the messy process of figuring out who should get another shot of the vaccine — and when — has likely just begun.
Why it matters: Many vaccinated Americans are worried about their level of protection as the pandemic continues to rage. The piecemeal booster decision-making process may be the best way to keep pace with the science, but it's also at risk of becoming extremely confusing.
Driving the news: The advisory committee on Friday recommended booster shots for adults 65 and older, those at high risk of severe covid and those with high-risk occupations, like health care workers and teachers.
It did so only after first overwhelmingly rejecting the administration's original proposal of offering boosters to most adults.
The FDA will now decide whether to follow the committee's recommendations, which it usually does.
Yes, but: A CDC advisory committee may soon offer more clarity about who qualifies as being at high risk of severe disease, or which occupations are at high risk of exposure.
But these groups could end up being broadly interpreted, which worries some experts.
"The FDA committee first voted against offering booster to everyone, and then voted for offering booster to almost everyone," tweeted Walid Gellad, a professor of medicine and health policy at the University of Pittsburgh.
Between the lines: "I think the vast majority of those who would want to get the third dose will still be able to get it through this outcome, even if it's not exactly what the White House had in mind," Jason Schwartz, a professor at the Yale School of Public Health, told Axios' Tina Reed.
"Communication and messaging will be a challenge compared to a scenario where everyone could just get a vaccine. And implementation will be a challenge because it's not just everyone who's getting a vaccine. So there's still miles to go here," he added.
What we're watching: The committee's primary concern was a lack of safety data to justify giving a third shot to all ages. But that data will eventually be made available, as will data regarding Moderna and J&J boosters.
At least some of that data will almost certainly trigger this process all over again, but for different groups of people.
What they're saying: "Three, four weeks from now as we get more data from the Israelis and more data from our own United States cohorts...there will be a continual re-examination of that data, and potential modification of recommendations," NIAID director Anthony Fauci said yesterday on ABC News' "This Week with George Stephanopoulos."
"The story is not over because more and more data is coming in and will be coming in," Fauci addded.
Go deeper