Biden to stress U.S. does not seek new Cold War in UN speech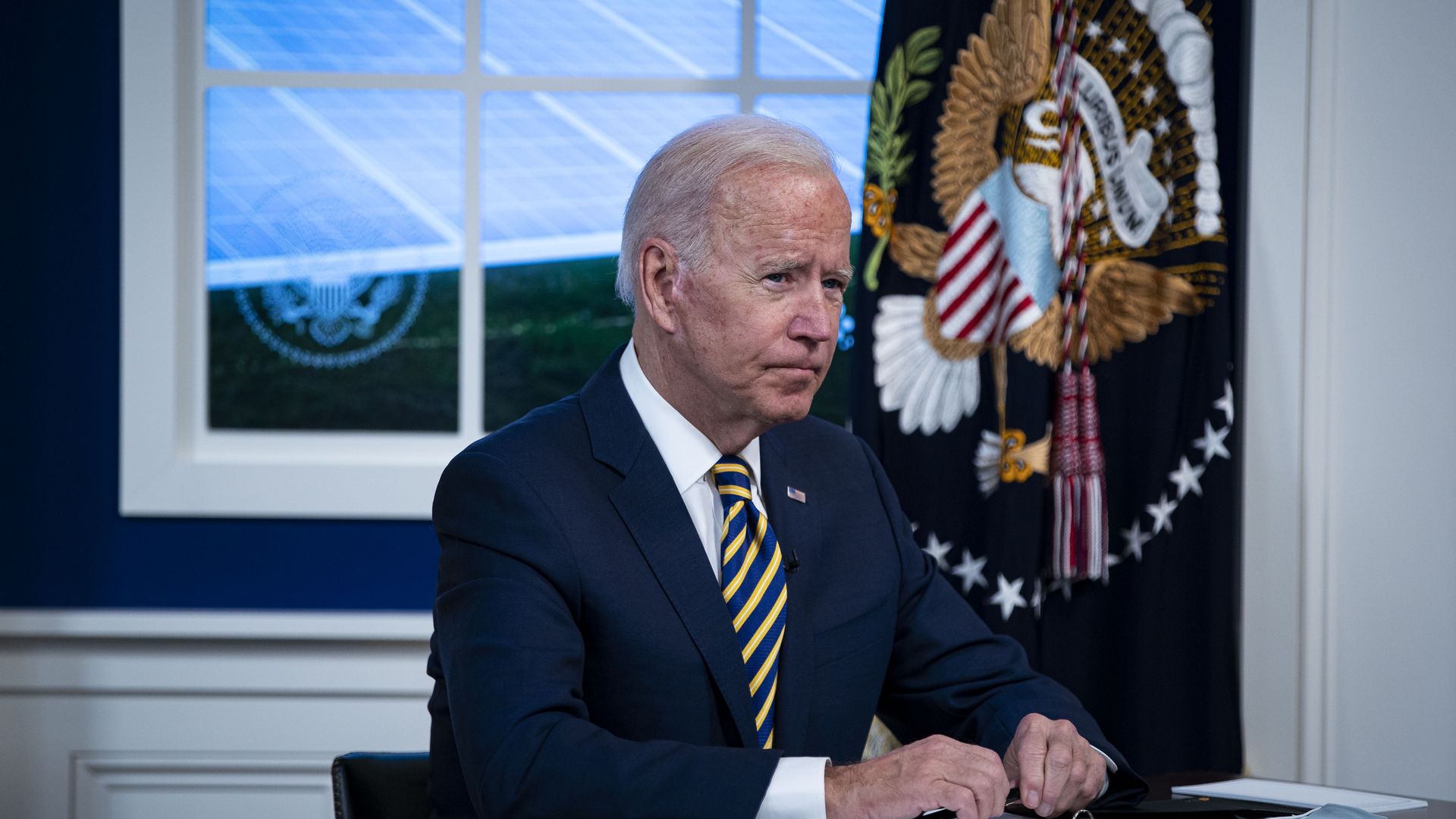 President Biden will use his first address before the UN General Assembly to lay out his vision for an era of "intensive diplomacy" with allies and "vigorous competition" with great powers — without a Cold War with China.
Why it matters: Biden will take the podium in New York on Tuesday with his own international credibility in question after the chaotic withdrawal from Afghanistan. His administration also is struggling to build international momentum to fight climate change, the pandemic and rising global authoritarianism.
What they're saying: Biden's speech "will center on the proposition that we are closing the chapter on 20 years of war and opening a chapter of intensive diplomacy by rallying allies and partners and institutions to deal with the major challenges of our time," according to a senior administration official who previewed the remarks on Monday.
The guiding theme will be that the most pressing problems that the world faces "can't be solved by military force" and that the cooperation of many nations is paramount, added the official, who spoke with reporters on condition of anonymity.
Between the lines: While the evacuation from Kabul may allow the U.S. to increase its focus on China, its frenzied nature angered several NATO allies and provided a propaganda coup for Beijing.
In his quest to rally a new coalition to confront China, the president has alienated some of America's oldest allies, including France.
And the tensions with China are contributing to a sense that a new international climate agreement — a primary focus this week at the UN — is unlikely this year.
What to watch: Biden will meet Monday with UN Secretary-General António Guterres, who made headlines this morning when he urged the U.S. and China to repair their "completely dysfunctional" relationship for the sake of solving global challenges.
Biden will stress in his remarks on Tuesday that he "does not believe in the notion of a new Cold War, with the world divided into blocs," the official said.
"He believes in vigorous, intensive, principled competition that does not tip over into conflict."
It's clear from recent moves, however, that Biden's strategy for the next chapter of U.S. foreign policy is centered on curbing China's global influence and military aggression in the Indo-Pacific.
Biden will participate in bilateral meetings on Tuesday with U.K. Prime Minister Boris Johnson and Australian Prime Minister Scott Morrison, just days after the leaders announced a new security partnership that will allow Australia to obtain nuclear submarine technology.
He'll also meet at the White House on Friday with Morrison and the leaders of India, Japan and South Korea for the first in-person "Quad" summit — another diplomatic grouping viewed as key to checking China's influence.
The senior official confirmed reports that Biden has sought to set up a phone call with French President Emmanuel Macron, whose government reacted with outrage after it emerged that Australia would scrap a $90 billion submarine deal with France to join the secretly negotiated AUKUS pact.
"We understand the French position," the official said. "We don't share their view in terms of how this all developed, but we understand their position."
What's next: Biden will also hold a major COVID summit on Wednesday on the sidelines of the General Assembly at which he'll lobby countries to donate vaccines for the developing world.
Go deeper