First look: Conservatives' 2022 big target: Tax increases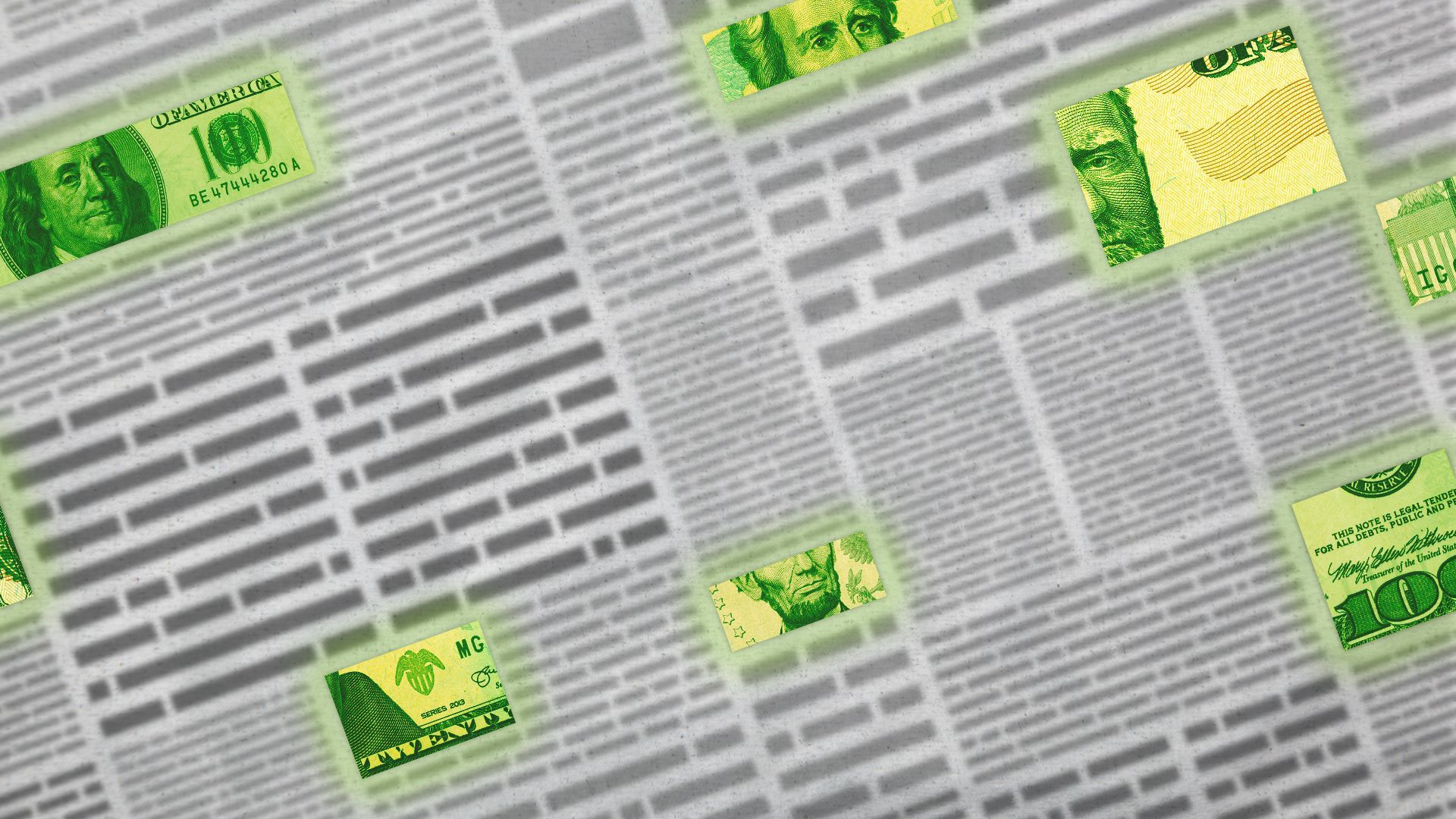 Conservative groups are unveiling huge ad-buys going after vulnerable House Democrats over tax increases and other revenue measures in their party's massive infrastructure spending bill, Axios has learned.
Why it matters: President Biden and Democrats have an immense amount of political capital riding on a $3.5 trillion bill facing razor-thin margins in both chambers. Conservatives are running ads targeting the House members who leaders will need to pass the measure.
Driving the news: On Saturday, the Common Sense Leadership Fund, a new Republican-aligned nonprofit group, launched what it says will be a $10 million ad campaign over 10 days.
The ads hit 14 House Democrats over provisions that would change rules for retirement account contributions and distributions for high-income Americans.
"Washington liberals want to tax your retirement funds to pay for their new trillion-dollar power grab," one of the two ads says. The other says Democrats are "raiding your retirement to pay for their power grab."
The group is led by former National Republican Senatorial Committee executive director Kevin McLaughlin.
Another GOP-aligned nonprofit, the Coalition to Protect American Workers, is expanding an ad-buy that hits provisions to enhance IRS tax enforcement.
An "army of IRS agents" will be "coming for every dime they can grab," the group warns, with footage of drones and surveillance cameras, in an ad unveiled earlier this year.
The coalition, which is led by Marc Short, former Vice President Mike Pence's chief of staff, plans to expand its campaign into the seven figures and run two new 30-second spots, the group tells Axios.
It's hitting six Democrats — five in the House and one in the Senate — with the IRS ad and two others focused on other tax hikes in the bill and efforts to finance electric vehicle infrastructure. It says that will boost Chinese battery manufacturers.
Between the lines: Both groups are targeting moderate House Democrats who've expressed misgivings about the $3.5 trillion spending bill, including the new revenues that will be required to pay for it.
If the centrists balk at specifics — or the scope — of a bill with huge spending aimed at expanding the social safety net, the dual-track strategy the president is pursuing with congressional leaders could collapse.
Progressive are demanding the centrists support the $3.5 trillion, Democrat-only bill before the progressives vote to pass the $1.2 trillion bipartisan infrastructure package that's already passed the Senate.
The House centrists are convinced they have an agreement from House Speaker Nancy Pelosi (D-Calif.) to vote on the $1.2 trillion infrastructure bill by Sept. 27.
Rep. James Clyburn (D-S.C.) the House majority whip, raised doubts about that Sunday on CNN's "State of the Union," saying: "Sometimes, you have to kind of stop the clock to get to the goal."
The bottom line: Outside conservative groups know Biden's agenda hangs by a tread and that they only need to spook a handful of centrist members — some of them in swing districts — to cause major complications.
Go deeper