Delayed maps upend midterm campaigns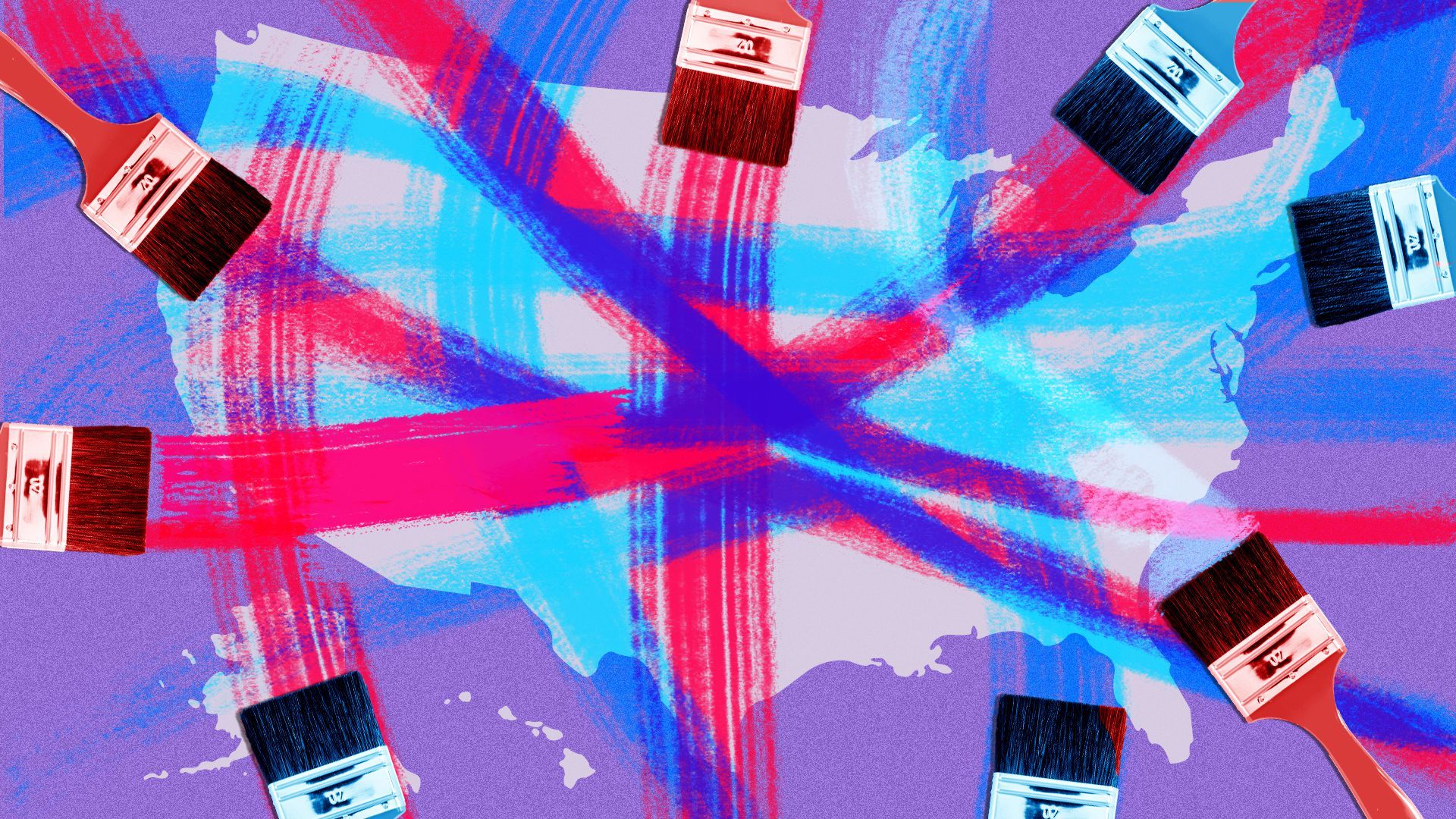 Midterm candidates are panicking about how the congressional maps will ultimately be drawn, with several strategists telling Axios campaigns are in limbo.
Why it matters: Candidates are unsure if the district they're targeting will remain intact or be reshaped by the process. The uncertainty is especially vexing to Democrats, who are vying to maintain their narrow margin in the House.
The once-per-decade, census-driven process isn't expected to be completed until the spring.
The 18-month campaigns in normal off-years will be condensed to nine-month sprints during 2022.
Between the lines: One of the biggest issues is candidate recruitment.
"It's always a pain in the a-- to try and recruit candidates in a redistricting cycle, because, in essence, you're trying to convince someone to give up more than a year of their life to run in a district that hasn't been drawn yet," Dave Wasserman of the Cook Political Report told Axios.
"In many cases, the key for the campaign committees is to try and get as many people into races, trying to raise money as quickly as possible, and Republicans have done a better job on that front thus far."
"They're anticipating more favorable districts in many places, and they are benefiting from having the energy of being the party out of the White House," Wasserman said, adding that the situation paralleled 2017.
Another challenge is fundraising. A big concern among the House Democratic and Republican campaign arms is where to spend money while the district lines are written in pencil.
Many candidates currently in vulnerable districts are raising a ton of money from donors, sucking up all their attention and resources, but their seats could eventually be shifted into a safer region and the money left unspent.
And candidates who think they're "safe" face an even bigger risk, since they could end up in far more competitive territory.
"This will be huge from a fundraising perspective," a top House Republican political adviser told Axios. "That late in the game, donors are not going to want to shovel out more money, leaving a lot of those folks [who haven't already secured donations] on an island."
This is especially true in primaries.
Wasserman said: "There are going to be musical chairs in any states that play out very quickly, and having a war chest can intimidate a potential primary opponent out of a certain district or race. ... That's going to be the key financial dynamic."
Member-vs.-member races, such as in West Virginia, also are creating headaches for campaigns.
"West Virginia is complicated because you will likely have two members of Congress running against one another, but we don't know which two — and the primary is less than a year away," a veteran political strategist told Axios.
The strategist was referring to the game of roulette playing out between the state's three Republican incumbents, Reps. David McKinley, Alex Mooney and Carol Miller.
"It's just a very awkward dance for some of these guaranteed member-vs.-member races, unless one of the members retires," the aide added.
Litigation also has the potential to be a big factor.
So many maps are subject to state Supreme Court review that if there are rulings modifying or overturning districts, that could delay the calendar even further — heightening the confusion.
"We could begin to see some members elected who didn't decide to run until well into 2022," said Wasserman.
The bottom line: Uncertainty is the enemy of campaigns, and each of these components is further complicating what's expected to be a bloody midterm cycle.
Go deeper