The future of music is (still) vinyl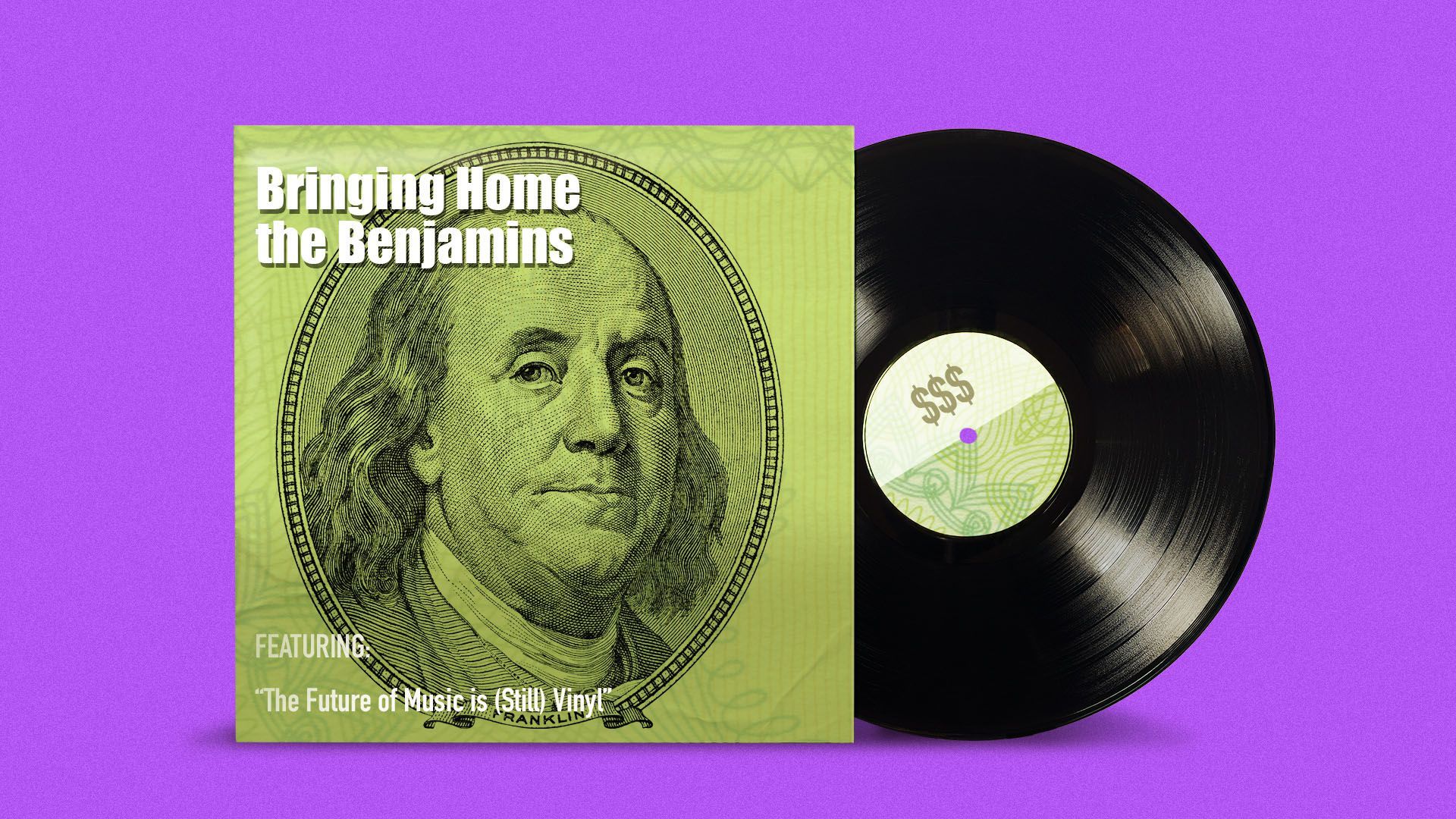 Vinyl record sales are rising — and it's younger music enthusiasts who are driving the trend.
The big picture: Even though streaming services dominate music consumption, vinyl hasn't gone the way of CDs.
Illuminating stat: In 2020, U.S. vinyl sales topped CD sales for the first time since 1986, per the Recording Industry Association of America.
This year, sales growth keeps exploding. Vinyl sales are up 108% in the first six months of 2021, compared with the same period in 2020, CNBC reports.
This sales boom made record stores rare winners in the pandemic-era retail apocalypse — as many music lovers had more time to listen to albums at home and decided to expand their record collections.
The reason is simple, Billy Fields, the resident vinyl expert at Warner Music Group, told CNBC: "It's eternally cool."
The big picture: Streaming is still king, accounting for 80% of all music revenue in 2019. But vinyl isn't disappearing because it offers an experience that hitting play on your phone does not.
"I'm using streaming basically 24/7, but having records has been a way of making my favorite music tactile," says Gigi Lone, an undergraduate student at the University of Toronto. "You can't really collect something on Spotify. This is just owning something that is dear to you."
"There's definitely a hipness to it," says Chip Heuisler, who owns Tunes, a record store in Hoboken, New Jersey. "There is something about the tangible experience of taking the record out of its sleeve and putting it on the turntable. And, with older records, sometimes hearing a bit of that pop and crackle adds to the experience."
For many, vinyl records have become like prints and paintings — art to display in the home. "The album art, the aesthetics of the record itself, the grooves of the vinyl, is something that I'm attracted to," Lone says. "And I love seeing it when people have it up on their walls. It's part of the culture."
What to watch: The popularity of vinyl is causing ripples in the music industry, as the skyrocketing demand is roiling its supply chain.
Big box stores like Walmart, Amazon and Target are seeing dollar signs and stepping into vinyl sales. They now account for 13% of all sales, up from 4% in 2018, per Billboard. But that also means they're placing orders far larger than independent record stores — and the vinyl manufacturers are struggling to fill them.
As a result, consumers are dealing with delays on orders, and even the world's biggest artists are waiting months for their vinyls to hit the shelves.
For example, Taylor Swift announced the re-release of her album "Red" several months in advance to ensure the vinyl would be available at the release.
Although sometimes the vinyl delays can create fresh hype for artists. Swift's recent album, "Evermore," got a late bump back to No. 1 when its vinyl was released.
The bottom line: Even as tech changes the way we entertain ourselves — and makes certain forms of media obsolete — vinyl has the powerful asset of coolness to keep it alive.
Go deeper