Pentagon approves request for 100 National Guard troops for "Justice for J6" rally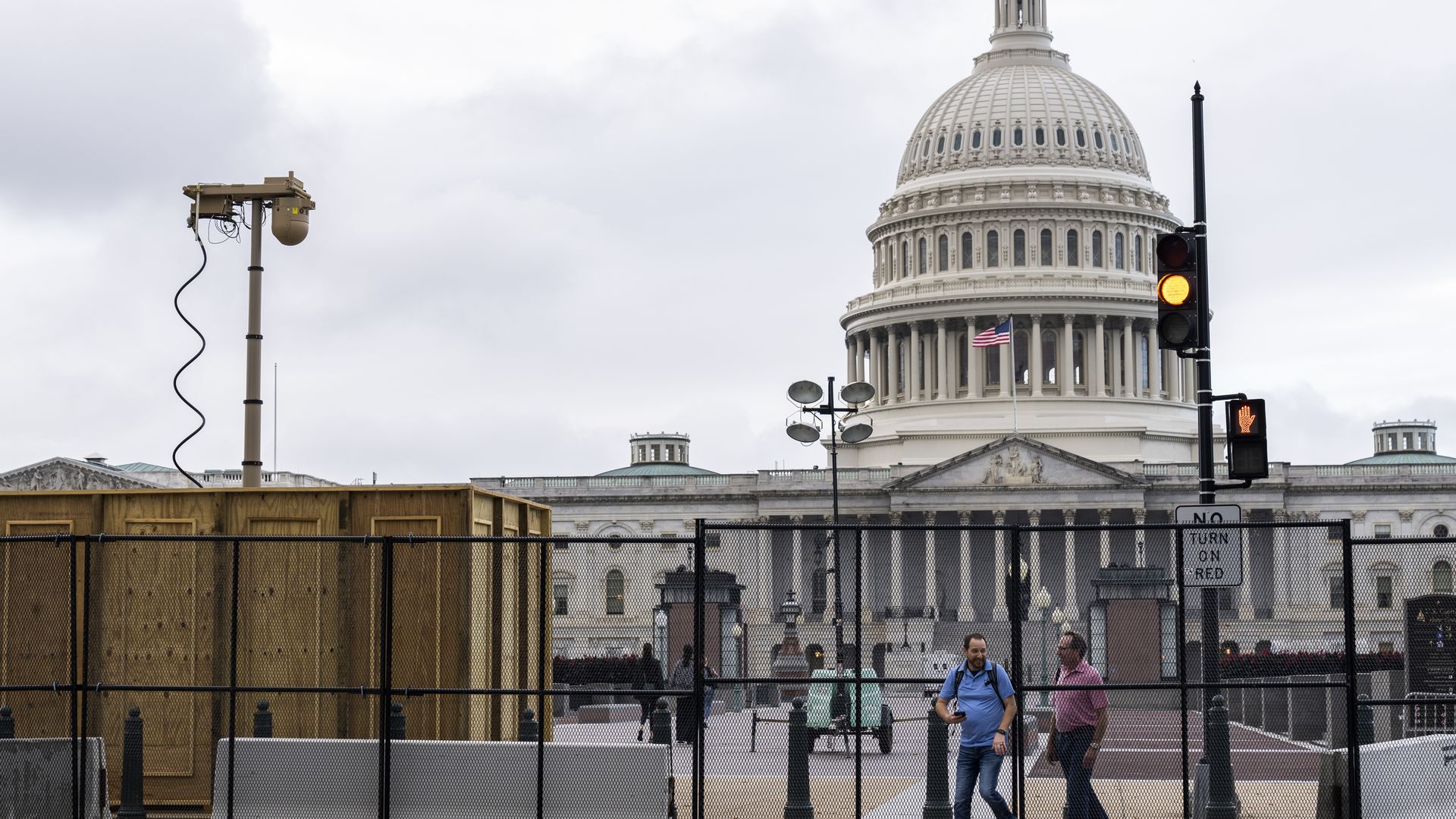 Defense Secretary Lloyd Austin has approved a request from Capitol Police to provide 100 D.C. National Guard troops in case law enforcement requires additional support at Saturday's "Justice for J6" rally at the Capitol.
Why it matters: Security preparations have ramped up ahead of the pro-Trump demonstration, where hundreds of protesters sympathetic to the Jan. 6 Capitol attack are expected to gather.
Security fencing around the Capitol has been reinstalled and multiple congressional offices have closed.
Members of congressional leadership were briefed on security preparations and intelligence this week and expect law enforcement to be far better prepared for Saturday's rally than they were on Jan. 6, when the Capitol was overrun by a violent mob.
The big picture: Capitol Police did not request backup from the National Guard on Jan. 6 until the building had already been breached, a decision that led to intense criticism and the resignation of several agency leaders.
National Guard troops will be stationed at the D.C. Armory on Saturday and will only be deployed at the request of Capitol Police in order to protect the Capitol and congressional office buildings, according to a Pentagon spokesperson.
"Should the Capitol Police require assistance, they will first utilize local, state and Federal law enforcement capabilities before requesting the deployment of the Physical Security Task Force," the spokesperson said.
What they're saying: "We have a strong plan in place to ensure that it remains peaceful and then if violence does occur, that we can stop it as quickly as possible," Capitol Police chief Tom Manger said during a press briefing late on Friday.
Yogananda Pittman, assistant chief of protective and intelligence operations, said that since the Jan. 6 Capitol riot, Capitol Police have developed their own intelligence operations. "Historically, this department has relied primarily on outside agencies for intelligence information."
"Our department has increased staffing today and is fully activated for tomorrow. So, you will notice an increased police presence around the city and this is to ensure everyone's safety and security throughout the district," said D.C. Metropolitan Police chief Robert Contee.
Former President Trump has voiced support for the rally, which is being organized by a nonprofit group led by former Trump campaign staffer Matt Braynard.
"Our hearts and minds are with the people being persecuted so unfairly relating to the January 6th protest," Trump said in a statement Thursday.
Over 600 known defendants currently face charges related to the Jan. 6 insurrection. Rioters committed over 1,000 assaults against police officers, according to prosecutors.
What to watch: The Department of Homeland Security has warned of the potential for more violence at the rally, which right-wing extremist groups like the Proud Boys may attend, but has seen no indications of a specific plot, according to CNN.
Go deeper