Facebook's social balance is in the red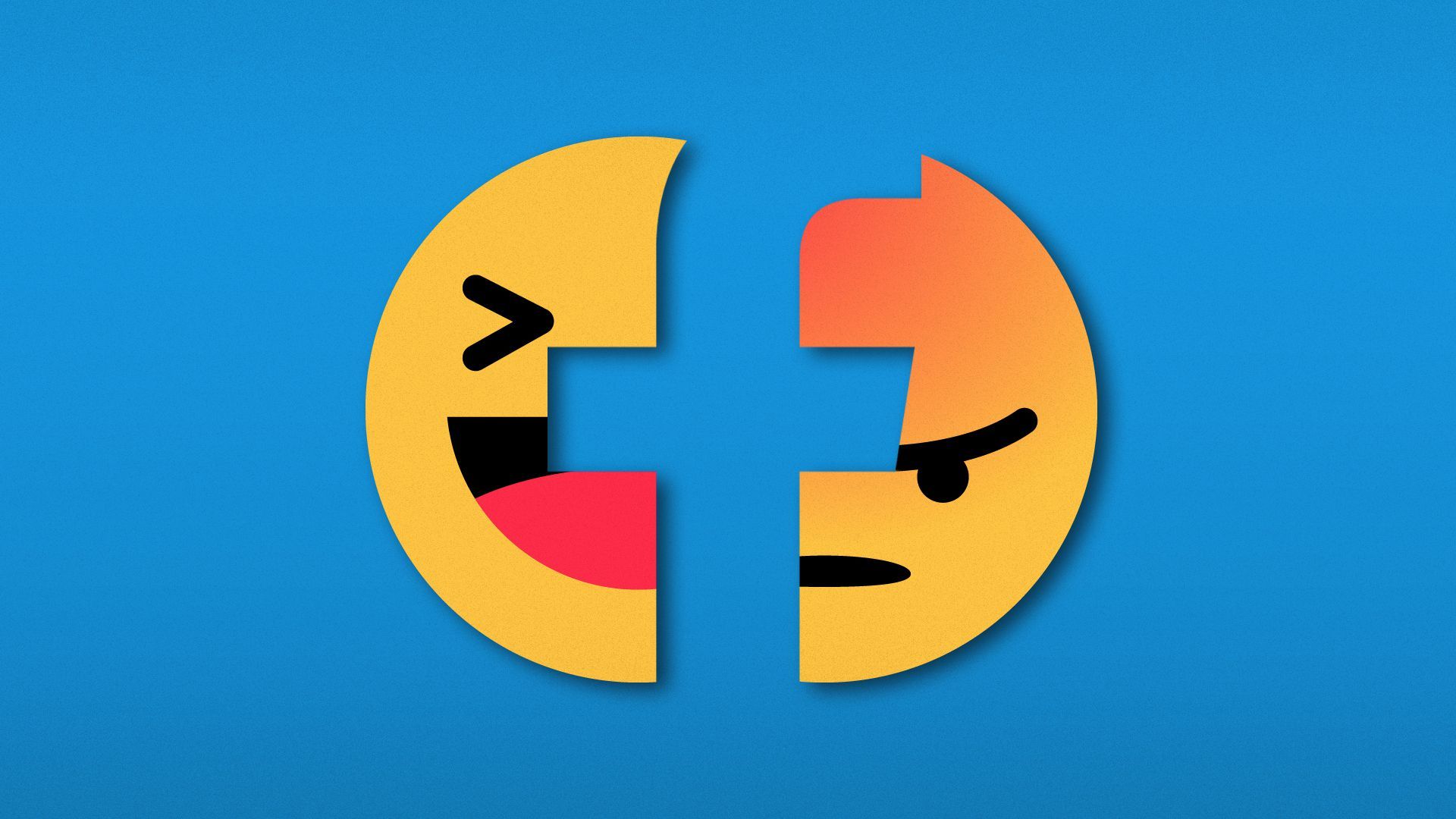 Facebook is essential to our lives. Facebook is ruining our lives. Holding both these truths at once will make your head hurt.
While covering the Olympics in Tokyo, I spent a ton of time on Facebook. Each day, during several hourlong bus rides, I would see who was online in Messenger and share photos and stories there with family and friends. I also posted frequently on my news feed.
I can't count how many people told me their favorite part of the Olympic experience was living vicariously through my posts, photos and messages on the social network.
Yes, but: For all Facebook's benefits, and there are many, revelatory reporting keeps piling up stronger evidence of its harms.
The same Facebook that makes it easy to share photos and stories from the Olympics also makes it all too easy to spread lies and half truths that carry further and faster thanks to the company's powerful algorithms and vast reach.
Driving the news: Thanks to a multipart Wall Street Journal series this week, we have learned:
The big picture: While some of these challenges are specific to Facebook, similar problems also plague YouTube, Twitter and other platforms.
Of note: These stories were mostly based on internal reports and documents written by Facebook employees sounding alarms.
Facebook has argued that the Journal's information is outdated and the company has taken many steps to mitigate each problem.
At this point, though, a good portion of the public and the media don't take the company at its word and don't trust it to be transparent.
Somewhere inside Facebook right now, people are doubtless writing timely reports about its current problems. If we're lucky, maybe someone will leak them in 2024.
What they're saying: Instagram head Adam Mosseri, speaking on the Recode podcast, compared Facebook's social impact to the automobile's: "Anything that is going to be used at scale is going to have positive and negative outcomes. Cars have positive and negative outcomes."
Many on Twitter jumped on Mosseri to point out how heavily cars are regulated. But Facebook frequently notes its support for updating and expanding internet regulations, as Mosseri did in his interview.
More important, maybe, is the way that both autos and social media deliver convenience to users and profit to their makers while offloading their biggest harms — globe-warming carbon emissions, democracy-eroding misinformation — for governments and society to deal with.
Between the lines: Facebook continues to grow around the world, but U.S. numbers for the core Facebook product have stagnated, and it's losing ground among the young.
For many, the powerful human connections the service makes no longer outweigh the myriad ways in which Facebook is undermining society — promoting medical misinformation, political extremism, teen self-harm and even mob violence in countries halfway around the globe from the company's headquarters.
Facebook is right to note that these problems predate the social network's existence, and that it isn't solely responsible for social divisions. But it's accountable to society for what happens on its platform. If it can't regain the trust of the public and public institutions, it will face new investigations, rules and penalties — on top of a ton already in progress.
What's next: The Journal reports have already sparked letters from Congress, and the documents the stories revealed may give investigators at the Federal Trade Commission more ammunition for the cases they are pursuing.
Our thought bubble: Letters and committee hearings won't change Facebook. Laws and enforcement actions could, but only if they're bold — and if they can steer clear of the kind of unintended consequences that keep tripping up Facebook itself.
Editor's note: This story has been updated with additional information about Friday's Wall Street Journal story.
Go deeper