Updated Sep 17, 2021 -

World
In reversal, Pentagon now says drone strike killed 10 Afghan civilians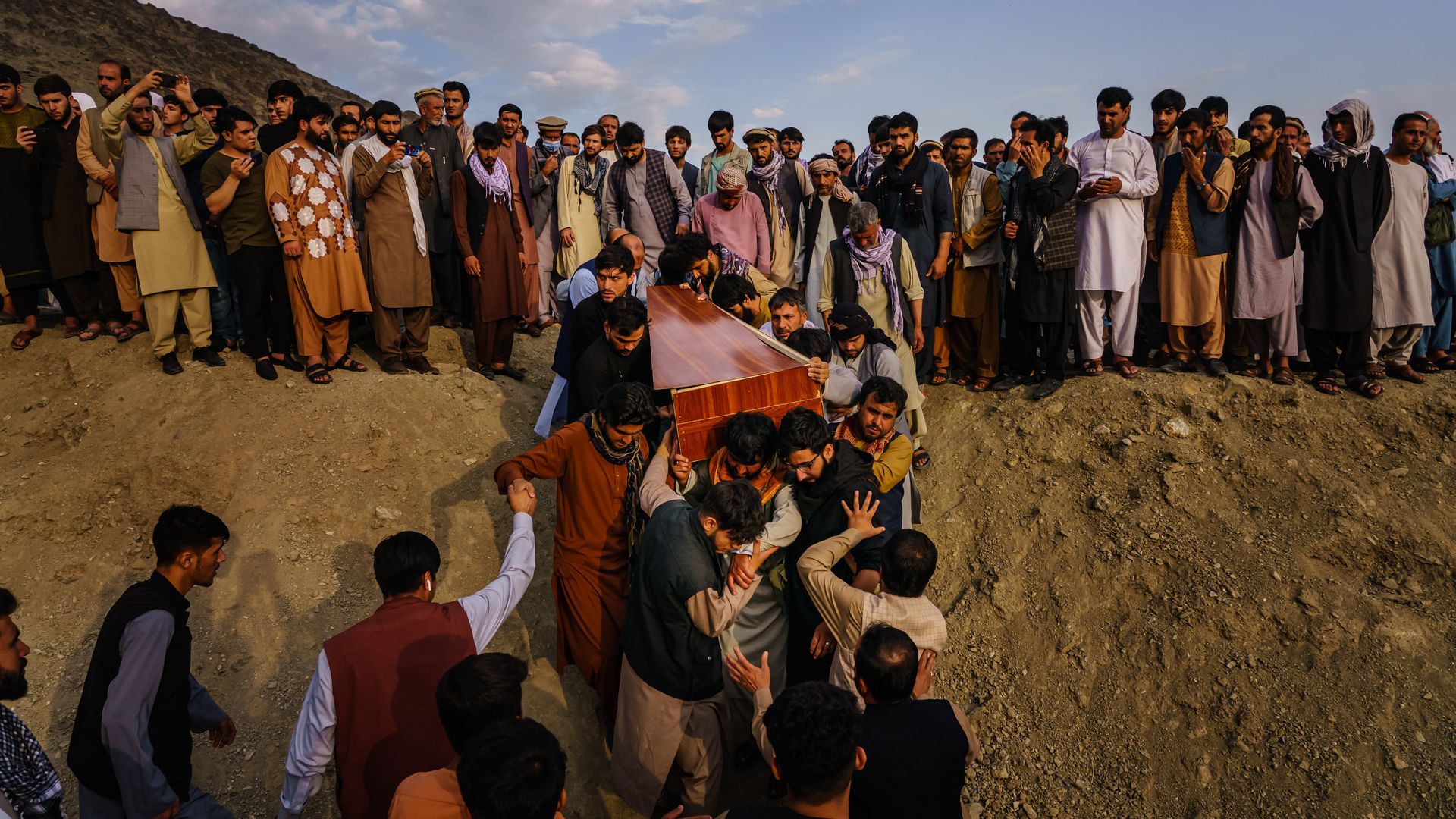 A U.S. drone strike launched on Aug. 29 killed 10 civilians in Afghanistan, including seven children, rather than the Islamic State extremists the Biden administration claimed it targeted, the Pentagon said Friday.
Why it matters: U.S. Central Command said at the time that officials "know" the drone strike "disrupted an imminent ISIS-K threat" to Kabul's airport, and that they were "confident we successfully hit the target."
But an investigation by U.S. Central Command found that the strike killed an aid worker along with nine members of his family.
Zemari Ahmadi worked for an NGO in Kabul that helped distribute food to Afghans, CBS News reports.
The explosives that the military claimed were sitting in Ahmadi's car trunk were most likely water bottles, an official familiar with the investigation told the New York Times.

A secondary explosion in the courtyard where the attack occurred was likely a propane or gas threat — not explosives, as U.S. intelligence also believed.

Ahmadi's "only connection to the terrorist group appeared to be a fleeting and innocuous interaction with people in what the military believed was an ISIS safehouse in Kabul, an initial link that led military analysts to make one mistaken judgment after another while tracking Mr. Ahmadi's movements in a sedan for the next eight hours," the Times writes.
What they're saying: "I offer my profound condolences to the family and friends of those who were killed," Gen. Kenneth F. McKenzie Jr., commander of U.S. Central Command, said at a briefing Friday.
"This strike was taken in the earnest belief that it would prevent an imminent threat to our forces and the evacuees at the airport, but it was a mistake and I offer my sincere apology," McKenzie said. "I am fully responsible."
McKenzie issued a separate statement on Friday delineating that commanders on the ground had "appropriate authority" and "reasonable certainty that the target was valid."
"[B]ut after deeper post-strike analysis, our conclusion is that innocent civilians were killed. This is a horrible tragedy of war and it's heart-wrenching and we are committed to being fully transparent about this incident."
Anyone suspected of criminal responsibility should face prosecution, said Brian Castner, Amnesty International's senior crisis adviser.
"It should be noted that the US military was only forced to admit to its failure in this strike because of the current global scrutiny on Afghanistan," said Castner, a former Air Force bomb technician, in a statement.
"Many similar strikes in Syria, Iraq, and Somalia have happened out of the spotlight, and the US continues to deny responsibility while devastated families suffer in silence."
Go deeper