How aquatic food could serve us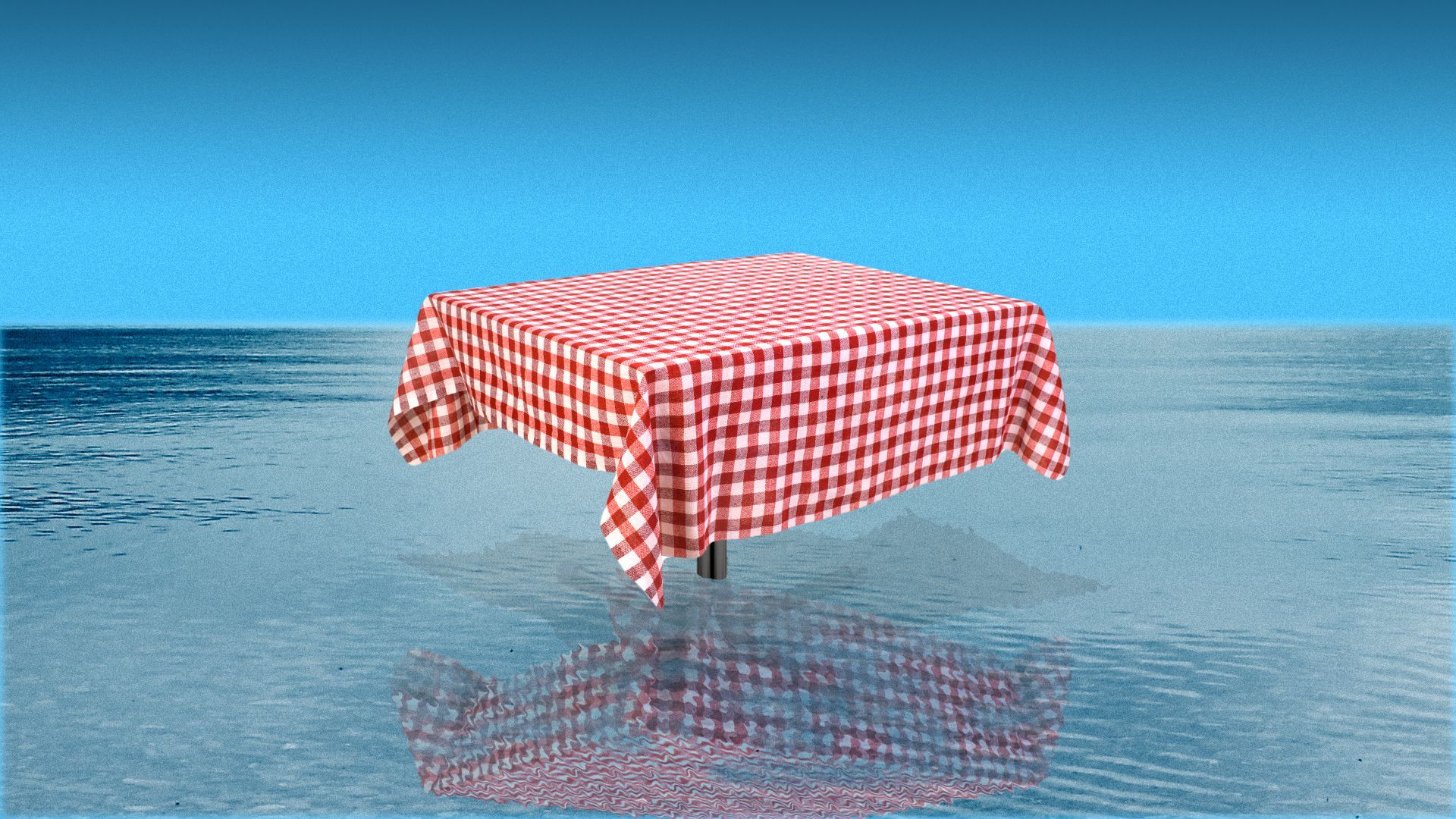 Fish, seaweed and other aquatic food from the world's oceans and freshwater could help reduce malnutrition around the globe, a major new assessment reported this week.
Why it matters: The world is on two trajectories — the environment is being degraded and obesity and undernourishment continue to rise.
Those trends are fueled by resource-intensive food production and inadequate diets, underscoring the need for food systems that can deliver nutrition while minimizing further damage to the planet, researchers say.
Blue foods — algae, seaweed, fish and other aquatic animals rich in micronutrients — that have been largely overlooked or lumped together by food policymakers could be part of the solution, researchers with the Blue Food Assessment write.
The big picture: "People view food as agriculture and agriculture as land-based food systems," says Christopher Golden, an epidemiologist and ecologist at the Harvard T.H. Chan School of Public Health and lead author of one of the papers published in Nature.
Land-based animal agriculture largely revolves around cows, chickens, pigs, lamb and a handful of other animals.
"But with aquatic foods, there are thousands of potential species with different nutrient profiles and environmental impacts," Golden says.
People's willingness to eat small nutritious fish like sardines or bivalves with a low environmental impact will play a big role in whether aquatic foods are leveraged for nutritional and environmental benefits, Beatrice Crona at the Stockholm Resilience Centre in Sweden, told the New Scientist. Crona co-wrote a paper that found demand for fish is already expected to nearly double by 2050.
Key takeaways: A new database quantifies omega-3 fatty acids, vitamins A and B12, calcium, iodine, zinc, calcium and other nutrients in 3,753 species of aquatic foods — an unprecedented level of detail.
The researchers, led by Golden, found bivalves like clams, as well as salmon, carp, and small fish like sardines, herring, and anchovies, are all more rich in those seven nutrients than beef, lamb, chicken and the other land-based animals at the heart of our food systems.
They also found high growth in aquatic food production by 2030 — spurred by innovation and investment in farming aquatic foods — could lead to an 8% increase in production each year and a 26% decrease in price.
More consumption of aquatic foods would prevent about 166 million people from not getting enough micronutrients, they write.
The researchers also found that increasing the consumption of aquatic foods is likely to benefit women and children in particular, as nutrients like omega-3 fatty acids are important for fetal and child growth and development.
Some of the most nutritious aquatic foods also have fewer environmental impacts, according to a separate study led by Jessica Gephart, an environmental scientist at American University.
Bivalves and seaweeds, which don't have to be fed, and some fish — specifically sardines and cod — had the lowest impact on water and land use and on greenhouse gas, nitrogen and phosphorus emissions. Farming bivalves and shrimp generates lower emissions than catching them in the wild.
But while nutrient-rich farmed carp and salmon have low emissions, carp farming uses the most water whereas salmon farming uses the least land and water among farmed fish. "We start to see tradeoffs," Gephart says.
Yes, but: Improving global nutrition through blue foods depends in part on aquaculture, according to the model by Golden, and aquaculture of some species currently carries other environmental costs.
Farming salmon, for example, has been tied to water pollution, the spread of parasites to wild fish and overfishing of sardines and other small fish that go into salmon feed, the New Scientist notes.
The environmental impact study also doesn't look at how blue food production could affect ecosystems and their biodiversity, which land and water use decisions should take into account, Gephart says.
Climate change also threatens the potential benefits of blue food systems, especially for wild-capture fisheries in Africa, south and southeast Asia, and small island states in the Indo-Pacific, a separate paper finds.
What they're saying: "These papers show the unmet potential the world's waters have in meeting at least some of our nutritional needs," Lawrence Haddad, executive director of the Global Alliance for Improved Nutrition (GAIN), tells Axios in an email.
"A large number of the different food sources are often neglected but deserve more attention from researchers, governments, businesses and consumers," he says.
"It is important to get ocean food systems into the global conversation about ending hunger," says John Virdin, who directs the Oceans and Coastal Policy Program at the Nicholas Institute for Environmental Policy Solutions at Duke University and wasn't involved in the research.
What to watch: How prominently blue foods are featured at the first United Nations Food Systems Summit next week.
Go deeper