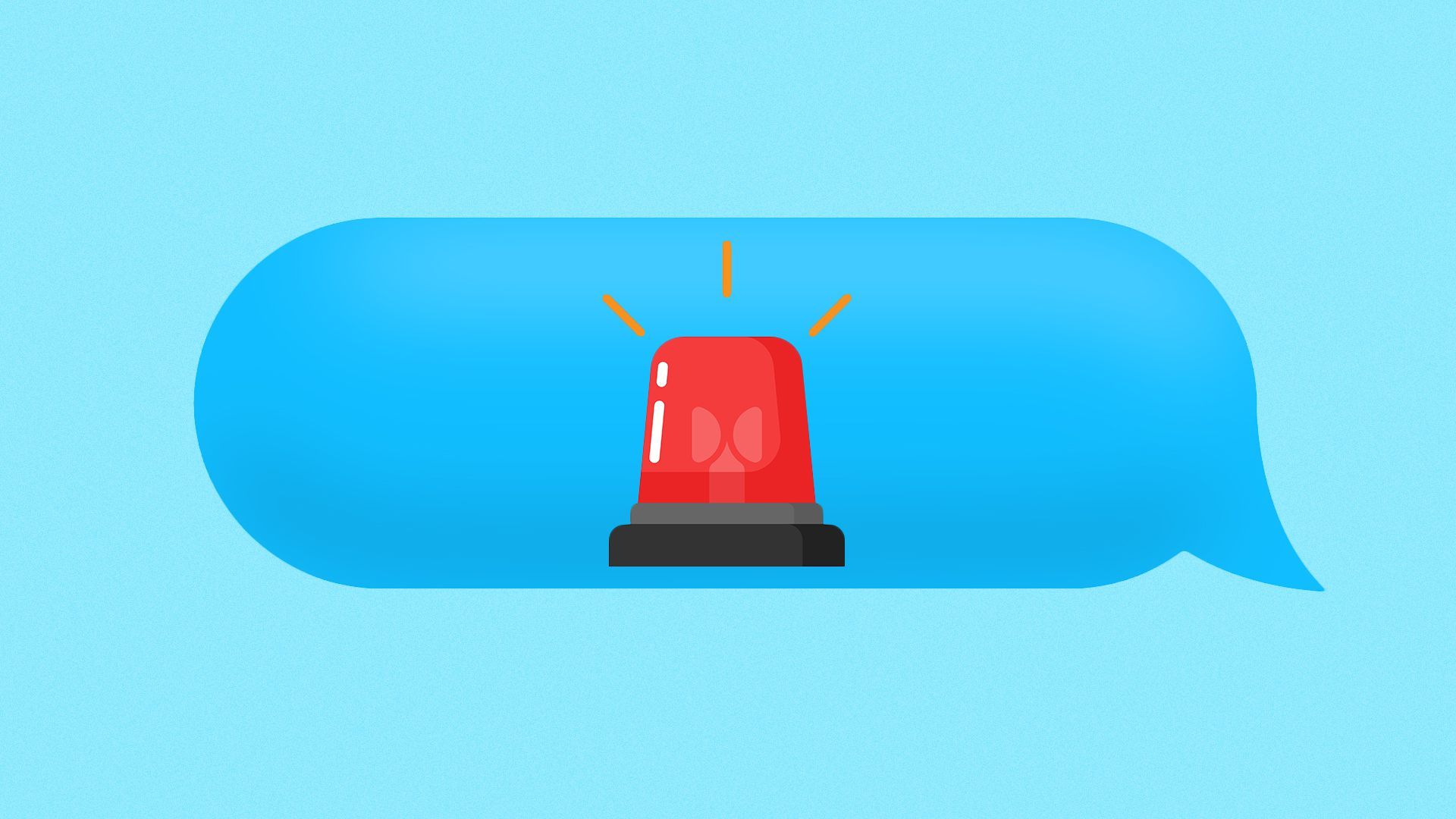 A next-generation 911 would allow the nation's 6,000 911 centers to accept texts, videos and photos.
The big picture: U.S. emergency communications have remained stubbornly analog, but Congress is about to take another run at dragging 911 into the digital age.
Why it matters: Giving people ways to reach 911 beyond voice calls could save citizens' and first responders' lives.
Driving the news: Sen. Amy Klobuchar (D-Minn.), co-chair of the Senate Next Generation 9-1-1 Caucus, and Sen. Catherine Cortez Masto (D-Nev.) announced a bill Thursday that would create a $10 billion federal grant program for upgrades to the nation's 911 centers.
"In a crisis, no one should be put in danger because of outdated 9-1-1 systems, and first responders, public safety officials, and law enforcement must be able to communicate seamlessly," said Klobuchar, who will push to include the funding in Democrats' reconciliation spending plan.
Similarly, the House Energy & Commerce Committee approved its own proposal this week for a $10 billion boost for next-generation 911 as part of the $3.5 trillion spending package.
How it works: Expanding 911 to accept more kinds of digital data would add more resiliency to a system that's still built around a copper-based telephone network.
According to the FCC, almost 3,000 911 centers are capable of receiving text messages. But none have full capabilities to take data from smartphones, said Harriet Rennie-Brown, executive director of the National Association of State 911 Administrators.
"You have this amazing device in your hand, and we can't use all of the information it's capable of sending us," Rennie-Brown told Axios.
What they're saying: "Right now Americans are enduring the most frequent and severe natural disasters in recorded history — meanwhile our country's 9-1-1 operators are being asked to respond with outdated technology from a bygone era," House Energy & Commerce Committee Chairman Frank Pallone (D-N.J.) said in a statement. "Next generation 9-1-1 is about saving lives."
The other side: Republicans opposed the House proposal during a marathon markup session Monday after Democrats voted against Republican amendments.
One amendment from Republicans would have prohibited the new funding to go to 911 centers in cities that voted on defunding their police departments.
"Our amendment simply says let's not waste any of it," Rep. Tim Walberg (R-Mich.) said. "You don't want police support. You don't want to fund the police, deal with it yourself."
The intrigue: The House proposal would not allow the funding to go to states that divert funds from the 911 fees on consumer phone bills to non-911 purposes.
The Federal Communications Commission, in an annual report spotlighting fee diverters, said 5 states used a portion of their 911 funds to support public safety programs unrelated to 911.
The FCC said Pallone's home state of New Jersey, and New York, home of Senate Majority Leader Chuck Schumer, also used a portion of their funds for either non-public safety or "unspecified" uses.
The FCC this year created a "strike force" to recommend ways to end 911 fee diversion, and that group is expected to vote on its report Friday.
Go deeper