Blinken, Austin call out China at event on Australia security pact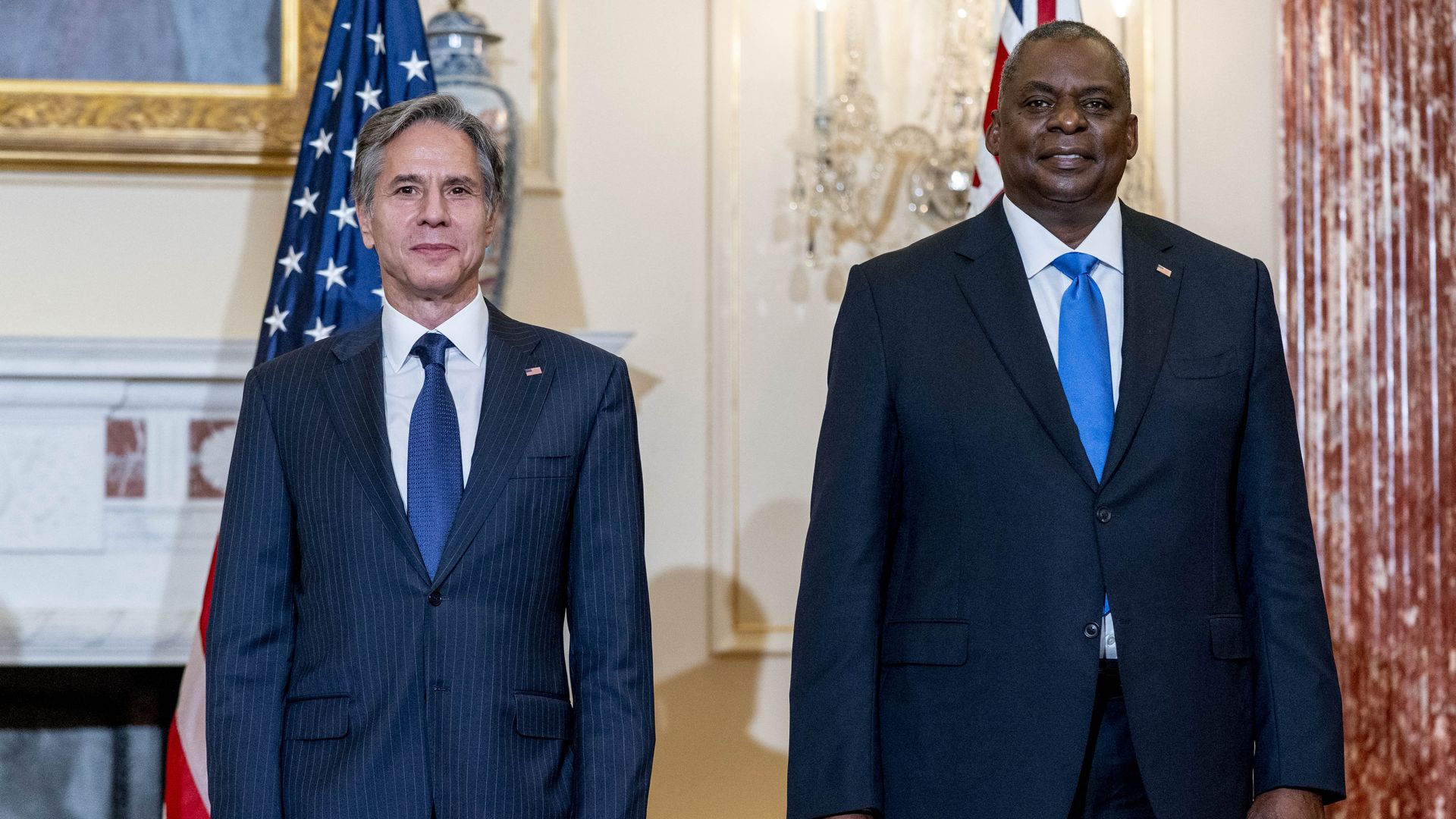 Secretary of State Antony Blinken and Defense Secretary Lloyd Austin condemned China's "aggressive" and "destabilizing" behavior at a press conference Thursday, as they inaugurated a major new trilateral security partnership with Australia and the U.K.
Why it matters: China was not explicitly mentioned in President Biden's announcement of the AUKUS alliance, through which the U.S. and the U.K. will help Australia acquire nuclear-powered submarines as part of a broader effort to ensure "peace and stability in the Indo-Pacific."
"I do want to just underscore very clearly this partnership is not aimed or about any one country," a senior Biden administration official said on a briefing call Wednesday to preview the announcement. Blinken and Austin both echoed that position during the Q&A portion of Thursday's press conference.
But China's military activities in the Pacific are viewed as a top security threat to the U.S., and the subtext of the new partnership is clear.
What they're saying: "The world saw China's aggressive response when Australia led calls for an inquiry into the origins of COVID-19. Beijing has seen over the past months that Australia will not back down, and threats of economic retaliation and pressure will not work," Blinken said, as he stood by Austin and their Australian counterparts.
"We spoke in detail about China's destabilizing activities and Beijing's effort to coerce and intimidate other countries, contrary to established rules and norms," Austin added.
"And while we seek a constructive, results-oriented relationship with the PRC, we will remain clear-eyed about Beijing's efforts to undermine the established international order."
Responding to China's condemnation of the announcement as indicative of a "Cold War mentality," Australia's defense minister Peter Dutton said: "This is not the first time we've seen different outbursts from China in terms of Australia's position."
"We are a proud democracy in our region. We stand with our neighbors in the Indo-Pacific to ensure enduring peace. And this collaboration makes it a safer region, and that's the reality. No amount of propaganda can dismiss the facts," he added.
The big picture: The U.S. and Australian officials were also pressed on the furious reaction of another country — France, which had been working for five years on a $90 billion submarine contract with Australia that will now be scrapped.
The New York Times reported during the presser that French officials in Washington had canceled a gala celebrating U.S.-France relations, fuming at a move the country's foreign minister said "looks very much like what Mr. Trump used to do."
"As the president said last night in announcing this initiative, we strongly, strongly welcome European countries playing an important role in the Indo-Pacific," Blinken said, calling France an especially "vital" partner and insisting French officials were notified before the announcement.
Explaining Australia's decision, Dutton said military officials assessed that the country needed nuclear propulsion technology, rather than the conventional diesel submarines France was building, for its security interests:
"The French have a version which was not superior to that operated by the United States, the United Kingdom. And in the end, the decision that we have made is based on what is in the best interest of our national security and the prevailing security and peace within the Indo-Pacific."
— Australian Defense Minister Peter Dutton
Go deeper