Biden blindsides Europe with new AUKUS alliance on China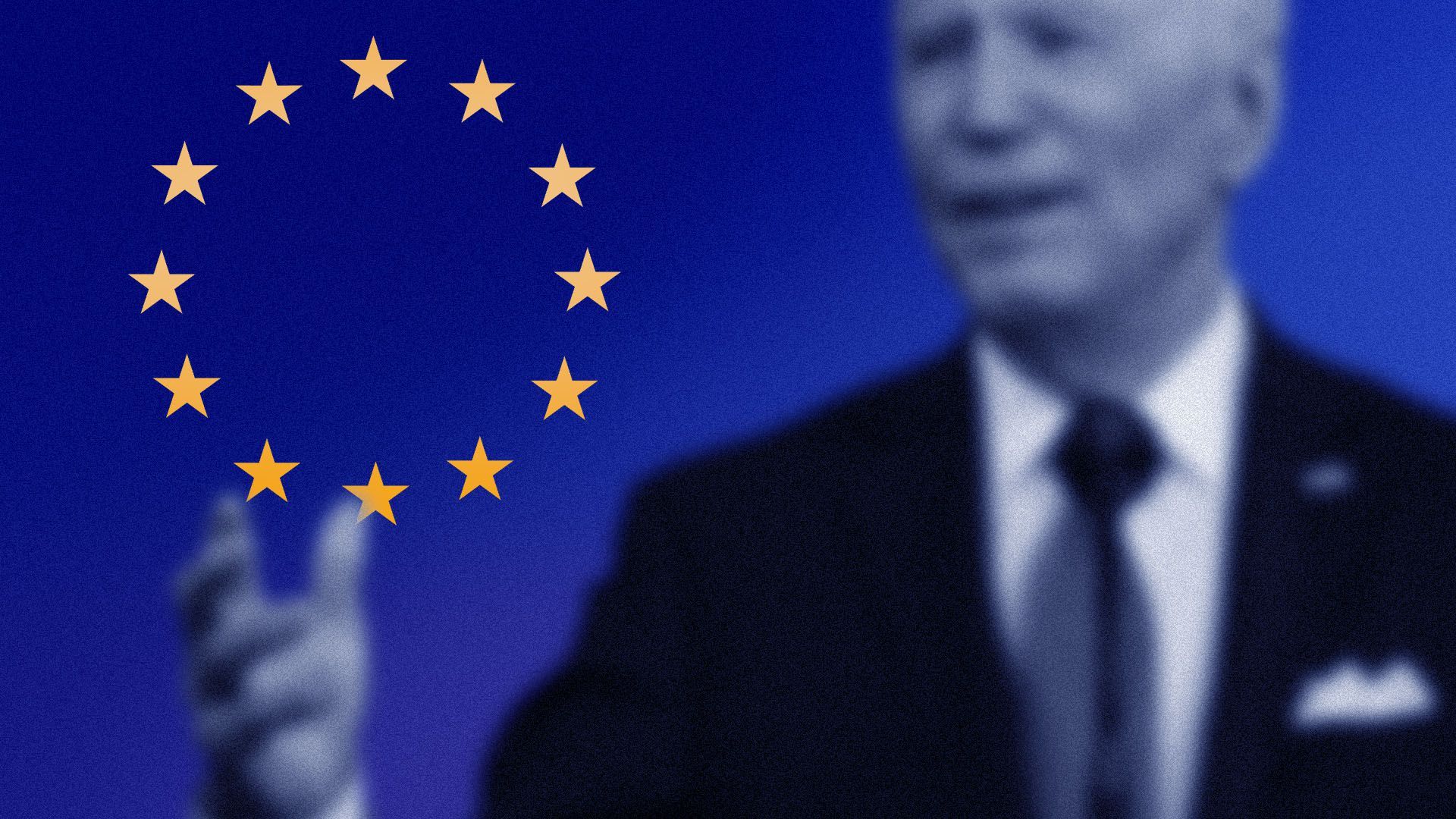 President Biden is constructing and deepening new alliances to strengthen the U.S. position in its showdown with China, but he risks alienating longstanding allies in the process.
Why it matters: Biden heralded a new agreement to help Australia acquire nuclear submarines as part of a trilateral security pact with the U.K. and the U.S. as an "historic step" to update U.S. alliances to face new challenges. The message from French foreign minister, Jean-Yves Le Drian, was quite different.
"Allies don't do this to each other," he said, comparing Biden's announcement to "what Mr. Trump used to do."
Australia is scrapping a $90 billion submarine deal with France — described as "the contract of the century" when signed in 2016 — to enter the new "AUKUS" partnership.
Le Drian called it "a stab in the back," and the French defense minister said she didn't learn the news until Biden announced it last night — just the latest key decision on which Biden has blindsided his European allies.
To make matters worse, the announcement came just one day before the EU was set to present its own much-anticipated strategy for the Indo-Pacific, embarrassing the Europeans just as they sought to flex their own geopolitical muscle.
"I suppose that a deal like that wasn't cooked the day before yesterday," the EU's top diplomat Josep Borrell said at a press conference to unveil the strategy, which was consumed by questions about AUKUS. "Despite that, we weren't informed."
A senior Biden administration official told Axios the timing of the announcement had "no connection" to the EU's plans, and said U.S. officials had "been in touch with their French counterparts to discuss AUKUS, including before the announcement."
New Zealand Prime Minister Jacinda Ardern has also said her country, a key intelligence-sharing ally of the AUKUS members, was not asked to join the group, though she said that was natural as New Zealand opposes nuclear submarines.
The big picture: Biden's stated China strategy has long been to bring like-minded allies together to push back on Beijing.
Europe was to be at the heart of that approach, and France in particular since it is a leading military power and the only EU country with overseas territories in the Indo-Pacific
Successive U.S. administrations have encouraged European allies to "step up their presence in the Indo-Pacific," notes Benjamin Haddad, director of the Atlantic Council's Europe Center. "And so a strategic dimension, I think, was overlooked by the American administration."
European officials, meanwhile, may have "overestimated the Trump factor in some of the trans-Atlantic differences," Haddad says. "You have deeper trends in terms of shifting priorities, and the submarine decision is a very spectacular example of this."
EU countries knew "Europe was not the focus" when Biden took office, a European diplomat told Axios this week.
Still, they were heartened by Biden's symbolic steps to shore up the relationship after Trump left office, including a visit to Brussels for his first overseas trip and his pledges to coordinate with Europe on key issues, the diplomat said.
But they have been bitterly disappointed at times with the lack of communication and flexibility in practice, including the one-sided ban on vaccinated European travelers.
The chaotic withdrawal of NATO allies from Afghanistan led to another round of soul-searching about whether Europe could or should base its security so heavily on the U.S. alliance.
What's next: Biden will host U.K. Prime Minister Boris Johnson next week to celebrate the AUKUS partnership, and he'll also host the first in-person "Quad" summit with the leaders of Australia, India and Japan.
French officials were set to host a gala tonight in Washington to celebrate the U.S. alliance and mark 240 years since a crucial shared victory in the U.S. Revolutionary War. That event has now been canceled.
Go deeper