Democrats plot debt-limit options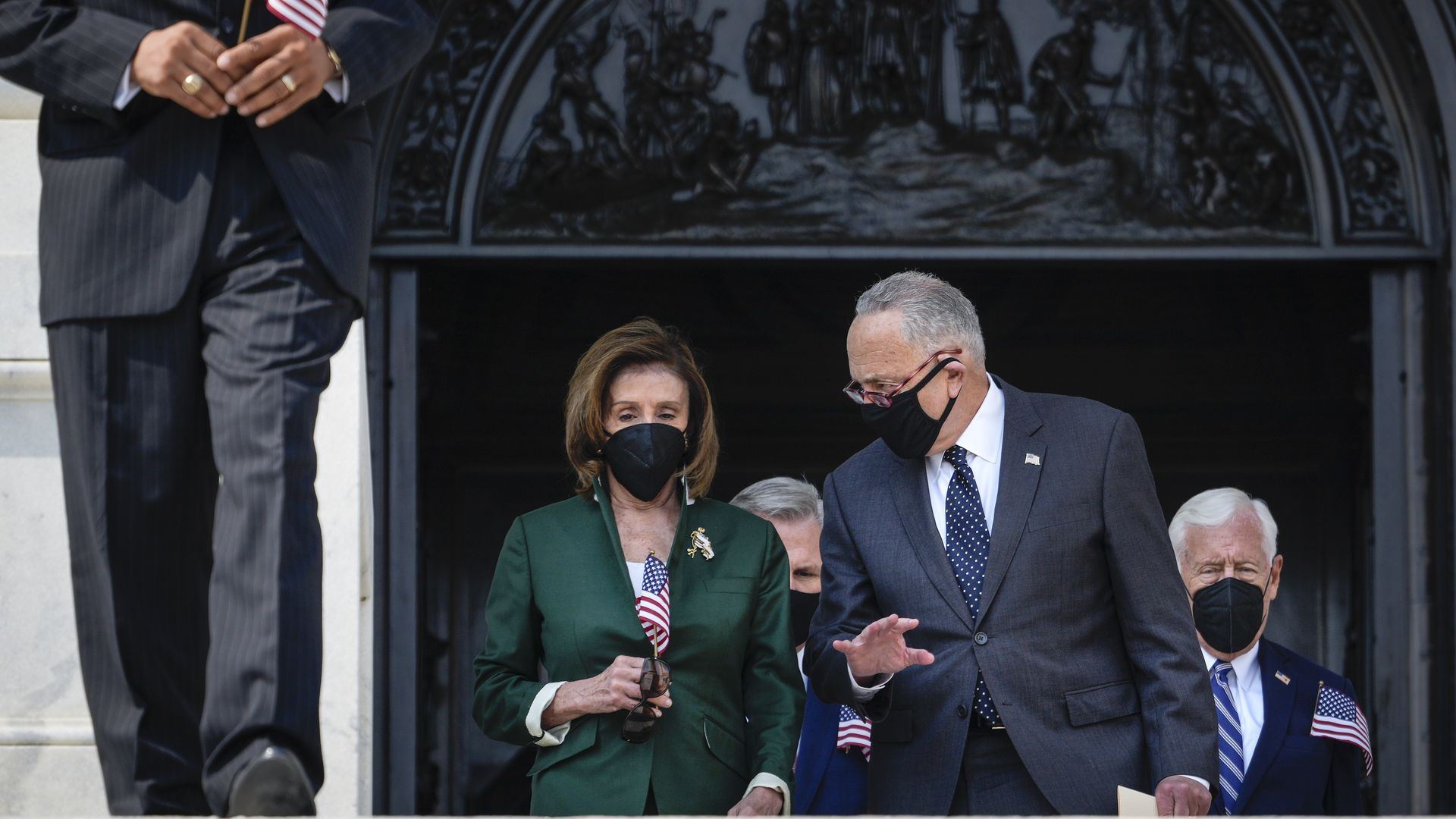 Democratic leadership in the House and Senate are working on a short-term funding bill — which needs to pass before Oct. 1 to avoid a government shutdown — that includes a debt-limit increase.
Why it matters: The country will default on its debt in October for the first time in U.S. history if Congress doesn't increase the federal debt limit. Republicans and Democrats have entered a standoff — daring the other side to blink.
State of play: Republican lawmakers maintain they'll refuse to vote for a short-term funding bill that deals with raising the debt ceiling, arguing Democrats have the tools to deal with the deficit on their own since they control the White House and Congress.
The GOP plans to force Democrats to strip the language from any continuing resolution, which needs at least 10 Republican senators to pass.
Republicans argue Democrats should instead rewrite their reconciliation bill to include the debt increase in their $3.5 trillion infrastructure spending package.
Democratic leadership has repeatedly insisted they will not tweak the budget, especially given it has passed in both chambers.
One other option: Democrats could also try to pass a debt limit increase as a standalone bill.
Republicans say they won't vote for that, either.
The most practical option, according to many Republicans like Sen. Chuck Grassley (R-Iowa), would be for Democrats to introduce a deficit increase and ask for unanimous consent to take up the bill without a filibuster — thus not requiring any GOP senators to vote for it.
"All they got to do is put a bill down, and I would assume that if no Republicans want to vote for it, which right now it doesn't look like any Republicans vote for it, then they would ask unanimous consent to lay the bill down and take it up," said Grassley.
"And why would a Republican object?" Grassley asked.
One Republican, Sen. Ted Cruz (R-Texas), is objecting. Cruz told Politico's Burgess Everett he would force a filibuster if Democrats tried to raise the debt ceiling that way.
The bottom line: The issue is going to consume most of the oxygen on Capitol Hill in the coming weeks, despite Congress' other rapidly approaching deadlines.
Treasury Secretary Janet Yellen warned last week a default would "cause irreparable damage to the U.S. economy and global financial markets."
Go deeper