Australia to acquire nuclear submarines in historic security pact with U.S., U.K.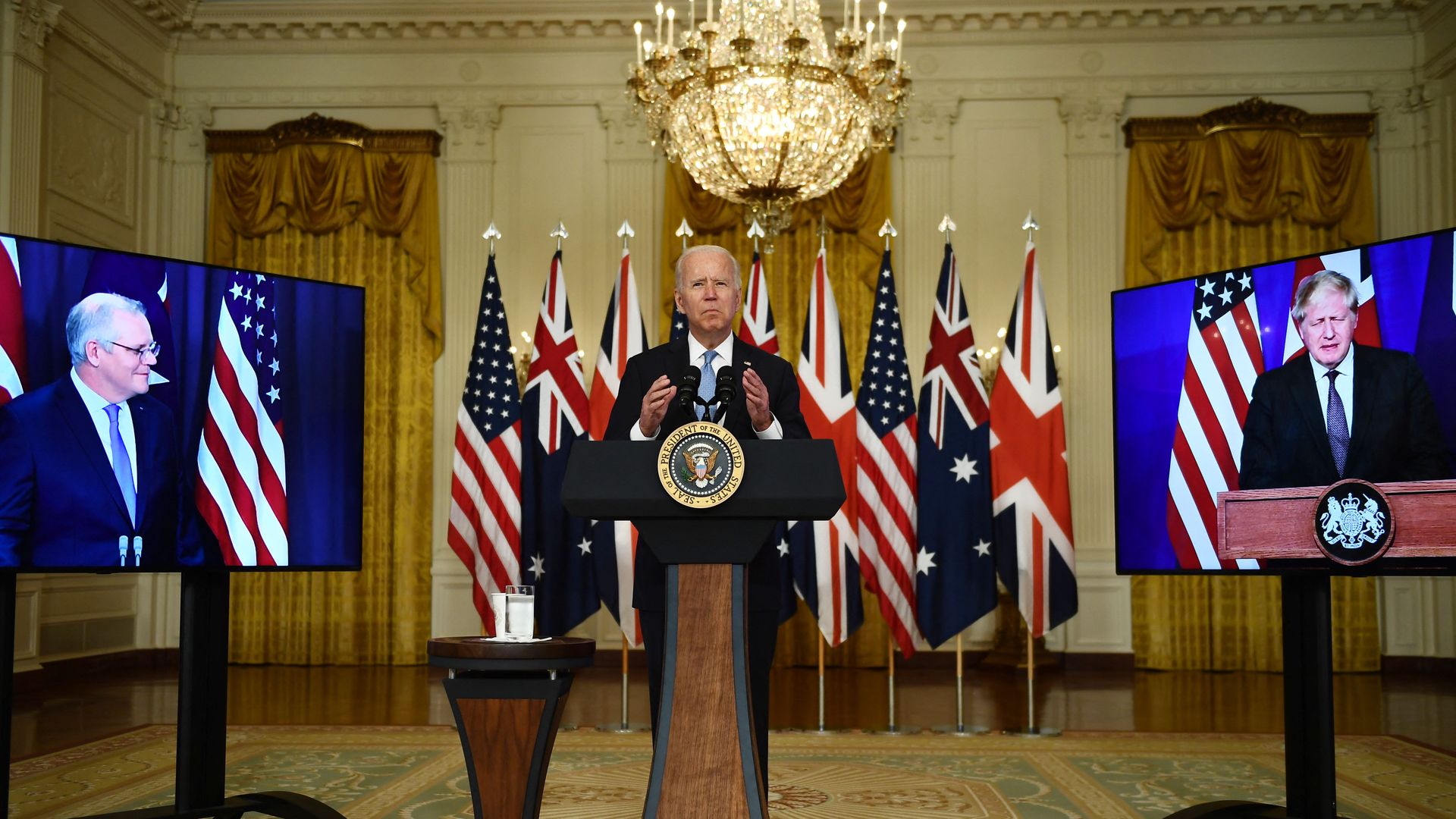 The U.S. and U.K. will help Australia acquire nuclear-powered submarines as part of a historic trilateral security partnership announced Wednesday afternoon by the leaders of the three countries.
Why it matters: The partnership, known as AUKUS, is a major strategic pact that will bind the U.S. and U.K. to Australia's security for generations — and a warning to China as the Biden administration continues to lay the groundwork for countering Beijing in the Indo-Pacific and beyond.
The U.S. has only ever shared nuclear propulsion technology with one country — the U.K., through a 1958 agreement viewed as a cornerstone of the "special relationship" between the nations.
Details: AUKUS will establish new channels of information-sharing and joint efforts to develop advanced technologies, including in the arenas of cybersecurity, artificial intelligence, quantum computing and undersea capabilities.
Teams from all three maritime democracies will work for 18 months to identify the best way to deliver nuclear submarine capabilities to Australia — which it previously sought via a troubled $90 billion deal with France that will likely now be scrapped.
Driving the news: "Our nations and our brave fighting forces have stood shoulder to shoulder for literally more than 100 years, through the trench-fighting in World War I, the island-hopping in World War II, during the frigid winters in Korea and the scorching heat in the Persian Gulf," President Biden said at a press conference Wednesday, flanked remotely by U.K. Prime Minister Boris Johnson and Australian Prime Minister Scott Morrison.
"Today we take another historic step to deepen and formalize cooperation among all three of our nations. Because we all recognize the imperative of ensuring peace and stability in the Indo-Pacific over the long term," he continued.
"We need to be able to address both the current strategic environment in the region, and how it may evolve. Because the future of each of our nations, and indeed the world, depends on a free and open Indo-Pacific enduring and flourishing in the decades ahead."
Between the lines: Officials said on a briefing call that nuclear propulsion technology will allow Australia to deploy "quieter" and "much more capable" submarines for longer periods of time, allowing the allied countries to work jointly to "sustain and improve deterrence across the Indo-Pacific."
"This technology is extremely sensitive," one official said, describing the initiative as an "exception" to U.S. policy on nuclear technology-sharing that is unlikely to be repeated elsewhere.
The official stressed that Australia does not seek nuclear weapons and that all three countries are committed to non-proliferation.
The big picture: Missing from the announcement was any mention of China, whose military activities in the South China Sea are viewed by the U.S. as a top security threat.
"I do want to just underscore very clearly this partnership is not aimed or about any one country," an official said. "It's about advancing our strategic interests, upholding the international rules-based order, and promoting peace and stability in the Indo-Pacific."
But China is highly unlikely to see it that way, and may view the partnership as confirmation "that their aggressive naval platform-building campaign has been not only needed, but should be further advanced," said Chris Johnson, a former top CIA China analyst now at the Center for Strategic and International Studies.
Go deeper