Fake meat companies are hungry for meat-lovers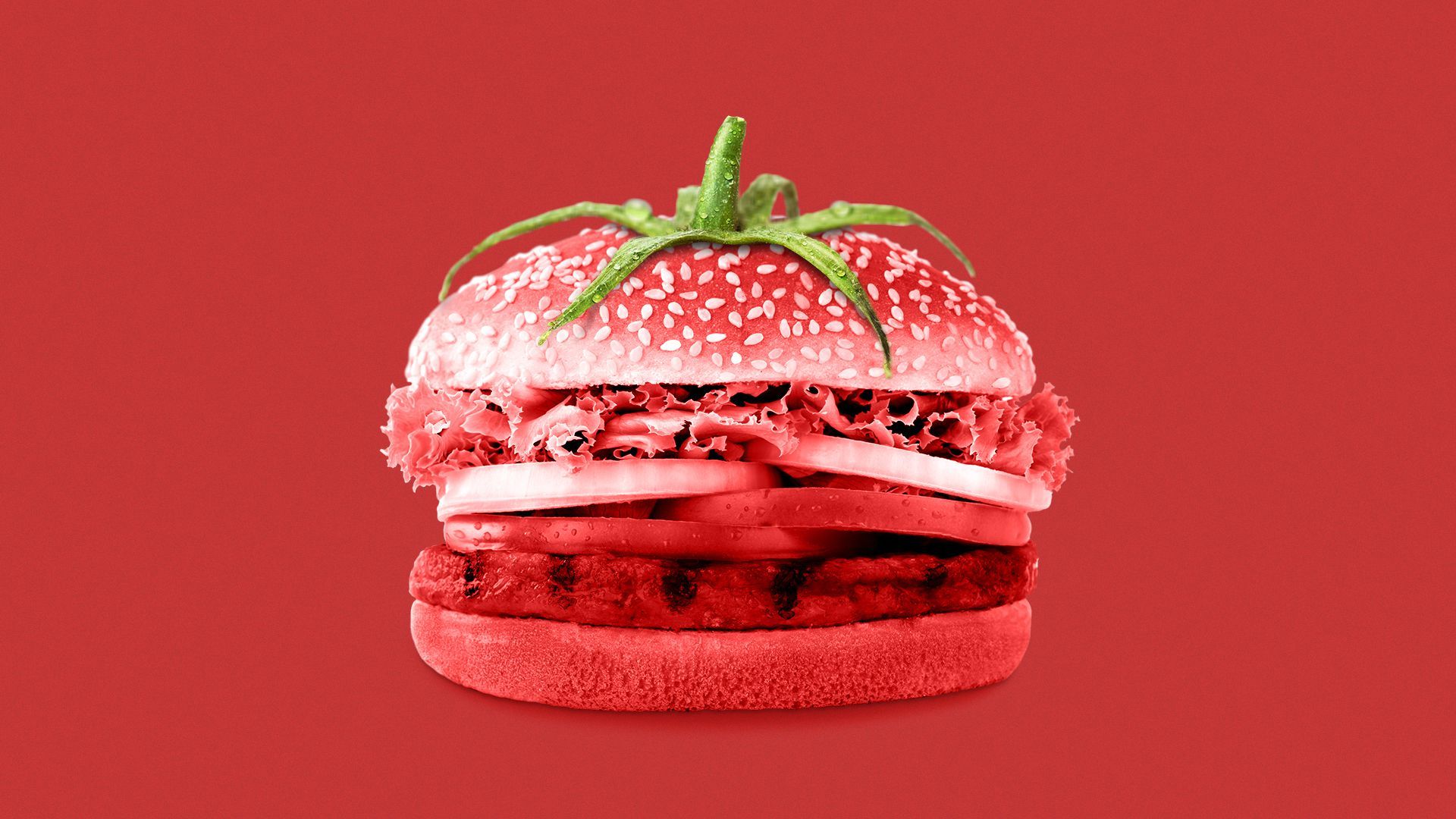 Plant-based meat firms aren't just going after vegans and vegetarians anymore. They're betting that closely mimicking the taste of meat will let them chip away at the meat-eating market too.
Why it matters: Diets that include meat — especially beef — have a steep climate impact. If plant-based protein gains popularity, more and more people could reduce or even halt their meat consumption.
Giving up meat "is the single largest thing an individual can do to reduce their carbon footprint," says Glenn Hurowitz, who runs the environmental advocacy organization Mighty Earth.
A diet that includes beef has 10 times the climate impact of a plant-based diet, he says.
A diet that includes chicken has three times the impact of a plant-based one.
For turkey and pork, it's four to six times.
The plant-based meat companies that are pouring money into approximating the taste and texture of meat are going for "a total transformation of the protein sector," Hurowitz says.
I got a taste of the latest fake meat product to hit shelves, Impossible Foods' chicken nuggets.
They were crunchy on the outside and meaty on the inside, and I could barely notice the difference between them and real chicken nuggets — especially when doused in dipping sauces.
These nuggets have perks beyond the environmental benefits: 40% less saturated fat and 25% less sodium than standard chicken nuggets.
They will compete with meatless chicken nuggets from other brands, including Beyond Meat and Tyson Foods.
Plant-based meat companies have fine-tuned the taste of other products as well, including breakfast sausages and burgers.
But, but, but: Plant-based meat is still not as affordable as real meat.
"The average price for a meat alternative sold in a grocers' meat department in the U.S. last year was $9.87/pound. The average price for beef? $4.82/pound. Chicken is even cheaper, at $2.33/pound," reports Vox's Kelsey Piper.
However: The cost gap seems likely to narrow.
Competition among plant-based meat companies "will continue to drive the price down," Hurowitz says.
Also, meat producers get government subsidies that drive their prices down. If political tides turn against the producers, those subsidies could disappear, he says.
What to watch: The plant-based meat companies still have a ways to go to crack open the meat-lovers market. It's easy enough to replicate the taste and texture of processed meat, like a sausage or patty or nugget, but a lot harder to mimic the muscle of an animal, says Ricardo San Martin, research director of the alternative meat program at UC Berkeley.
The real challenge will be to come out with a convincing fake filet mignon or roast bird. For now, meatless Thanksgiving is still far away.
Go deeper