Biden says California voters "will get Trump" if Newsom is ousted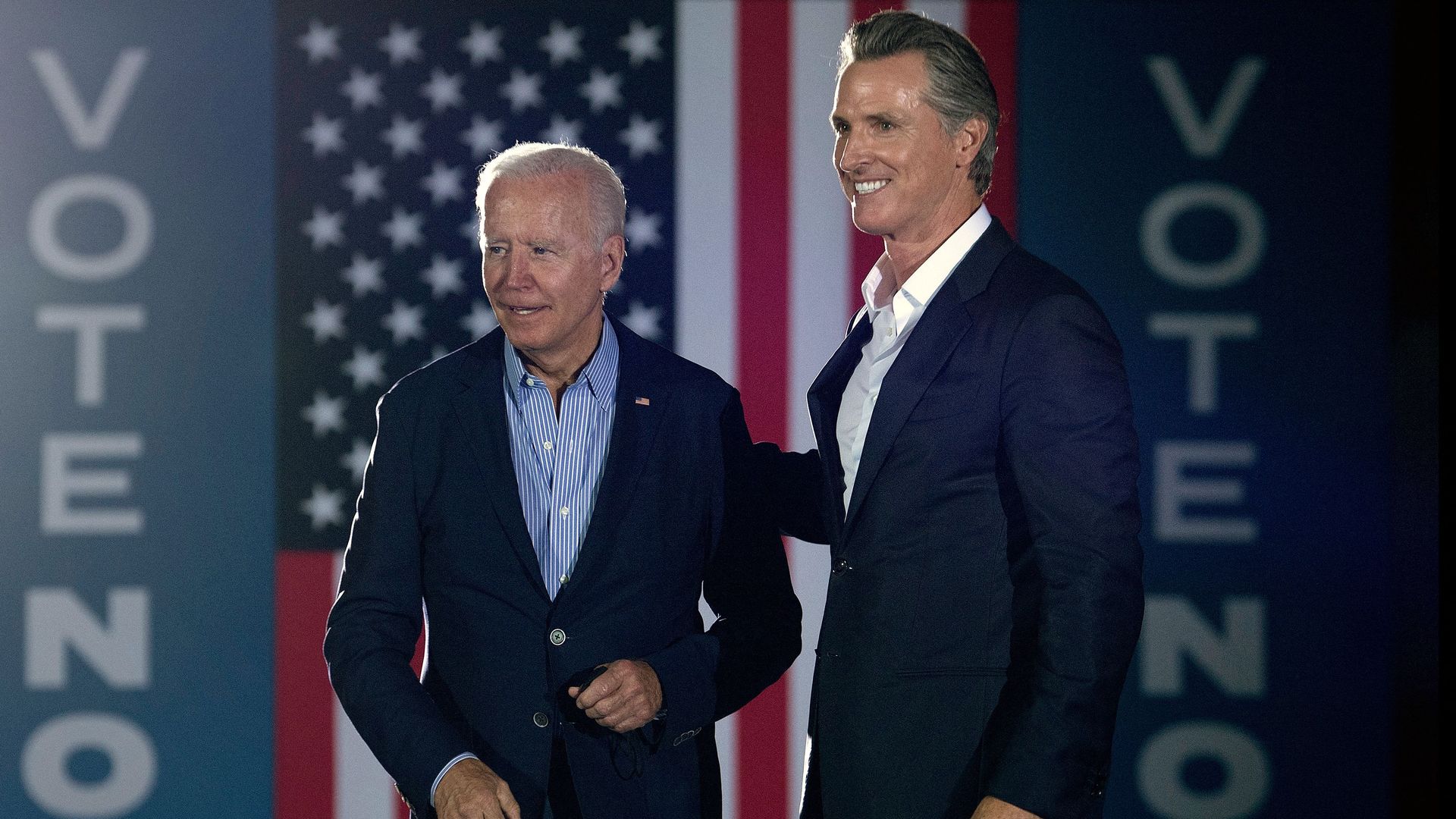 President Joe Biden said while campaigning for Gov. Gavin Newsom in California that if the Democrat is ousted in Tuesday's recall election, voters will end up with a "clone of Donald Trump" as governor.
Between the lines: Although Biden never mentioned him by name, conservative talk radio host Larry Elder has emerged as Newsom's biggest threat. Elder in 2019 described Trump's 2016 election win as "God-sent," and state Democrats have sought to imply that a vote for him is a vote for Trumpism.
Yes, but: Elder has said he's "indifferent" on the matter of being endorsed by former President Trump, telling CNN: "If he would like to give me the endorsement, fine. If he does not want to give me an endorsement, that's fine too. I haven't asked him. I haven't requested it."
What he's saying: Biden told voters at Monday evening's rally in Long Beach that they "can either keep Gavin Newsom as your governor, or you'll get Donald Trump."
"It's not a joke," he added. "A Republican governor blocking progress on COVID-19 who is also anti-woman, anti-worker, a climate denier, who doesn't believe in choice. The choice should be absolutely clear."
The big picture: Biden is the latest high-profile Democrat to throw his full support behind Newsom, against GOP-led efforts to oust him.
Vice President Kamala Harris and Sen. Elizabeth Warren (D-Mass.) have campaigned for Newsom in California, and former President Obama appeared in a campaign video for the governor.
Elder told reporters last week that top Democrats were throwing their support behind Newsom because they're "scared to death" he'll lose, per CNN.
Editor's note: This article has been updated with new details throughout.
Go deeper