Democrats' competing health care priorities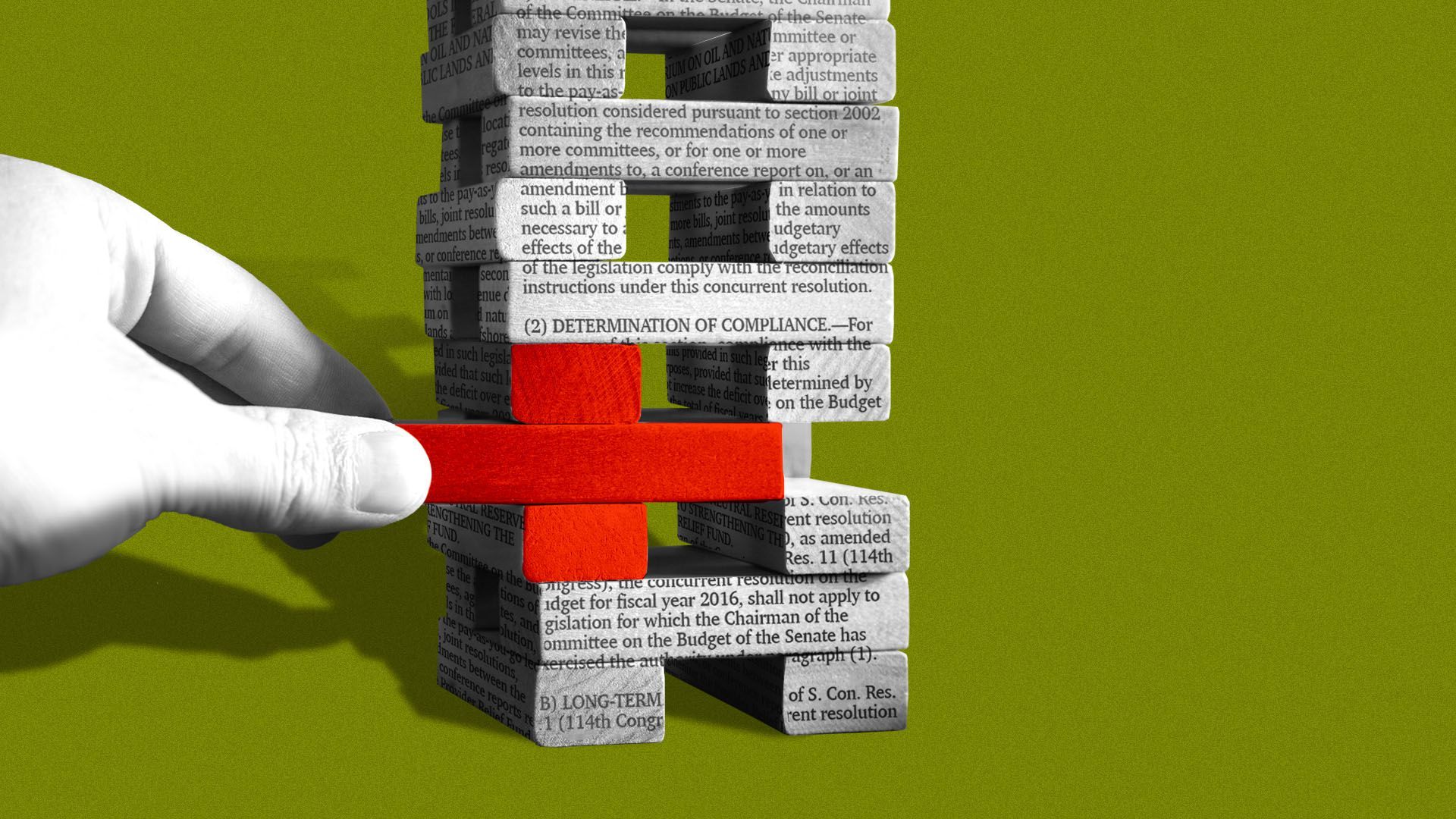 The Democrats' reconciliation bill includes several major health care pieces backed by different lawmakers and advocates, setting up a precarious game of policy Jenga if the massive measure needs to be scaled back.
Between the lines: Health care may be a priority for Democrats. But that doesn't mean each member values every issue equally.
Why it matters: As the party continues to hash out the overall price tag of its giant reconciliation bill, it's worth gaming out which policies are on the chopping block — and which could potentially take the entire reconciliation bill down with them.
There are clear winners of each pillar of Democrat's health plan:
Seniors benefit from expanding Medicare to cover dental, vision and hearing benefits.
Low-income people — primarily in the South and disproportionately people of color — in non-expansion states benefit if the Medicaid gap is closed, giving them access to health coverage.
Affordable Care Act marketplace enrollees benefit if the increased subsidy assistance that Democrats enacted earlier this year is extended or made permanent.
Elderly and Americans with disabilities benefit from an expansion of their home-based care options, and their caretakers benefit from a pay bump.
Seniors — and potentially anyone facing high drug costs — benefit if Medicare is given the authority to negotiate drug prices, although the drug industry argues it will lead to fewer new drugs.
Yes, but: Each of these groups face real problems with health care access and affordability. But when there's a limited amount of money on the table — which there is — even sympathetic groups can get left in the dust.
Each policy measure, however, also has powerful political advocates. And when Democrats have a razor-thin margin in both the House and the Senate, every member has a lot of power.
Seniors are disproportionately powerful on their own, due to their voting patterns. But expanding what Medicare covers is extremely important to progressives — including Sen. Bernie Sanders.
Closing the Medicaid gap is being framed as a racial justice issue, given that it disproportionately benefits people of color. And although many Democrats hail from expansion states — particularly in the Senate — some very powerful ones represent non-expansion states.
These members include Sen. Raphael Warnock, who represents Georgia and is up for re-election next year in an extremely competitive seat, and Rep. Jim Clyburn, who arguably is responsible for President Biden winning the 2020 primary.
The enhanced ACA subsidies are scheduled to expire right before next years' midterm elections. Democrats' hold on the House is incredibly shaky already, making extending the extra help a political no-brainer.
Expanding home-based care options was one of the only health care components of Biden's original framework for this package. But aside from the president's interest in the issue, unions care a lot about it as their members stand to gain a pay raise — and Democrats care a lot about what unions care about.
And finally, giving Medicare the power to negotiate drug prices has the most powerful opponents, theoretically making it vulnerable to the chopping block. But it also polls very highly, and perhaps even more importantly, produces enough government savings to help pay for these other health care policies.
The bottom line: "From a political perspective, none of these health care proposals seem very expendable," said KFF's Larry Levitt.
Most — if not all of them — can be scaled to save money.
But there are also powerful constituencies for the other components of the bill that address issues like child care and climate change, meaning these health care measures aren't only competing against one another.
And, Levitt points out, "there's always a difference between members of Congress staking out positions and being willing to go to nuclear war over them."
Go deeper