Blinken on Afghanistan: "We inherited a deadline. We did not inherit a plan"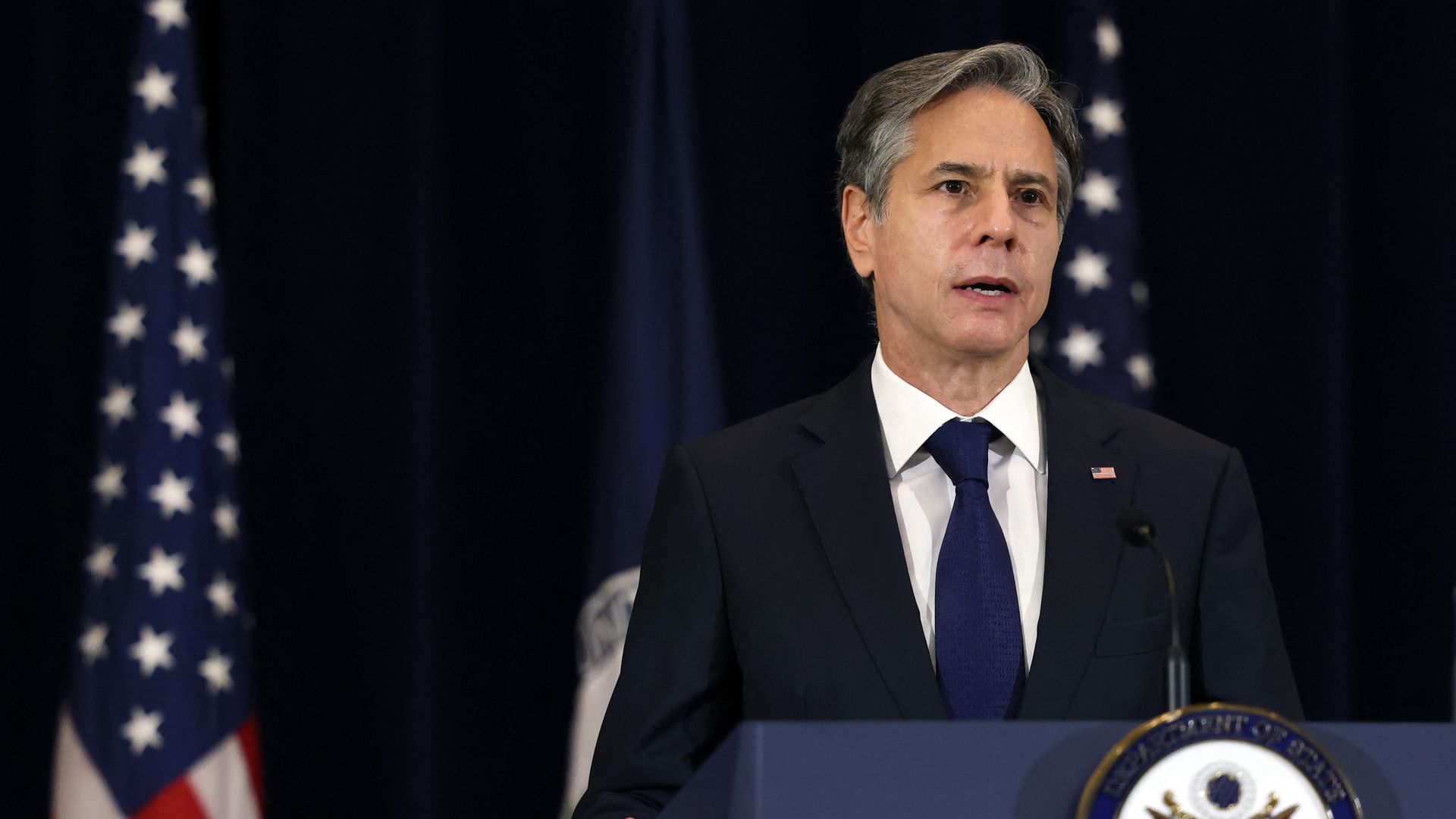 Secretary of State Antony Blinken delivered an unwavering defense of the Biden administration's withdrawal from Afghanistan on Monday, insisting it was "time to end America's longest war" and praising the evacuation from Kabul as "extraordinary."
Why it matters: Blinken, who is appearing Monday before the House Foreign Affairs Committee and Tuesday before Senate Foreign Relations, is the first senior Biden official to testify on Afghanistan in the wake of the chaotic withdrawal. Tempers flared in the first session, with House Republicans accusing Blinken of lying and demanding his resignation.
Highlights: Blinken was pressed on how the U.S. would conduct counterterrorism operations in Afghanistan now that it no longer has a local partner, extensive intelligence capabilities or a regional air base. Blinken declined to go into detail and proposed discussing the matter with the committee in closed session.
On the Taliban government: Blinken acknowledged that the acting Cabinet includes members with "very challenging track records," such as FBI-wanted interior minister Sirajuddin Haqqani. He said that when it comes to engaging with the Afghan government, the U.S. will do so "on the basis of whether or not it advances our interests."
On Trump's Taliban peace deal: "We inherited a deadline. We did not inherit a plan," Blinken said in response to a question about the Trump administration's guidance for getting Americans out of the country and keeping military equipment out of the hands of the Taliban.
On al-Qaeda: "The current assessment of the intelligence community is that long ago, al-Qaeda was so significantly degraded that it's not in a position to conduct externally directed attacks. But we will remain hyper vigilant about any reemergence of that threat," Blinken said, while stressing that the terrorism threat has "metastasized" beyond Afghanistan.
On who's left in Afghanistan: Blinken said there are roughly 100 U.S. citizens and likely "thousands" of American green-card holders in Afghanistan, but the latter is not something the State Department actively keeps track of. He was unable to provide an exact number of SIV applicants who have been evacuated but said the "overwhelming majority" of Afghans who have been brought out are at-risk.
On humanitarian aid: Blinken announced the U.S. is providing an additional $64 million in new humanitarian assistance, which will flow through independent organizations. He also said he plans to appoint a senior State Department official to "focus entirely" on supporting women and girls whose rights have been threatened by the Taliban regime.
On lessons from 20 years of war: "One of the lessons is while we are very effective in dealing with terrorist threats to our country and eliminating them, which we did very successfully in Afghanistan, the idea of using military force to remake a society is something that is beyond our means and capacity," Blinken said.
On intelligence assessments: Rep. Brian Mast (R-Fla.) accused Biden of manipulating intelligence about the weakness of the Afghan government, repeatedly calling Blinken a liar. Blinken, when he was finally allowed to respond, said Mast was "simply wrong" — stressing that nobody believed Afghanistan would collapse in just 11 days.
On U.S. drone strikes: A New York Times investigation found that an Aug. 29 drone strike mistakenly killed 10 civilians. Blinken told Rep. Ilhan Omar (D-Minn.): "That is being looked at very, very, very carefully by others in the administration. No country on earth takes more precautions to ensure that no one other than the terrorist target is struck by a drone."
On President Ashraf Ghani: Blinken said that Ghani, whose decision to flee precipitated the collapse of the Afghan government, told him on Aug. 14 that he would "fight to the death" if the Taliban chose not to negotiate a peaceful transfer of power. He fled the next day.
The big picture: Blinken has been the target of blistering criticism by Republicans. GOP lawmakers berated him and refused to let him respond to questions several times during the hearing, accusing him of "betrayal" and incompetence.
Democrats are viewed as less united when it comes to their defense of Biden's withdrawal from Afghanistan, but largely believe Republicans are exploiting the situation for political purposes.
Sources say Democrats intend to use the hearings to raise broader issues concerning Afghanistan and post-9/11 interventions, while preventing Republicans from laying 20 years of mistakes at the feet of one president.
Go deeper