Red flags for Biden's "over-the-horizon" strategy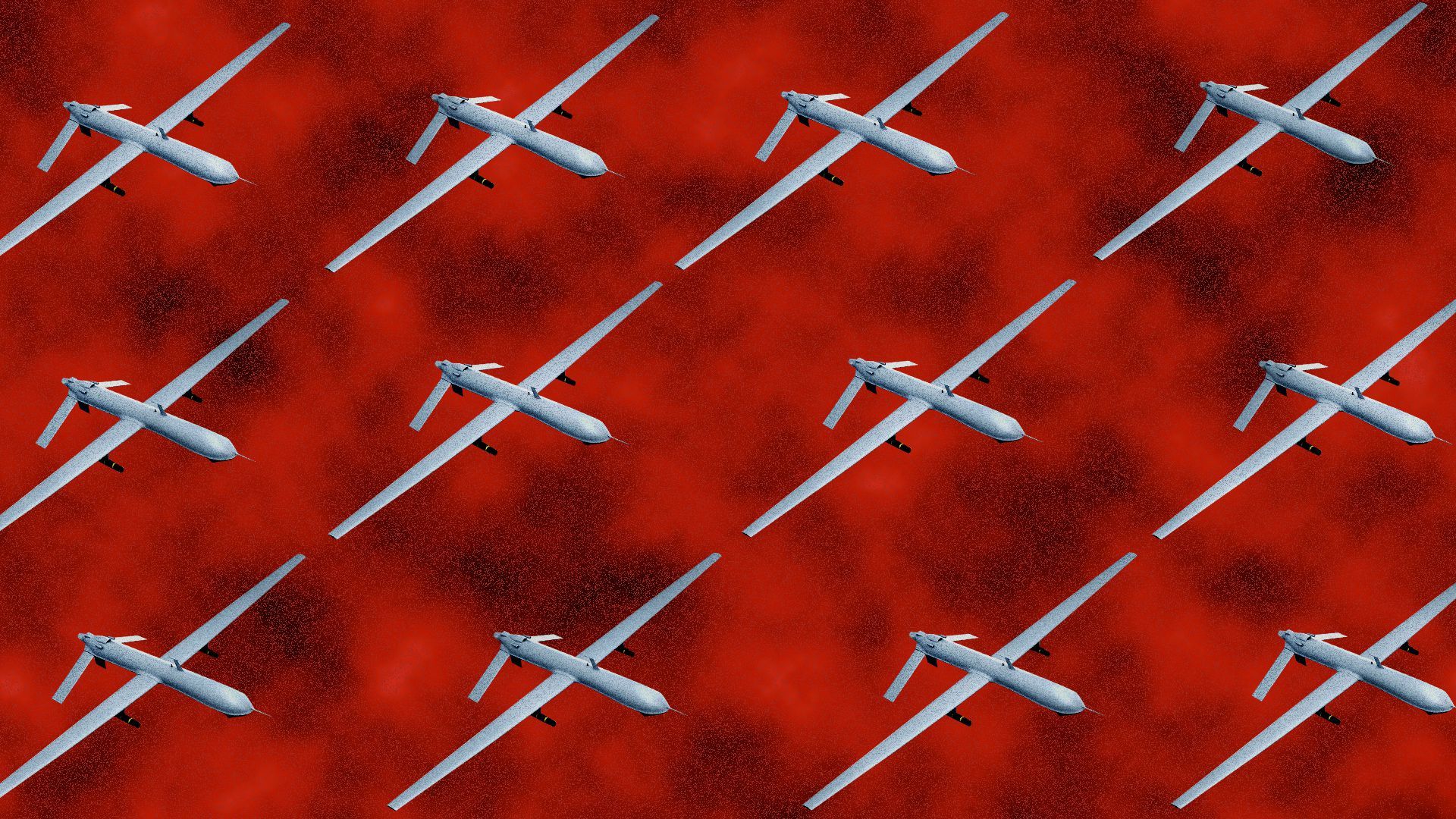 The Biden administration's "over-the-horizon" strategy in Afghanistan is drawing serious questions from lawmakers and counterterrorism experts, as the U.S. withdrawal shifts calculations about threats and capabilities.
Driving the news: Tensions ramped up in an Aug. 27 conference call between President Biden's top national security officials and senators from both parties, sources familiar with the discussions tell Axios. One said members of the intelligence community label it, derisively, the "over-the-rainbow" strategy.
With the 20th anniversary of 9/11 behind us and Secretary of State Antony Blinken set to testify this week before House and Senate committees, expect more public questions.
The big picture: Critics tell Axios that Biden and his team have yet to provide sufficiently detailed plans or explanations about their counterterrorism strategy to lawmakers conducting oversight.
Details: The so-called over-the-horizon capabilities Biden has repeatedly touted make identifying and striking terrorists with aerial surveillance and drones launched from outside the country the linchpin of America's post-withdrawal counterterrorism strategy.
But some experts warn relying solely on such capabilities in the conditions that exist currently has never been done.
In every country where the U.S. has deployed elements of an over-the-horizon strategy, like in Yemen, Somalia, or Iraq and Syria, it's had an intelligence network, a nearby air base and some form of local partner on the ground.
In Taliban-controlled Afghanistan — where the CIA has evacuated its sources, the nearest air bases are in the Gulf and the local security partner is an FBI-wanted terrorist — it has none.
Behind the scenes: About 1pm on Aug. 27 — the day after the Kabul airport bombing that killed 13 American service members and dozens of Afghan civilians — some of Biden's top national security officials held a conference call with senators from both parties.
Briefers included Blinken, deputy secretary of defense Kathleen Hicks, Homeland Security Secretary Alejandro Mayorkas and vice chairman of the Joint Chiefs of Staff Gen. John Hyten, according to three sources on the call.
The sources, one who read aloud from notes taken during the call, said the conversation grew especially heated when Senate Minority Leader Mitch McConnell asked: "Given the fuel poured on the fire of terrorism, what are your plans to conduct the war on terrorism? ... Even though we seem to have given up, they [the terrorists] have not."
Colin Kahl, the undersecretary of Defense for policy, told McConnell, "The intelligence community has assessed that what's left of al-Qaeda in Afghanistan and Pakistan does not pose an imminent threat to the homeland," according to the notes shared with Axios. That account was confirmed by two other sources.
"We have repositioned forces to the Gulf to provide an indicator and warning. We maintain strike aircraft and authorities to do so. We must maintain vigilance to the threat in Afghanistan, Yemen, Somalia and elsewhere," Kahl added. The Biden team then moved on to the next question.
Republicans on the call said they were frustrated by the answer and what they saw as Kahl's dismissiveness, given the rapidly deteriorating security environment in Afghanistan and what had turned out to be incorrect recent assurances from the administration about the situation on the ground there.
Pentagon press secretary John Kirby said in a statement to Axios:  "While we won't speak to details of our discussions with members of Congress or about internal deliberations, we absolutely maintain the capability to conduct over-the-horizon strikes against threats that may threaten the homeland or our interests.
"As Secretary Austin said, there isn't a part of the Earth we can't reach if required, and we do not always need a presence on the ground to effectively strike. It is more difficult, to be sure, but it is not impossible — as we have proven in other places," Kirby said.
"We will continue our work with the administration and with Congress to ensure the safety and security of the nation."
Even before the call, lawmakers were raising questions.
What they're saying: On Aug. 26, Senate Intelligence vice chairman Marco Rubio (R-Fla.) and two fellow committee members, Sens. Ben Sasse (R-Neb.) and Roy Blunt (R-Mo.), sent Biden a letter demanding to know how the U.S. will rebuild lost intelligence and counterterrorism capabilities.
Rubio told Axios on Friday they hadn't gotten what they were seeking. "We have not heard anything from President Biden's team that resembles a real plan because over-the-horizon is rhetoric, not strategy," Rubio said. "Maybe that will change this week, but at this point, everything discussed has severe limitations."
Sen. Lindsey Graham (R-S.C.) told Axios: "If over-the-horizon worked, there'd be no ISIS in Iraq and Syria. We were told the same thing then … we could use drones and over-the-horizon capability to stop terrorists building up." (After leaving Iraq in 2011, former President Obama sent troops back there in 2014 to fight ISIS, which had filled the vacuum left by the departed U.S. troops.)
The White House declined to comment on details of the Aug. 27 briefing.
The National Security Council directed Axios to a speech on the administration's broader counterterrorism strategy delivered by Homeland Security adviser Elizabeth Sherwood-Randall last week.
Sherwood-Randall said the U.S. has "already established" and is adding to its over-the-horizon options, and emphasized the importance of "diplomacy, development and prevention efforts" in expanding the counterterrorism toolkit.
The speech did not directly address the concerns experts have raised about the unique challenges posed by an over-the-horizon strategy in Afghanistan.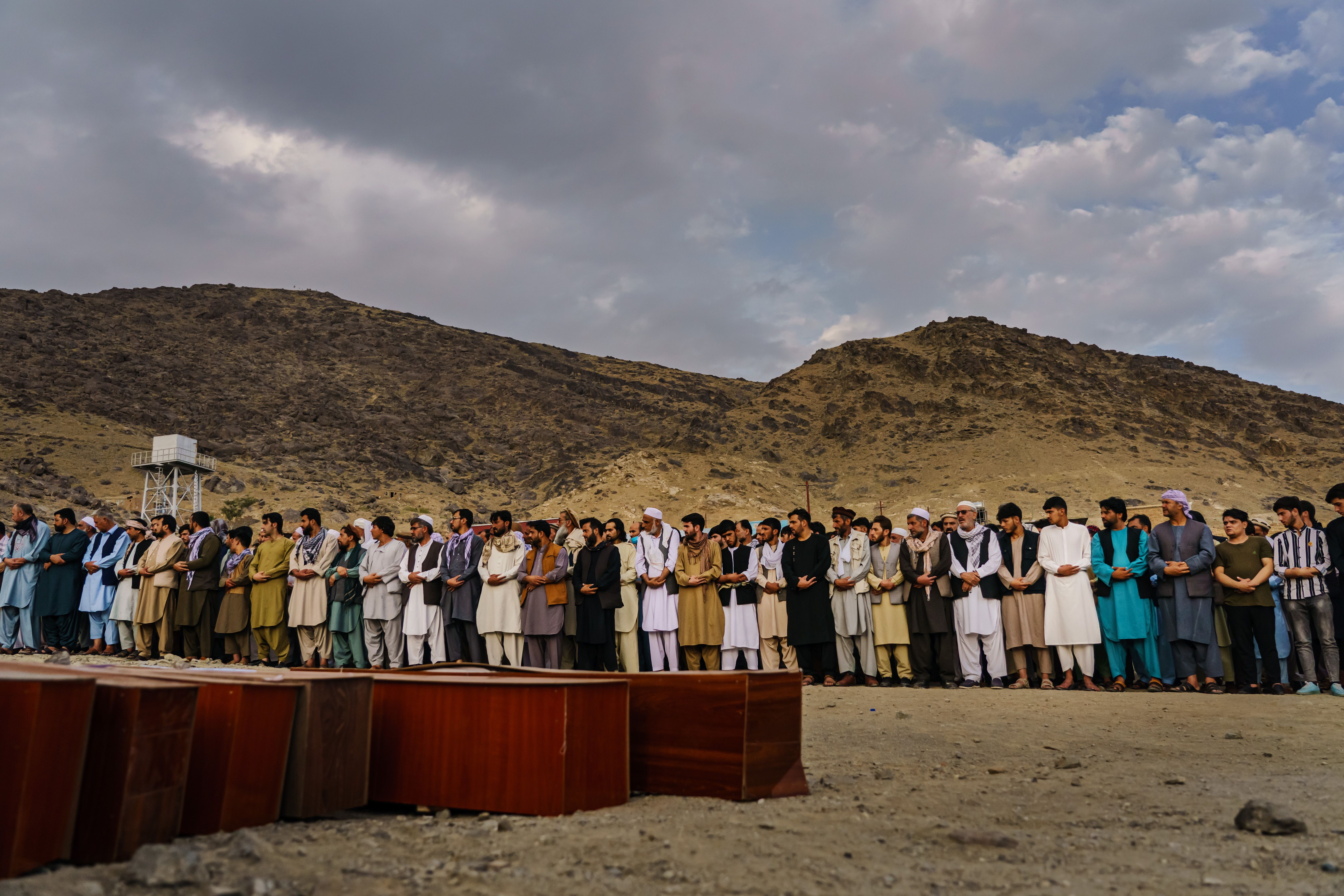 Between the lines: It's not just Republican lawmakers who are skeptical that Biden's strategy can work.
Gen. Frank McKenzie, who leads U.S. Central Command, told Congress in April: "I don't want to make [over-the-horizon] sound easy. It's going to be extremely difficult to do it, but it will not be impossible."
Seth Jones, a counterterrorism expert at the Center for Strategic and International Studies, said it's "absolutely unrealistic" to think an over-the-horizon strategy could be sufficient for anything more than "pinprick strikes."
A Democratic aide on the House Foreign Affairs Committee pointed to an Aug. 27 drone strike in Afghanistan's Nangarhar Province, which the Pentagon says killed two ISIS militants, as an example of how over-the-horizon can be effective.
But two days later, another drone strike killed 10 civilians after overhead surveillance mistook water canisters for explosives, according to a New York Times investigation — tragically capturing the limitations of long-range intelligence in the final hours of the U.S. presence in Afghanistan.
"U.S. Central Command continues to assess the results of the 29 August airstrike," Kirby told Axios. "While we won't get ahead of this assessment, the strike was taken to prevent an imminent threat to the airport. We do work very hard to avoid civilian casualties, and we would be deeply saddened by any loss of innocent life."
What we're watching: Chairman of the Joint Chiefs of Staff, Gen. Mark Milley, recently warned there's a "very good probability" Afghanistan will collapse into a broader civil war, which he said could "lead to a reconstitution of al-Qaeda or a growth of ISIS or other myriad terrorist groups."
"You could see a resurgence of terrorism coming out of that general region within 12, 24, 36 months," Milley told Fox News.
Editor's note: This story has been updated to add the intelligence community's derisive label for the strategy, and to clarify that Kahl's comments were the assessment of the intelligence community about al-Qaeda in Afghanistan and Pakistan, not his opinion.
Go deeper