Appeals court rules against Tennessee's restrictive abortion ban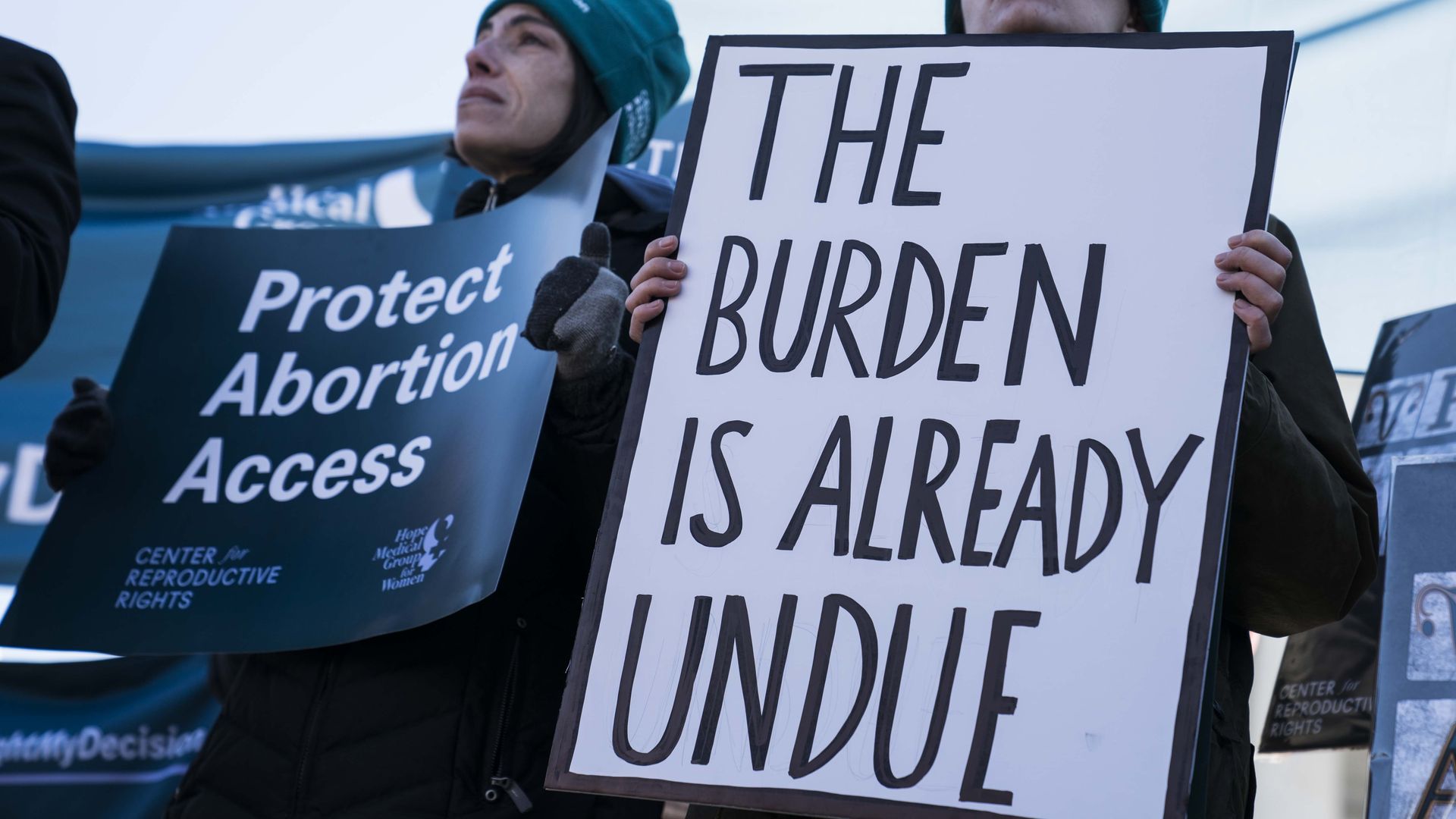 The 6th U.S. Circuit Court of Appeals on Friday upheld a lower court's decision to block a Tennessee law barring abortions after the detection of a "fetal heartbeat."
Why it matters: The ban, which also prohibits abortions if the justification relates to race, gender or medical diagnoses such as Down syndrome, is one of several restrictive abortion laws enacted in recent years.
Context: The measure was signed into law last year but faced a lawsuit from reproductive rights advocates shortly after. In July 2020, a lower court issued a preliminary injunction to prevent the law from taking effect.
Worth noting: Doctors have challenged the use of the term "fetal heartbeat," saying the sound is actually manufactured by ultrasound machines that detect electrical activity.
What they're saying: The lower court's ruling "closely follows the precedents of our circuit and those of the Supreme Court," Judge Martha Craig Daughtrey wrote in the majority opinion for the three-judge panel.
"Although this circuit's recent — and alarming — decisions have broadened the extent to which the government may impede a person's constitutional right to choose whether to carry a pregnancy to term, the law remains clear that if a regulation is a substantial obstacle to a woman seeking an abortion, it is invalid," Daughtrey wrote. 
Daughtrey added that that the vague statute could encourage "arbitrary enforcement." The state's failure to take other actions to prevent discrimination also undercuts "arguments that any 'interests' in equality and preventing eugenics based on race and gender are legitimate concerns."
"Any decision to overturn the district court's finding of facts and well-reasoned decision would cast this court in the role of judicial activists."
Fellow Judge Amul R. Thapar affirmed the ruling but argued that Roe v. Wade should not be invoked in determining abortion access. 
The Supreme Court's framework "cannot be justified under the original meaning of the Constitution. Nor can it be justified under a living constitutional approach," he said.
Abortion-rights advocates praised the ruling and emphasized their continued fight against states that restrict access.
"After Texas rendered the constitutional right to abortion meaningless and other states continued to attack access to care, the 6th Circuit's decision ... brings some relief," Alexis McGill Johnson, Planned Parenthood president and CEO, said in a statement.
"Planned Parenthood will continue fighting alongside our partners until patients everywhere have meaningful access to the care they need when they need it, and can make their own personal decisions and determine their own futures — free of interference by politicians."
The big picture: The Justice Department is suing Texas for its controversial abortion law, which took effect in early September.
Go deeper: Here are the next states that could pass abortion bans after Texas
Go deeper