Axios Q & A: Rep. Josh Gottheimer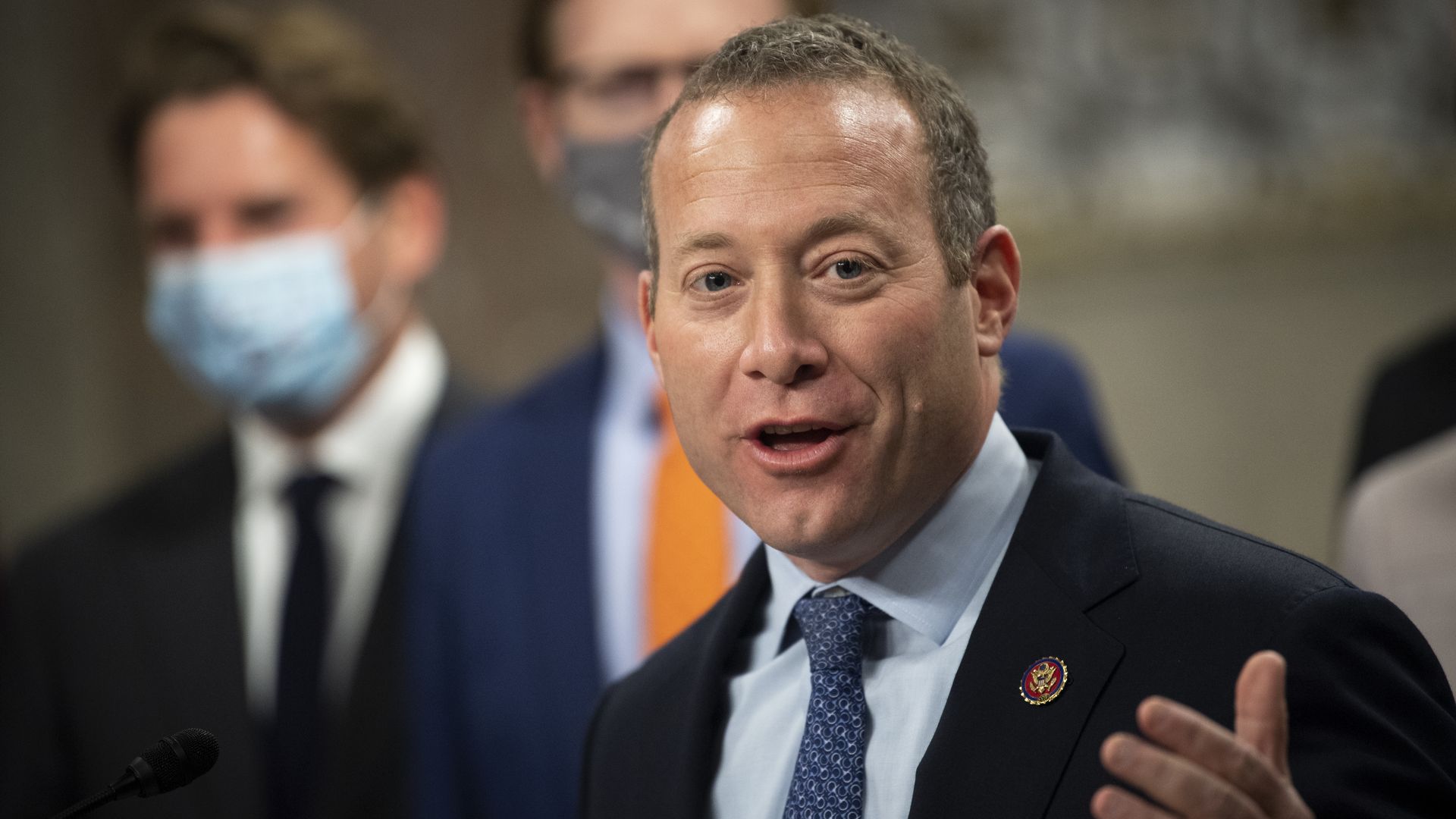 Rep. Josh Gottheimer (D-N.J.) outlined his thinking on infrastructure strategy in a Thursday phone interview with Axios.
Why he matters: Gottheimer's role as a leader among centrists, with a razor-thin Democratic majority in the House, makes him crucial to the party's internal negotiations.
Q: Thoughts on Sen. Joe Manchin's (D-W.Va.) comments about not wanting a price tag higher than $1.5 trillion for Democrats' spending package?
"Ultimately what will matter is what the Speaker [Nancy Pelosi] smartly committed to, which was 'what can get to 51 votes in the Senate.' That's what I believe we'll vote on ultimately in the House. ... I prefer not to get into the specifics of different numbers."
Q: What's the No. 1 thing you're pushing for with Democratic leadership and the White House?
Ensuring they pass the $1.2 trillion bipartisan infrastructure bill by Sept. 27, and that Speaker Pelosi can "bring the votes, and make sure we have all of the caucus polling behind it."
Democratic leadership has made "member-to-member commitments" that they will not delay the vote on the bipartisan bill. "I have no doubt that will happen by the 27th."
Q: What if Democrats' reconciliation package isn't voted on, or at a minimum, finished, by then?
"That's a question for the Speaker. I think you know, there's a lot of negotiation still going on. … What I'm focused on is just making sure we get that vote" on the $1.2 trillion bill.
"I can't imagine any Democrat would, at the end of the day, vote against bringing jobs home and fixing our crumbling infrastructure. I don't care what district you're in in the country. We know that infrastructure is a crisis level."
As for what gets done through the budget reconciliation process: "I've been consistent: No SALT, no dice. ... If there are going to be any changes to the individual tax code, fully reinstating [the state and local tax deduction capped in 2017] must be part of that.
"I bring everything back home to what matters in Jersey. So you talk about infrastructure — It's the Gateway tunnel and fixing our roads and our bridges, and obviously, climate resiliency. And then you talk about reconciliation — SALT is an existential threat."
Q: Any contingency plans in place in the event reconciliation doesn't happen before the 27th and progressives demand Democrats delay the vote on the $1.2 trillion bill?
"We're not bringing something to the floor unless it can have 51 [votes in the Senate] so that we don't ask our colleagues in tough districts to vote on something that is impossible to get through the Senate. We should vote on something that can be taken to the president's desk — which was a commitment the Speaker made.
"The date was something we voted on, and every single Democrat in the caucus supported it. And it's a rule, it's not just a press release … and the Speaker publicly committed to getting the votes for it.
"Look at the Northeast and having people affected by the floods. You've got all these infrastructure challenges from wildfires to water infrastructure, you name it. And you've got broadband, electric vehicles. And it's the largest infrastructure package in a century. And the president has been talking about it nonstop in the last days. So I'm not concerned about that part."
Q: Republicans' top three issues right now are immigration and the border, rising crime and inflation. Which of those do you see as the biggest problem for Democrats ahead of the midterms?
"I think a lot of the tactical attacks will ring hollow … all politics is local."
Q: How much does the Afghanistan backdrop hurt Democrats?
"In the long term, getting people home is what's critically important ... that's essential."
Q: How much do you think Biden's falling polls numbers are hurting his agenda?
"Numbers go up and down, that's expected. I believe we'll be in a very different spot months from now."
Go deeper