Facebook's eyebrow-raising Ray-Bans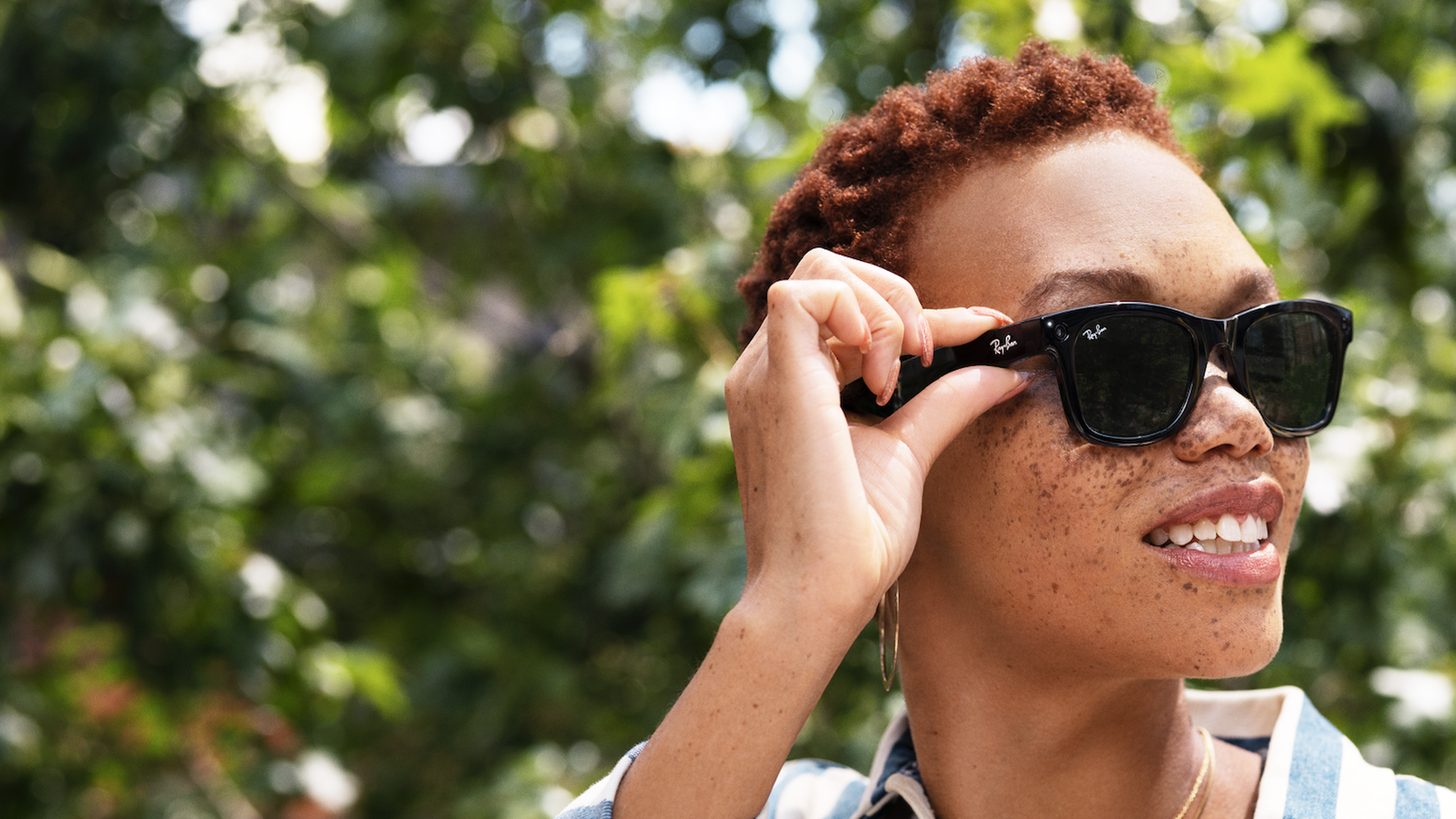 Facebook executive Andrew Bosworth says a key goal of the company's new $299 smart glasses is to kickstart a societal conversation on the norms around such products. On that front, the company has already succeeded.
State of play: Coverage of the launch of the Ray-Ban Stories focused as much on privacy issues as on the product themselves.
Driving the news: Announced Thursday, Ray-Ban Stories look like the company's signature shades but include dual cameras, speakers and an array of microphones to allow for taking pictures, recording short videos and playing music or taking phone calls.
Why it matters: Although smartphones can do those things and more, it's clear when you are holding a smartphone. By contrast, Ray-Ban Stories are hard to distinguish from the company's traditional sunglasses.
Bosworth said the goal is that bystanders will recognize the glasses are recording thanks to the small white LED that illuminates during recording or the audio command or button press the wearer will use to start recording.
From my experiences over the past week, as well as those of others, that is often not the case. I found, particularly in larger group settings, that people had no idea the glasses were capable of taking pictures until I showed them.
Between the lines: Facebook notes that it consulted with a number of privacy and advocacy groups as it developed the product. However, the ones whose names Facebook is disclosing — and who are speaking to the press about their work — are all funded in part by Facebook. And even many of them still have their concerns.
Jeremy Greenberg, privacy counsel for the Future of Privacy Forum, said it was good that the glasses signal when they are recording, but cautioned that people at a distance, with low vision or just not paying attention could easily miss the indicators. "Hopefully we don't have folks using these for stalking."
John Breyault, VP of public policy for the National Consumers League, said that although Facebook takes pains to educate owners on best practices for taking pictures, "You put these out in the wild and people are going to use them the way they are going to use them."
Carlos Gutierrez of LGBT Tech: "There is still a huge privacy issue around people using these improperly," he said, noting the risks to people who are not out being captured in social settings, at a pride march or a protest.
The other side: Facebook did take several steps to preserve privacy that are worth calling out.
The devices don't upload anything automatically to Facebook's cloud, nor can they be used for live streaming. Customers have to transfer their photos and videos to a smartphone app. From there they can save the images and, if they want, share them to Facebook, Instagram, Twitter or wherever.
There are multiple cues designed to indicate when the device is capturing content, though none are foolproof.
The big picture: Facebook isn't the first to offer smart glasses and it definitely won't be the last.
The pioneer in this area was Google Glass, which was probably a decade ahead of its time when it arrived in 2013, resulting in a product that was more creepy than capable.
Snap's first Spectacles, which came a couple years later, were similar to Ray-Ban Stories in focusing mainly on adding a camera to traditional frames. They proved more novelty than mainstream success. (The most recent version of Spectacles adds augmented reality and other capabilities, but they are only available to creators selected by Snapchat.)
What's next: Facebook, along with the rest of the industry, is pretty clear that augmented reality glasses are the next big thing. However, fully-featured glasses that are capable, stylish and affordable are still years-off.
In the meantime, expect a lot of experimentation with devices that combine some, but not all, of those features. Ray-Ban Stories represents an experiment of what's possible without losing style and affordability. At the high end, devices like Microsoft's Hololens are bulky and expensive, but hint at the more powerful possibilities.
My thought bubble: Bosworth is right — it's time to have a discussion on where such devices are appropriate and what standards should apply to the people that make the products as well as those who use them.
That conversation started with Google Glass, including a sharp initial backlash. But the issue fell off the radar because the products didn't take off.
The bottom line: Expect a lot more from Facebook in coming years. The company keenly wants to control the next generation of hardware rather than have to play by Apple and Google's rules.
Go deeper