Interview: Simu Liu on "Shang-Chi"'s success and what's next
"Shang-Chi and the Legend of the Ten Rings" broke box office records over Labor Day weekend, but what comes after is what concerns Simu Liu.  
What they're saying: "I worry that this is a flash in the pan … a single moment that will disappear in time and not a part of a greater movement," he told me Wednesday morning.
Catch up quick: "Shang-Chi," Hollywood's first big-budget superhero movie to feature an Asian lead, brought in over $94 million in the U.S. in its four days.
Background: There were doubts about the film's success, particularly in theaters given the rise of the Delta variant.
Disney CEO Bob Chapek called the movie, which would only be in theaters for 45 days before moving to Disney+, an "experiment." (Liu told me his now-viral tweet was not a "targeted attack on any individual.")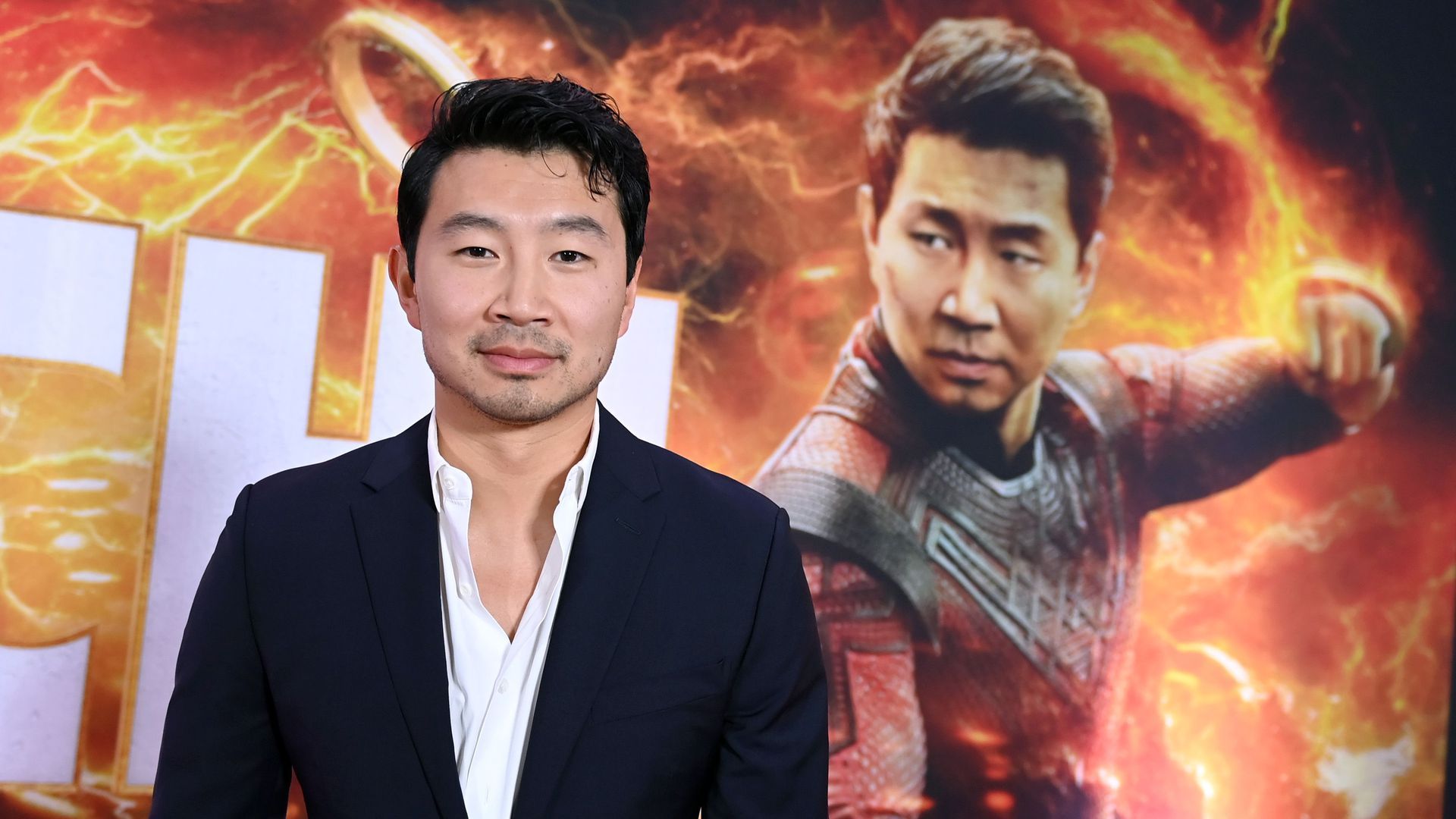 Why it matters: The film also helped rally the Asian community together after more than a year of facing racist attacks. 
Having an Asian superhero in the MCU is important, he added, but "if it was just one and nothing after it, I think that would be really sad. And that would be a failure on some parts. So I would just hope that the momentum keep going … and more communities are able to see their superheroes."
More than double the number of Asian filmgoers for Marvel films turned out for "Shang-Chi," according to Disney. 
"This was never meant to be just a movie for Asian people or just a movie for Asian Americans," Liu said when asked about the turnout. 
Yes, but: When asked how "Shang-Chi" resonated differently and on top of the success of "Crazy Rich Asians" in 2018, Liu said that his film "reconnects" Asian people with their heritage and culture.
His character, whose American name is Shaun, is forced to come to terms with his background, said Liu, journeying in the movie to an ancestral homeland to get to the root of his identity in order to accept it and celebrate it. 
The intrigue: Because of the racist origins of the film's characters, Chinese regulators have not yet approved the movie for distribution in China, according to reports. 
Liu, who was born in Harbin, a city in northern China, said he hopes the film will be seen there.
"I consider China part of my story, a part of my background and heritage," he said.
Against the political divisiveness that he sees, Liu said he "love[s] the idea that we can all sit back and watch the same movie and laugh and feel something and feel connected to one another somehow."
China is also an important market for Marvel, which has seen 10% to 20% of its box office revenue from the country. 
Go deeper: Marvel's "Shang-Chi" strikes at unique moment
Go deeper