The FTC's Amazon quandary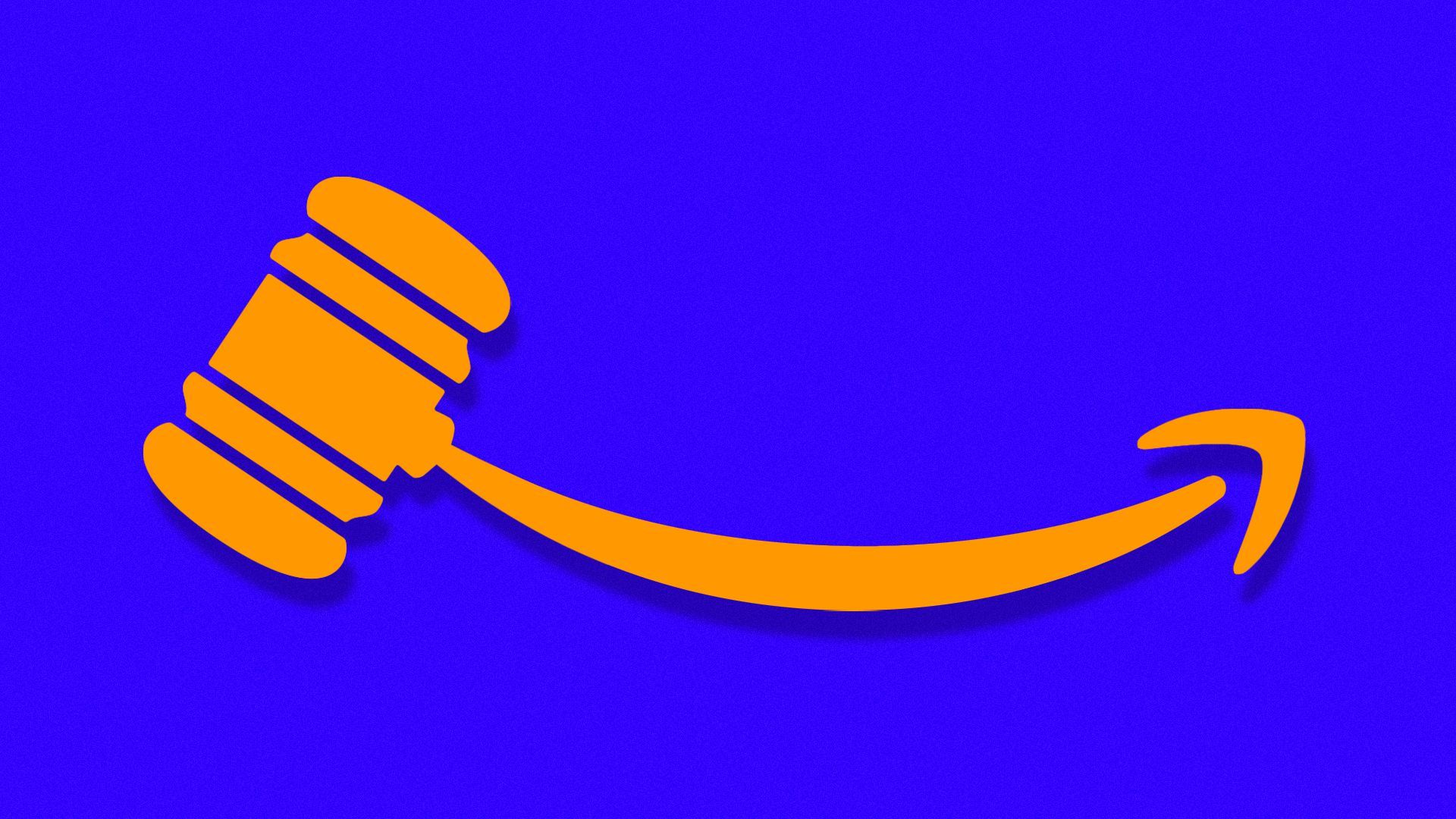 Amazon's proposed $8.45 billion purchase of Hollywood studio MGM is presenting the Federal Trade Commission, which will soon decide whether to block the deal, with a kind of ideological Rorschach test.
Progressives see it as self-evident that regulators should not allow Amazon to further extend its already vast market power. They expect to find an ally in FTC chair Lina Khan, who built her reputation making the case that Amazon is a monopolist that should be checked.
But business groups and conservatives point out that Amazon has nothing like a lock on the highly competitive marketplace for streaming movies and TV shows, making any case against the MGM deal unlikely to pass muster in court.
Why it matters: How Khan's FTC chooses to proceed will provide a roadmap for the Biden administration's approach to corporate mergers and acquisitions.
What's happening: More than 30 progressive groups signed a letter last week urging the FTC to stop the deal to slow Amazon's "growing dominance."
They argue MGM will give Amazon access to must-have content, and that will give it the "ability to lock consumers into its sprawling platform and punish businesses and workers that do not accede to its demands."
What they're saying: Increasing the power of Amazon Prime through the lure of MGM's library — which includes the James Bond and Rocky franchises — will facilitate Amazon's consolidation of the retail industry, Demand Progress Education Fund executive director David Segal told Axios.
"We see further consolidation by Amazon as generally concerning, especially given how ruthless Amazon's use of data is to elevate and entrench its own standing and to steer consumers toward particular products and services and to undercut competitors," Segal said.
Segal said Amazon crossed the threshold years ago where it's "big enough" that it should presumptively not be allowed to buy more companies.
Yes, but: A traditional FTC antitrust review would assess the deal's impact on competition for content among video distributors.
Given the number of content producers and streaming options, experts, including former FTC competition bureau director Bruce Hoffman, said it appears unlikely the deal is anticompetitive.
"Amazon will no more have a monopoly over James Bond than Netflix has a supposed monopoly over 'Stranger Things,'" said Adam Kovacevich, founder of industry group Chamber of Progress, which counts Amazon among its partner companies. "It's going to be very difficult to make a case surrounding the facts of this acquisition."
"I think some advocates are letting their desire for the FTC to pin something on Amazon cloud the strong legal likelihood that Amazon would likely win an FTC lawsuit over this deal."
Between the lines: That view of how to evaluate mergers is too narrow, a former Democratic senate staffer who has worked on antitrust issues told Axios, pointing out that Amazon is already facing an antitrust investigation at the FTC.
"You can't look at it in a siloed black box like that, and the fact that they have is why the economy has gotten so concentrated," the former staffer said. "There hasn't been meaningful antitrust enforcement in a very long time."
The big picture: Khan has argued for antitrust agencies to be more aggressive in limiting Big Tech's power, and could apply that broader view in the MGM case.
"The mere fact that she's criticized a lot of things about Amazon I would hope wouldn't mean that she should then have to just by rote oppose anything Amazon would do," said Hoffman, now with law firm Cleary Gottlieb Steen & Hamilton. "That would be a real miscarriage of justice. "
Amazon has pointed out that MGM is a relatively small Hollywood player today, and competition for content is already intense.
"Amazon's acquisition of MGM will help to strengthen this competition and provide even more choice to consumers," a spokesperson said.
The FTC declined comment.
Go deeper