Facebook, Ray-Ban debut picture-taking smart glasses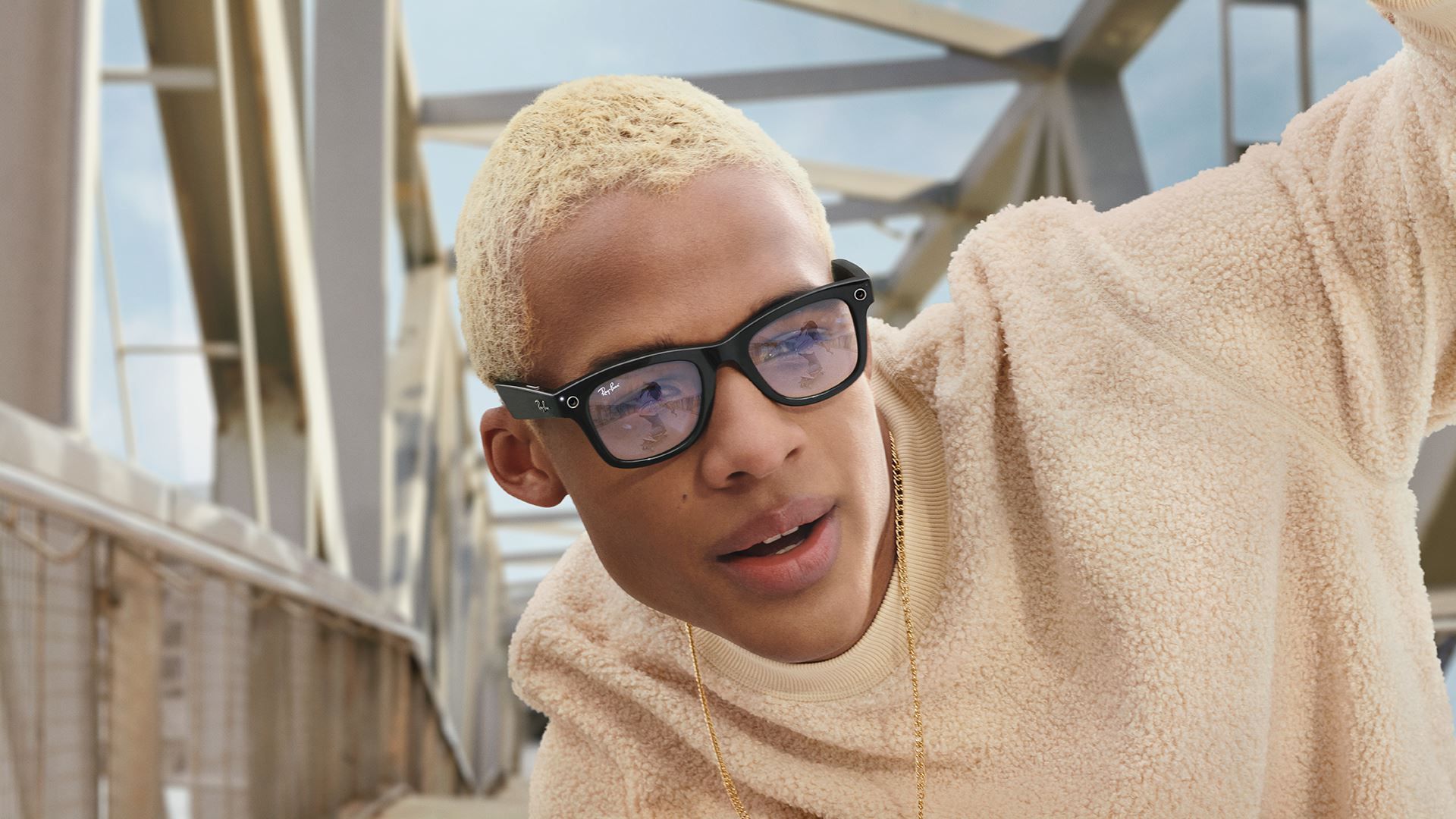 Ray-Ban Stories, the smart glasses being debuted by Facebook and Ray-Ban today, are most notable for just how much they look like a standard pair of the brand's sunglasses.
Why it matters: That speaks to both the most promising and troublesome aspect of the $299 glasses: They look and feel just like a standard pair of Ray-Bans while adding the ability to capture photos and video.
Details:
The $299 glasses have three main "smart" features: they can record photos and 30-second videos via dual 5-megapixel cameras, they can play "open-air" sound without headphones and they allow users to take phone calls.
In addition to coming in several styles and colors, they can be made as sunglasses or untinted lenses, prescription and even progressive lenses.
Photos and videos are shared only to a companion smartphone app, where the owner can then decide whether and where to share the images and videos.
Between the lines: Ray-Ban Stories pose two big questions: How well they deliver on their promise, and how accepting society will be of people using them in public.
On the first point, the glasses deliver.
Weighing just a teaspoon of salt more than a standard pair of glasses, Ray-Ban Stories look and feel like regular glasses while delivering on the product's technology promises: taking decent photos and videos and playing music.
While the glasses themselves provide only a couple hours of battery life, the included charging case provides roughly a day of use, Facebook says.
The social reaction is still very much an open question.
Facebook notes that the glasses don't do anything you can't do with your smartphone and points to the ways the products let bystanders know they're different.
For example, to take a picture or video, users have to either use a voice command or push a button on the side of the glasses. A white LED light on the front indicates that a picture or recording is in progress.
"To some degree, it's more overt than what people are doing with phones," Facebook Reality Labs chief Andrew Bosworth said in an interview.
Yes, but: Those clues are subtle. While noticeable in a small group setting, the gestures and lights are easy to miss in larger gatherings. While Facebook offers tips on respectful use of the camera feature, there is certainly the potential for images to be captured and shared non-consensually.
"You put these out in the wild and people are going to use them the way they are going to use them," said John Breyault, VP of public policy for the National Consumers League, one of several privacy and advocacy groups that Facebook consulted with as Ray-Ban Stories were being developed.
Breyault said he was pleased to see Facebook seek and incorporate feedback, including its move to make sure that photos that get transferred to a smartphone stay on the device and only go to Facebook's cloud if a customer actively chooses to send them.
What's next: The glasses go on sale today in the U.S., U.K., Italy, Australia, Ireland and Canada.
Facebook and Ray-Ban parent company EssilorLuxottica didn't offer a specific sales forecast, but Bosworth said the glasses aren't intended to be a niche product.
Of note: I'll have more thoughts and observations on Ray-Ban Stories in tomorrow's Signal Boost column in Login.
To sign up for Login, Axios' free daily technology newsletter, click here.
Go deeper