Democrats sound alarms in state legislatures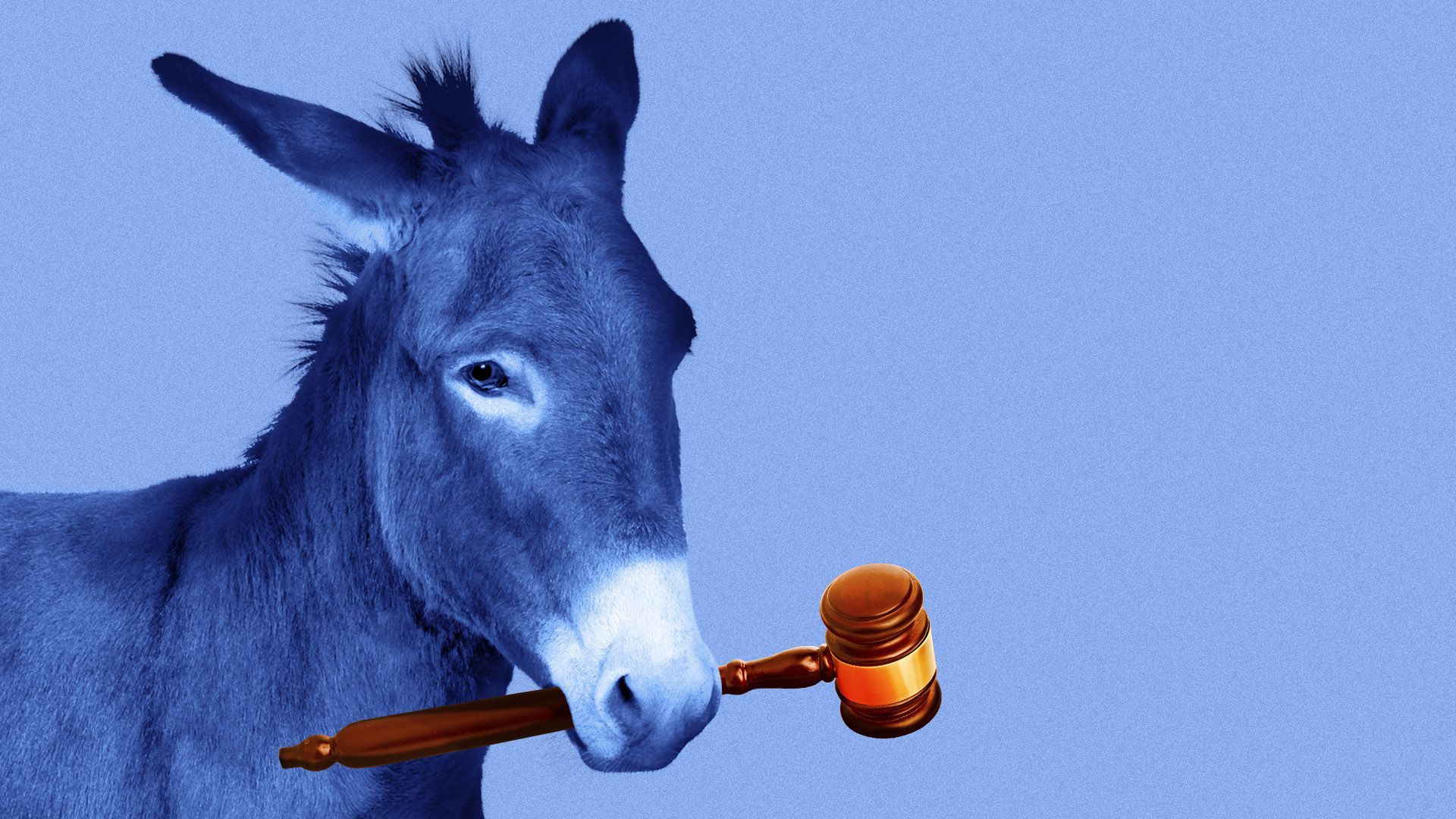 Democrats are leaning into efforts to raise their numbers in state legislatures — with an emphasis on candidates of color — as red states like Texas and Georgia pass restrictive voting and abortion laws.
Why it matters: States are responsible for many of the laws with the greatest direct impact on people's daily lives. But Republicans control 30 state legislatures and the GOP has the trifecta — the governorship, state House and state Senate control — in 23 states, while Democrats do in 15.
37% of Democratic state lawmakers are people of color, compared with less than 3% of Republican lawmakers, the report said.
But some Democratic donors and organizers say their party is still too focused on backing white candidates to win.
Driving the news: Activists point to new data showing Democratic candidates of color have won at higher rates than white candidates in state contests and that racial diversity can change policy outcomes.
The Democratic Legislative Campaign Committee (DLCC), which focuses on electing Democratic state legislators, released an August report in partnership with Donors of Color Network that found at least 1,050 Democratic candidates of color won their state legislative races in 2020.
Most Democratic candidates of color weren't running in highly competitive state races, Ashindi Maxton, executive director of Donors of Color Network, told Axios.
Still, Maxton said, the win rate last year for people of color — 75% — should change conventional wisdom about electability. The report found white Democratic candidates had a 46% win rate.
Between the lines: Over one-third of all eligible Black voters live in nine of the country's most competitive states, per Pew Research: Arizona, Florida, Georgia, Iowa, Michigan, North Carolina, Ohio, Pennsylvania and Wisconsin.
Republicans control the state legislatures in all of those states.
What they're saying: "We absolutely have to change who is in positions of power and who controls the allocation of resources," Democratic donor Steve Phillips told Axios.
Since President Obama's election, he said, "there's this mindset that the way Democrats win is you get a moderate white candidate and they can appeal to white swing voters."
But candidates of color can inspire greater enthusiasm among Democratic voters of color. Look at Sen. Raphael Warnock's election in Georgia.
"If the decision-makers of the Democratic Party — the consultants, the strategists, the elected officials themselves — are so predominantly white and so predominantly male, then they have the most imagination about people who look like themselves," Maxton said.
What's next: Democrats are focused on protecting state legislative seats in Iowa, New Hampshire, New Jersey and Virginia and hope to make gains in the Arizona and Georgia chambers.
Flashback: After Democrats flipped the Virginia General Assembly in 2019, the state had its first Black person and first woman to lead the lower chamber and the first Black person and first female president pro tempore to preside over Virginia's Senate.
With a new party majority in Virginia, Democratic state legislators passed voting rights laws, abolished the death penalty, passed gun safety laws, increased the minimum wage, declared racism a public health emergency and made it illegal to discriminate against the LGBTQIA community.
Don't forget: Figures like Obama, Stacey Abrams and Rep. Rashida Tlaib got their start in state legislatures, and Rep. Ayanna Pressley in local politics.
What to watch: Redistricting could thwart Democrats' efforts to diversify the voting electorate and state legislatures.
Many Democrats expect Republican-led states to try to gerrymander districts to diminish the impact voters of color can have on election outcomes.
Editor's note: This story has been corrected to show that Rep. Ayanna Pressley got her start on a city council (not on a state legislature).
Go deeper