Pharma's uphill messaging battle over drug prices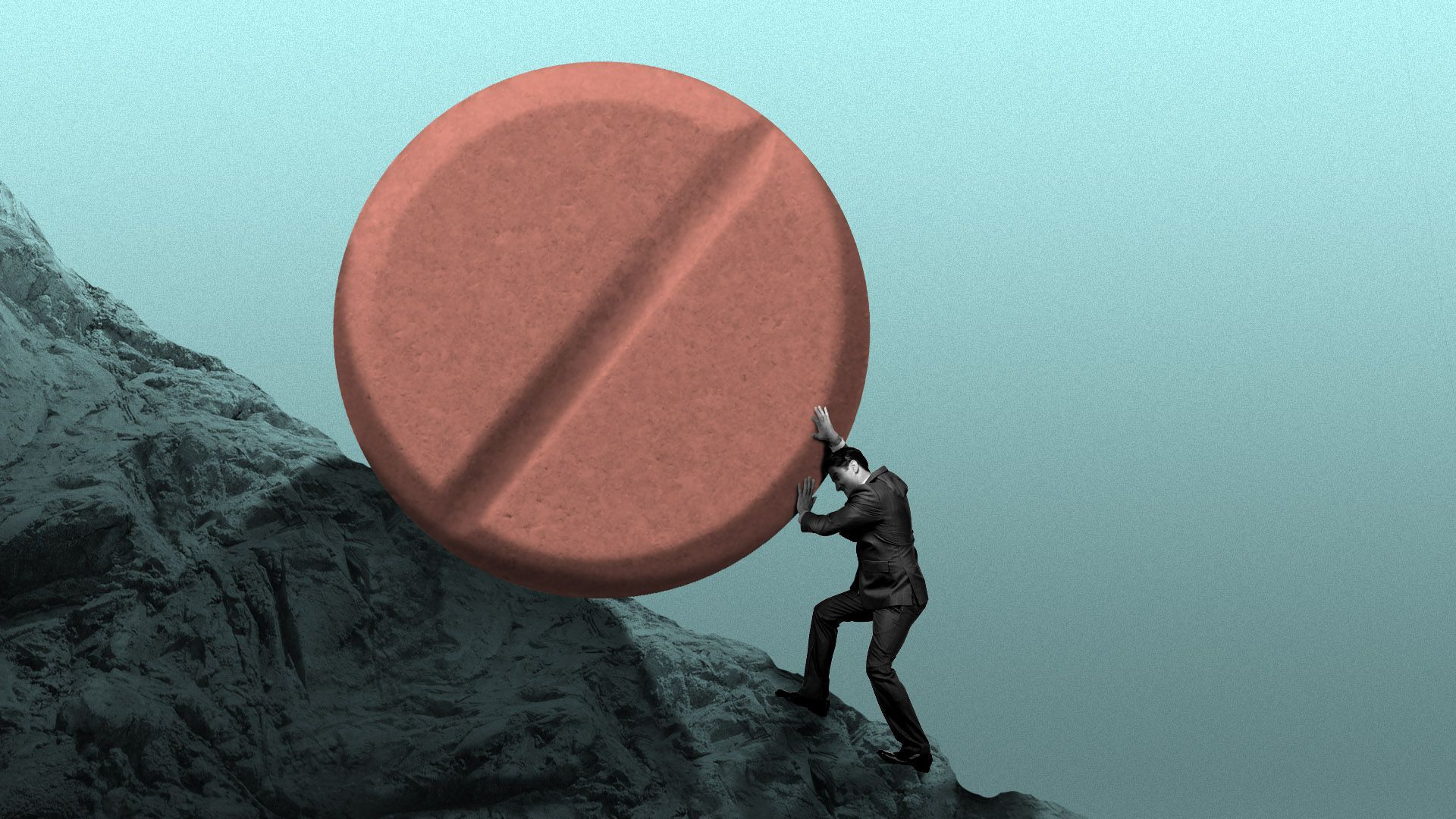 The success of Democrats' attempt to allow Medicare to negotiate prescription drug prices hinges on whether the drug industry can persuade voters — particularly seniors — that the policy would result in fewer new drugs, an endeavor that experts say is an uphill battle.
Why it matters: Seniors are both directly impacted by the policy and disproportionately likely to vote in midterm elections, meaning what they think is incredibly influential.
The big picture: Allowing Medicare to negotiate drug prices is, by itself, overwhelmingly popular with voters. But when polls ask whether people would support the measure if it results in fewer new drugs, support drops drastically.
That means the drug industry's best chance to influence public opinion — and thus lawmakers' opinions — is to convince people that allowing Medicare negotiations would mean less innovation, an argument that it's actively trying to make.
Yes, but: Experts say convincing the public that this tradeoff is real will be an uphill battle.
"If you were to believe that new drugs won't be introduced because of this, it would depress public support," said Robert Blendon, a professor at the Harvard T.H. Chan School of Public Health.
"But my guess is, at the moment, people are skeptical enough of the pharmaceutical industry that they're going to have a tough time saying that if the government gets you a discount, you won't get new discoveries."
State of play: The pharmaceutical industry and advocates for drug pricing reform alike are dumping millions of dollars into the messaging war.
By the numbers: A KFF poll released in June found that 88% of respondents favor allowing the government to negotiate for lower drug prices, including 77% of Republicans, 96% of Democrats and 89% of adults 65 and older.
But if told the policy would lead to less research and development of new drugs, or limit people's access to newer drugs, 65% said they opposed the measure.
PhRMA has repeatedly cited this figure as a warning sign.
"Non-partisan, independent public polls have repeatedly demonstrated that support for government 'negotiation' evaporates once voters learn that these policies could result in restrictions in access to medicines or slow down innovation into new treatments for challenging conditions," the industry group recently wrote in a memo responding to a recent poll finding strong support for the policy.
The other side: "I think the counterpoint to that is that the drug industry has been making those arguments for a long time, and yet when you poll the public, it's still wildly popular," said KFF's Liz Hamel.
"Either they're not getting through to people or they're not connecting them to the policy, because the policy itself is still really popular," she added.
Between the lines: Lowering prescription drug prices is a particularly salient issue with seniors, especially compared with some of the other prominent policies Democrats are attempting to pass this fall.
"This is something that seniors absolutely worry about, [whereas] if I'm a parent worried about day care, I'm a lot less worried about the price of an Alzheimer's drug," Blendon said. "So it really affects a constituency that's very active and they care a lot about it."
Similarly, other topics — such as child care or infrastructure — aren't as directly relevant to seniors, he added. "Subsidizing day cares and schools says to retirees, 'We're not going to help you.'"
Go deeper