NRCC dumps NYC retreat, adds Trump headliner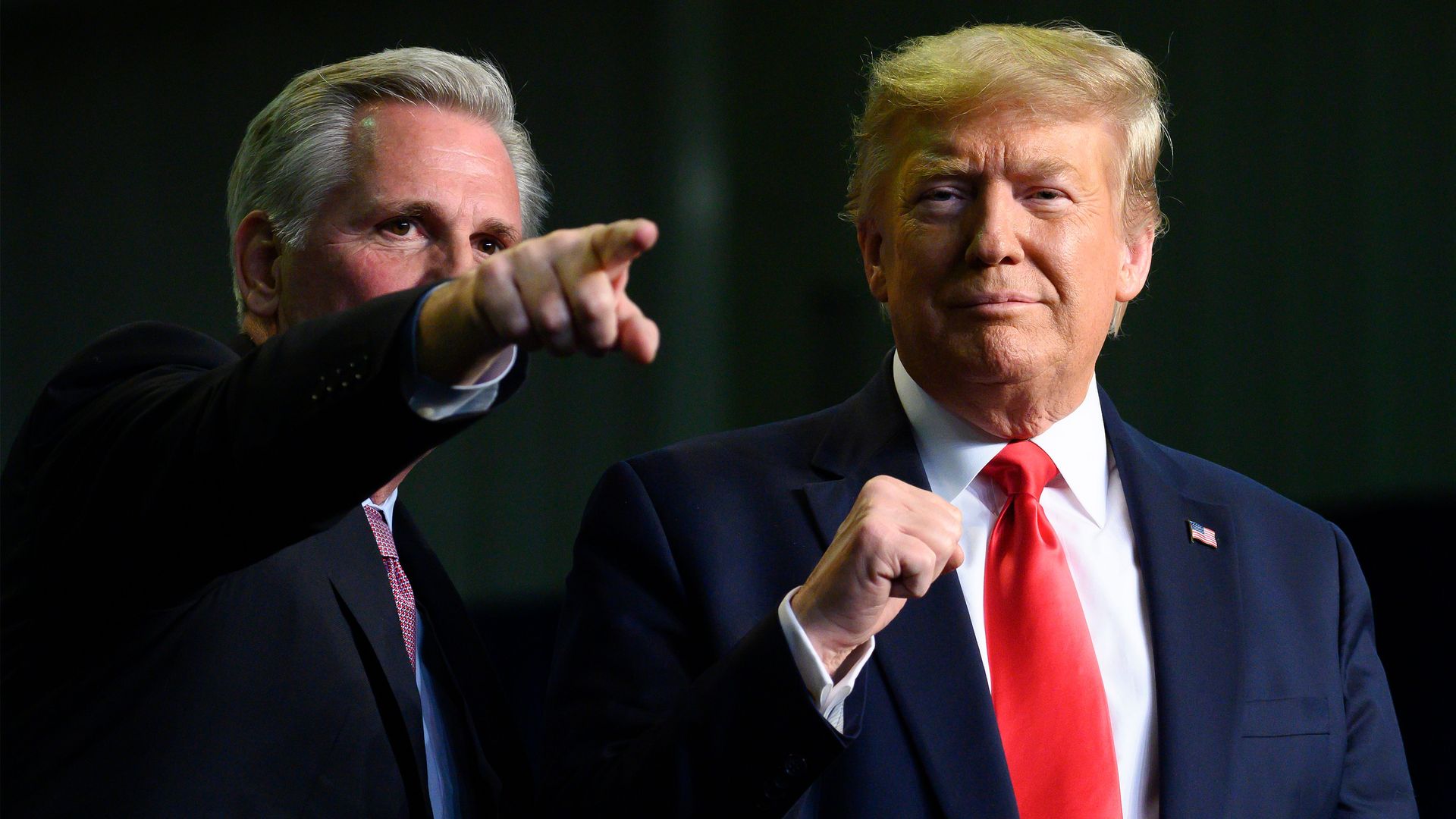 The GOP's House campaign arm is shuffling its winter fundraising schedule, putting Donald Trump in front of its top financial backers for its annual dinner.
Driving the news: The National Republican Congressional Committee told donors on Tuesday afternoon that "circumstances beyond our control" forced the cancellation of its major December retreat in New York City, according to an email obtained by Axios.
Sources familiar with the situation told Axios those circumstances included logistical questions regarding timing as well as lingering COVID-19 restrictions.
An hour after the email to donors, Punchbowl News reported a substitute event to be headlined by the former president.
What we're hearing: Trump and his team were told the fundraiser, now slated to take place Nov. 8-9 in Tampa, Florida, will be a continuation of the annual NRCC dinner at which he spoke the first three years of his presidency.
In 2020, he spoke at a pared-down version of the dinner at the Capitol Hill Club in Washington, D.C.
The NRCC's 2021 dinner — one of their biggest, money-making events that is usually held in the spring — was initially postponed due to the pandemic.
Meanwhile, the NRCC also canceled its "Bright Lights & Broadway" donor retreat in New York the following month — one of three retreats this year for which the committee hawked exclusive access to its top financial backers.
The big picture: The schedule shift will lend Trump's GOP star power to the party's efforts to retake Congress next year, even as Trump himself pursues an occasionally more esoteric agenda.
He remains a fundraising juggernaut, but much of his energy this year has been devoted to financing his own political apparatus rather than the national party's.
Shortly before the announcement of his NRCC fundraising event, Trump endorsed Michigan Rep. Fred Upton's primary opponent, the third challenger to a Republican House incumbent he's backed this year.
His appearance at the November event nonetheless stands to juice NRCC fundraising numbers that have already broken records for an election off-year.
Between the lines: Some suspect that the change in venue had more to do with the locations of the two NRCC events and the accompanying politics.
"I actually think it's less about Trump and more about not wanting to be seen as contributing to the recovery of cities who've 'gotten it wrong' on COVID," one prominent Republican fundraiser told Axios in a text message.
"If the NRCC is spending money and members are spending campaign $$$, they want it to be in friendly territory."
Go deeper