Biden's extreme weather message: code red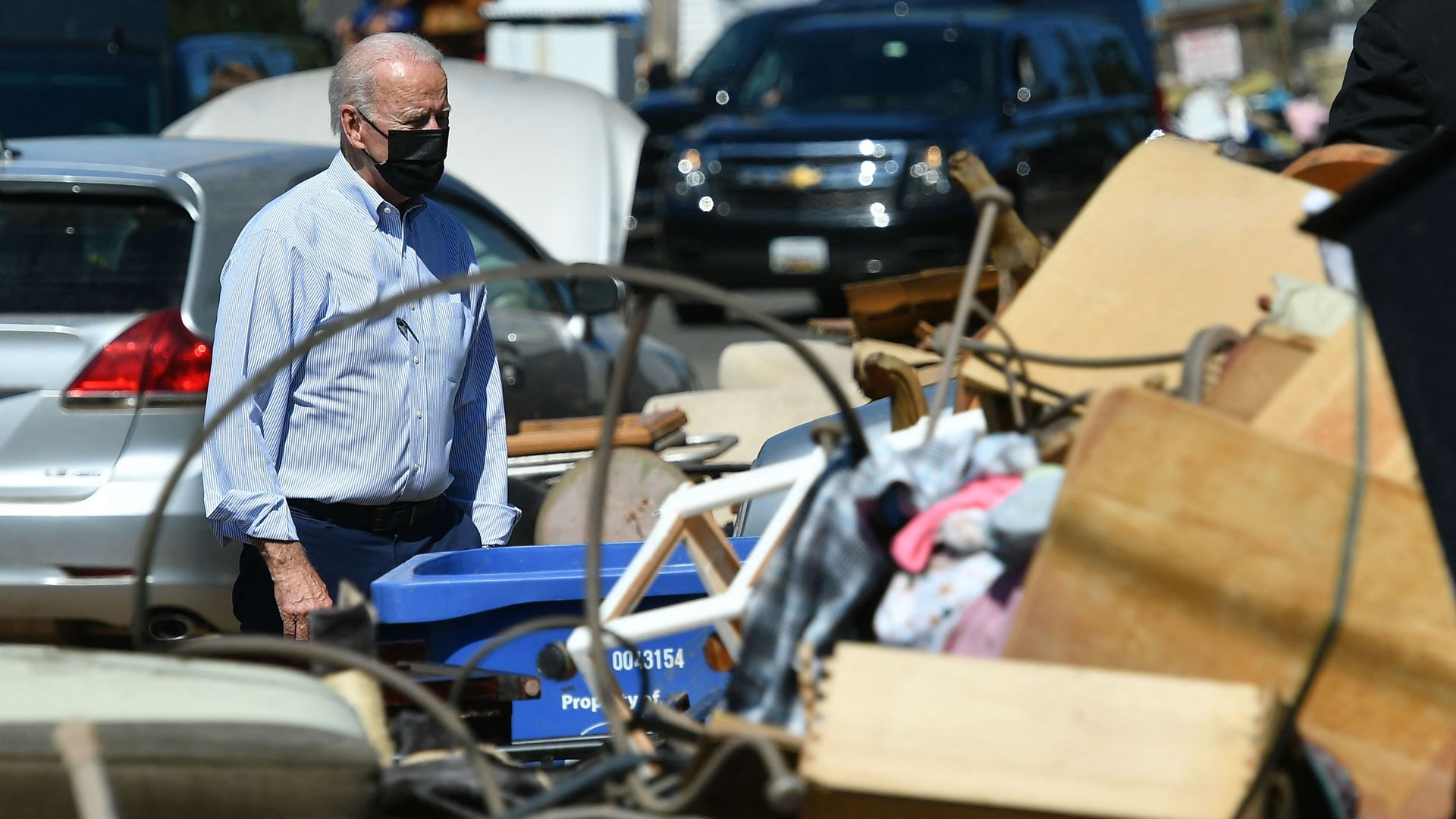 President Biden demonstrated during visits Tuesday to flood-ravaged New Jersey and New York that he's keen to link recent extreme weather events with calls to tackle climate change.
Why it matters: It could convince more resistant audiences about the seriousness of global warming and also fuel the case for some of those major infrastructure investments Democrats have been promoting.
Now he's just got to figure out exactly what he's trying to say.
What he said: "The members of Congress know from their colleagues in Congress that, you know, the — what looks like a tornado — they don't call them that anymore — that hit the crops and wetlands in the middle of the country, in Iowa, in Nevada, and — I mean, it's just across the board."
What he (probably) meant: Biden, speaking in Somerset County, New Jersey, was probably referring to thunderstorm complexes that contain long-lasting straight-line winds, known as derechos. Such storms have caused billions in damage across the Midwest in recent years, particularly in Iowa, where the winds in a severe 2020 event flattened crops and damaged buildings.
Later in New Jersey, the president seemed to find his scientific footing. "Every part of the country is getting hit by extreme weather," he said. "We're now living in real time what the country is going to look like if we don't do something. We can't turn it back very much but we can prevent it from getting worse."
And in Queens: "This is code red. The nation and the world are in peril. That's not hyperbole. That is a fact."
The big picture: Climate studies show that extreme weather events — such as more powerful hurricanes, heavier rainstorms, larger wildfires and hotter and longer-lasting heat waves — are worsening worldwide due to the burning of fossil fuels for energy.
What's next: Biden also confirmed what's been widely expected in climate policy circles: He plans to attend the United Nations Climate Change Conference in Glasgow in early November.
Many environmental groups were hoping to postpone the event because of COVID-19 travel restrictions that could curtail developing nations' participation.
Go deeper