Afghan evacuation role boosts Qatar in Washington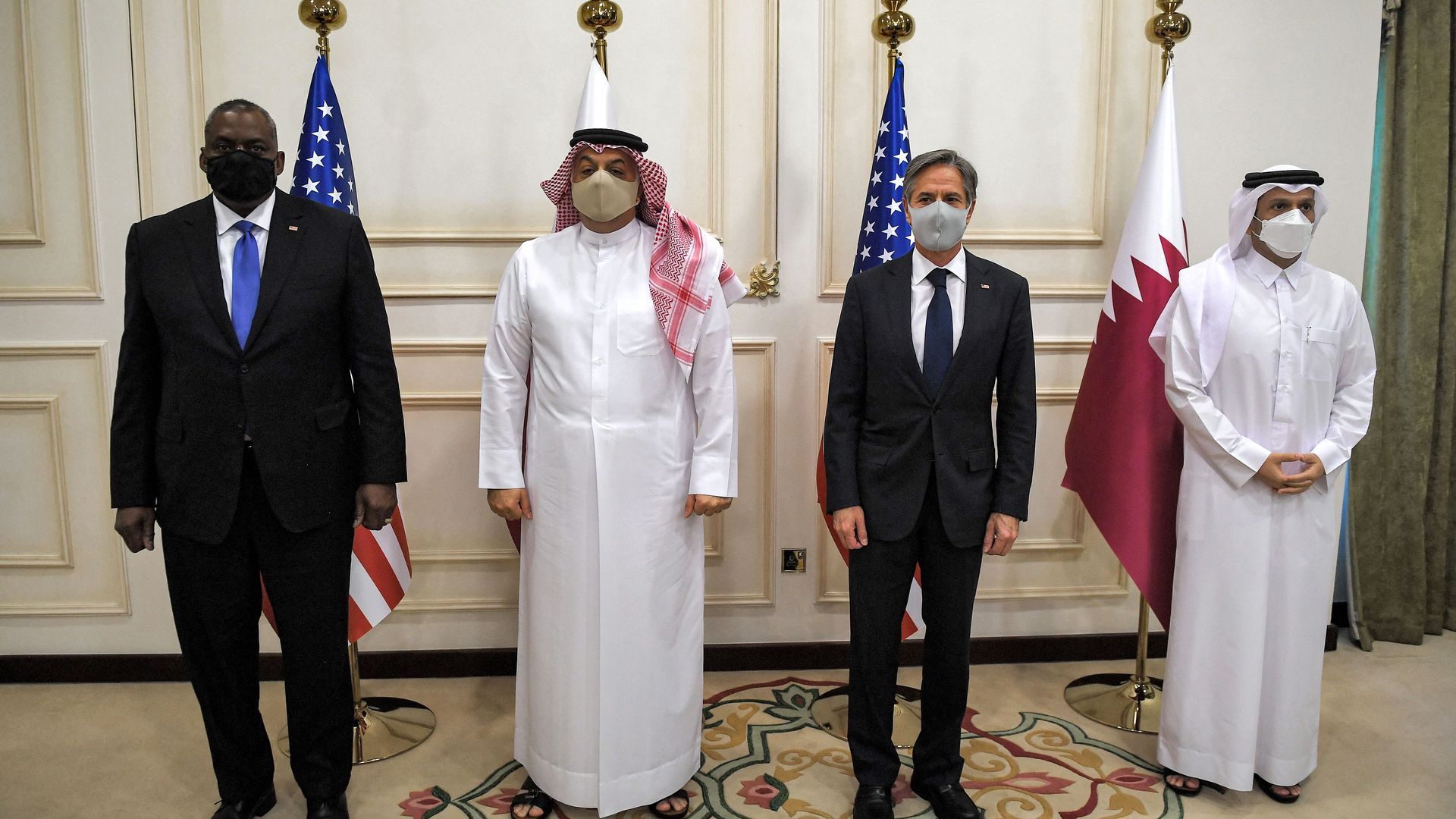 Qatar played host Tuesday to both Secretary of State Tony Blinken and Secretary of Defense Lloyd Austin, in a sign of how the Gulf country's role in the U.S. withdrawal from Afghanistan has strengthened its standing in Washington.
Why it matters: Qatar became a central partner for the U.S. in the region as it mediated between the U.S. and the Taliban, and Doha was the largest hub of the massive U.S. evacuation effort.
Around 60,000 people were evacuated via Qatar, which even provided several planes for the mission. After the evacuation, the U.S. relocated its diplomatic mission from Kabul to Doha.
That came as Qatar was also rebuilding trust with its rivals for regional influence, the UAE and Saudi Arabia.
Blinken said at a press conference in Doha that Qatar's help would be remembered for "a long, long time" and that the strengthened U.S.-Qatar relationship would pay dividends across "so many key areas in the months and years ahead."
Other Gulf countries — including the UAE, Kuwait and Bahrain — also offered the U.S. the use of their territory to transfer and process evacuees, and Blinken has called his counterparts in those countries to thank them.
One country that didn't play any notable role was Saudi Arabia, which has cool relations with the Biden administration.
Driving the news: A senior State Department official told me Blinken's discussions in Qatar were dominated by Afghanistan, but also covered the situation in the Gaza Strip.
Qatar is playing a key role in the efforts to prevent another war between Israel and Hamas, and it reached a deal recently with Israel and the UN to provide $20 million in monthly humanitarian assistance to Gaza to buy fuel for the power station and provide grants to poor families.
Ahead of his talks in Qatar, Blinken spoke by phone with Israeli Foreign Minister Yair Lapid about Gaza and the Qatari role.
Palestinian Minister for Civilian Affairs Hussein al-Sheikh also visited Doha on Tuesday and met with Qatari officials on the situation in Gaza.
Go deeper