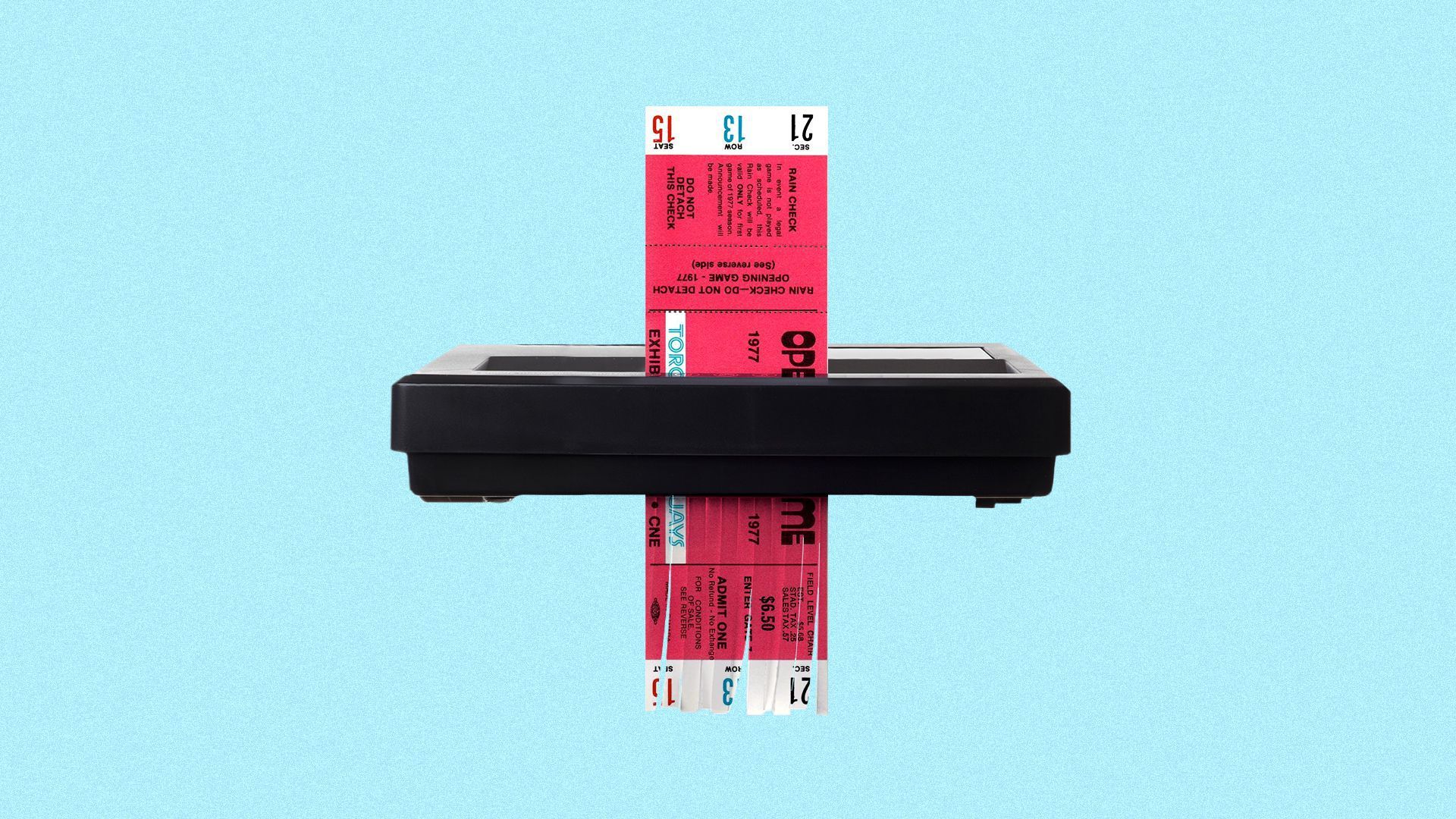 Tickets were once mementos — physical items soaked in memories and nostalgia, tucked away in attics and scrapbooks. They are now barcodes on our phones.
By the numbers: 98% of NFL fans used mobile tickets during preseason games this summer, according to the league. That's up from 67% in 2019.
67% of transactions on ticket marketplace SeatGeek in 2021 have been made on mobile, per the company. That's up from 7% in 2012.
Of note: SeatGeek's numbers represent the percentage of purchases made, not the percentage of people who used their phones to scan into events, which is likely much higher.
The state of play: 85% of Americans own a smartphone, up from 35% in 2011, so this shift was inevitable. The pandemic only sped up the process, with most leagues going mobile-only to limit physical contact.
The big picture: The benefits of digital tickets for fans range from convenience (no printer required, easy to share with friends) to security (more fraud protection). For leagues, it comes down to one thing: data.
"Rather than knowing the one person out of four who bought the tickets, they now know everyone who uses the tickets," Sports Business Journal's Ben Fischer tells me.
Knowing who is in a seat, and being able to communicate with them before, during and after the game is hugely valuable. It could also lead to more in-game transactions (i.e. ordering food with your ticket).
Thanks in part to ticket data, the NFL now has 120 million names in its centralized customer database, Fischer reports (subscription).
Between the lines: Amid this mobile migration, procuring a physical ticket can be challenging. That's a threat to the world of collectible tickets — but collectors have gotten creative, hoping to keep their hobby alive.
"People are getting tickets by pretending their phones are broken," one collector told The Athletic (subscription).
A used ticket from Kobe Bryant's final NBA game sold in May for over $40,000 at Goldin Auctions.
Food for thought ... Could digital tickets eventually become NFTs (non-fungible tokens)? What if, as a ticket holder, you got access to exclusive highlights from that game that you could collect or sell?
Go deeper