Afghanistan feeds U.S. immigration crisis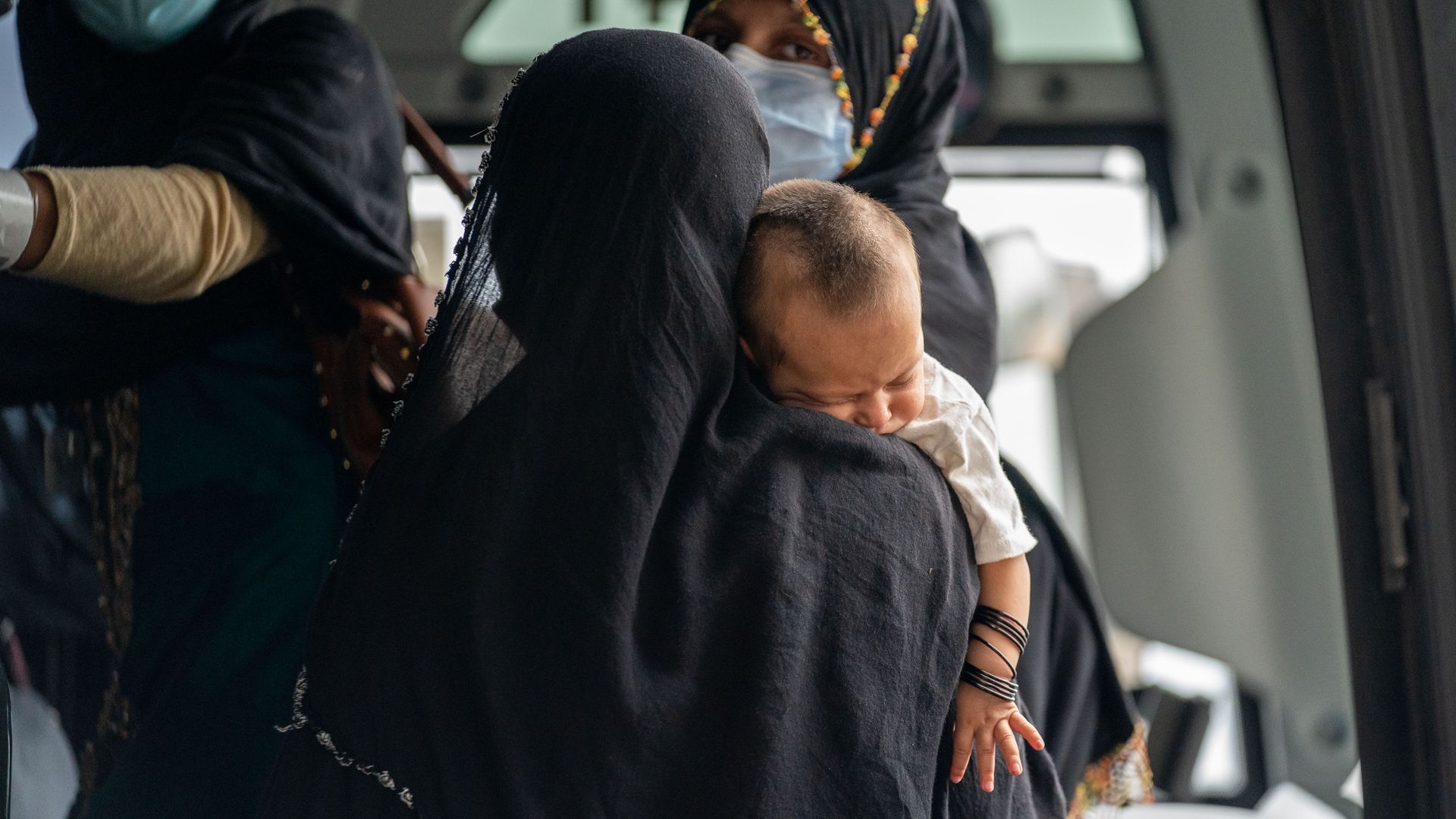 President Biden is struggling with a Gordian knot on immigration that there's little he can do to untangle: The nation's broken system is making it harder than it should be to manage the Afghan refugee crisis — and the Afghan refugee crisis is making it harder to fix the system.
By the numbers: If the military's task of adding 50,000 spots to bases by mid-September to temporarily house Afghan refugees sounds like a lot, consider that there have been more than 1.2 million undocumented border crossings since last October.
Meanwhile, pandemic protocols and disruptions have fueled so many backlogs that officials estimate that in the fiscal year closing at the end of this month, 100,000 green cards allotments could go to waste.
The big picture: The crisis around the U.S. withdrawal, fall of the Afghan government and rise of the Taliban is just the latest in a string of migration emergencies that have fallen on President Biden and brought into focus the shortfalls of the system.
COVID-19, poverty and violence in Central America, an earthquake that rocked Haiti, actions by the Trump administration and in federal courts, and agencies that are understaffed and underfunded have left the administration jumping from one fire to the next.
What they're saying: "Our resources are indeed stressed," Homeland Security Secretary Alejandro Mayorkas told reporters on Friday, adding that what they have managed to accomplish for Afghans being brought to the U.S. "speaks to the extraordinary talent and dedication" of agencies' workforces.
"The Biden Administration is committed to rebuilding the broken immigration system it inherited after four years of chaos," a White House spokesperson told Axios, adding that the administration has been "continuing to call on Congress to make long overdue reforms to U.S. immigration laws."
"Asylum and other legal migration pathways should remain available to those seeking protection. But those not seeking protection or who don't qualify will be returned to their country of origin."
Details: DHS has taken responsibility for evacuating and welcoming vulnerable Afghans to the U.S. But its agencies are also in charge of enforcing the U.S.-Mexico border, authorizing parolees and other migrants for work in the country, approving temporary visas and running immigrant detention centers.
The number of migrants and pending applications has only grown since Biden took office.
The same Department of Health and Human Services agency that has had to scramble to fund and build emergency sites for unaccompanied kids is also charged with funding services for refugees — including resettled Afghans.
The U.S. has brought in tens of thousands of Afghans using a special mechanism called parole — they join other migrants who have also been paroled into the U.S., including many who illegally crossed the U.S.-Mexico border.
Paperwork, including work authorization for Afghans and Central American asylum seekers alike, all flow through U.S. Citizenship and Immigration Services, which has long struggled with backlogs and funding shortfalls.
The long, tedious Special Immigrant Visa process likely contributed to leaving many allies stranded in Afghanistan.
An unknown number of unaccompanied Afghan kids will join the record numbers of migrant children who crossed the U.S.-Mexico border without their parents or guardians. Unaccompanied minors will be placed in shelters overseen by HHS's Office of Refugee Resettlement shelters.
But more than one in five migrant kids have tested positive for COVID-19 in recent weeks, according two government sources familiar with internal data. And HHS has lost contact with one-in-three migrant kids released from shelters.
As military bases prepare to house tens of thousands of Afghans, one base, Fort Bliss, has already been criticized for holding hundreds of unaccompanied minors in unfit conditions.
The pandemic, with its travel restrictions and consulate closures, already has disrupted the green card process, as the Wall Street Journal has reported.
Tens of thousands diversity visa lottery winners —including hundreds from Afghanistan — risk losing their one-in-a-lifetime opportunity.
Biden has also faced legal roadblocks to keeping his immigrations promises.
The Supreme Court recently ruled that the administration must restart the Remain in Mexico program and courts have also blocked Biden's deportation moratorium.
More than 45 families separated under the Trump administration have been reunified under Biden. But many have arrived in need of housing and other financial assistance.
The bottom line: The administration is working on new regulations to expedite asylum, has sped up the SIV processes, has set up dozens of emergency shelters, has used parole to quickly bring Afghans to the U.S. and has begun offering vaccines to vulnerable migrants.
But the emergencies keep coming, hitting a system in need of long-term fixes — one neglected by multiple administrations and Congress.
Go deeper