Manhunt underway for six prisoners who escaped from high-security Israeli prison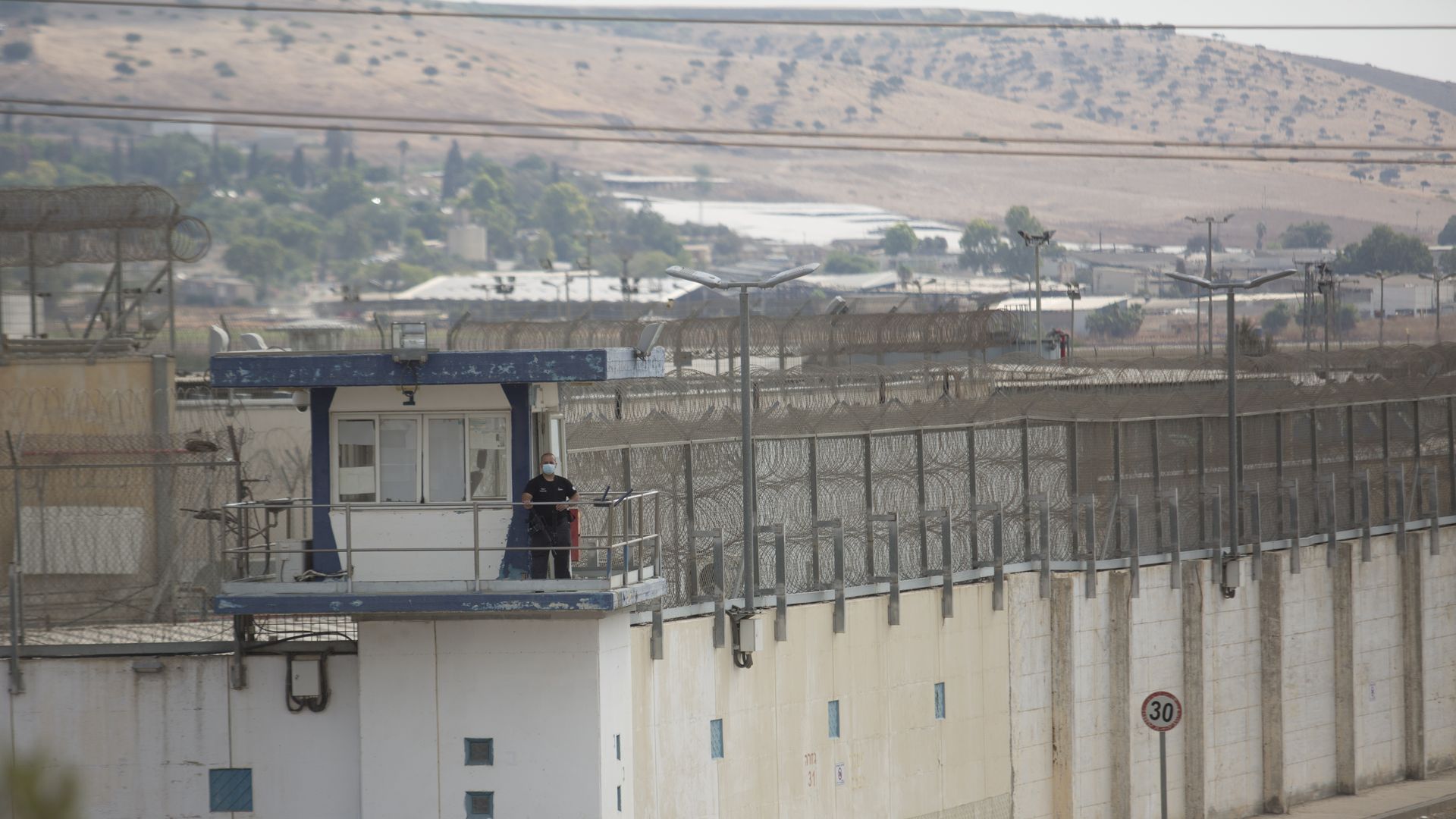 Six Palestinian prisoners — four of whom were serving life sentences — escaped from a high-security Israeli prison through an underground tunnel, launching a massive manhunt in the country just ahead of the Jewish new year.
Driving the news: Five of the six escapees were affiliated with the Islamic Jihad movement, and one was Zakaria Zubeidi, a prominent figure with the Fatah organization. Israeli officials said the prison break was a big failure of the prison authorities on the highest levels, and they are fearful of attacks or copycat prison breaks.
The Islamic Jihad military wing issued a statement welcoming the prison break and called it "a new victory over the occupation."
Hamas also praised the fugitives and said their escape is a humiliation for the Israeli security forces.
Israel's prime minister, Naftali Bennett, called it a "grave incident," according to the AP.
Details: On Sunday night around 1:30am local time, the six prisoners escaped through a tunnel that started in a pit under cell number 5 and ended 50 feet away on the other side of the prison walls.
Only an hour and a half later, first reports from farmers who spotted the suspicious men reached the police, and only an hour later, the prison guards found out who the prisoners were that were missing.
On Monday morning, a massive manhunt started to locate the fugitives. Israeli officials say the assumption is that the six prisoners had split into three groups, each fleeing in a different direction.
Behind the scenes: Several years ago, a group of Islamic Jihad prisoners tried to escape in the exact same way, taking advantage of the fact the prison was built on big concrete posts that left open space under the cells. At the time, they were caught before using the tunnel.
An initial investigation found the current escape took advantage of the same weaknesses in the building, some of which were never fully fixed. The prison intelligence had no information about any breakout plans.
On Sunday, 24 hours before the escape, one of the prisoners, Zakaria Zubeidi — a member of the Fatah organization — asked to switch cells and move to the cell where five Islamic Jihad prisoners were held.
The request was unusual but didn't raise any suspicions. All of the six prisoners were originally from the city of Jenin in the north of the occupied West Bank — only 10 miles from the prison.
Go deeper