First person: A 9/11 memory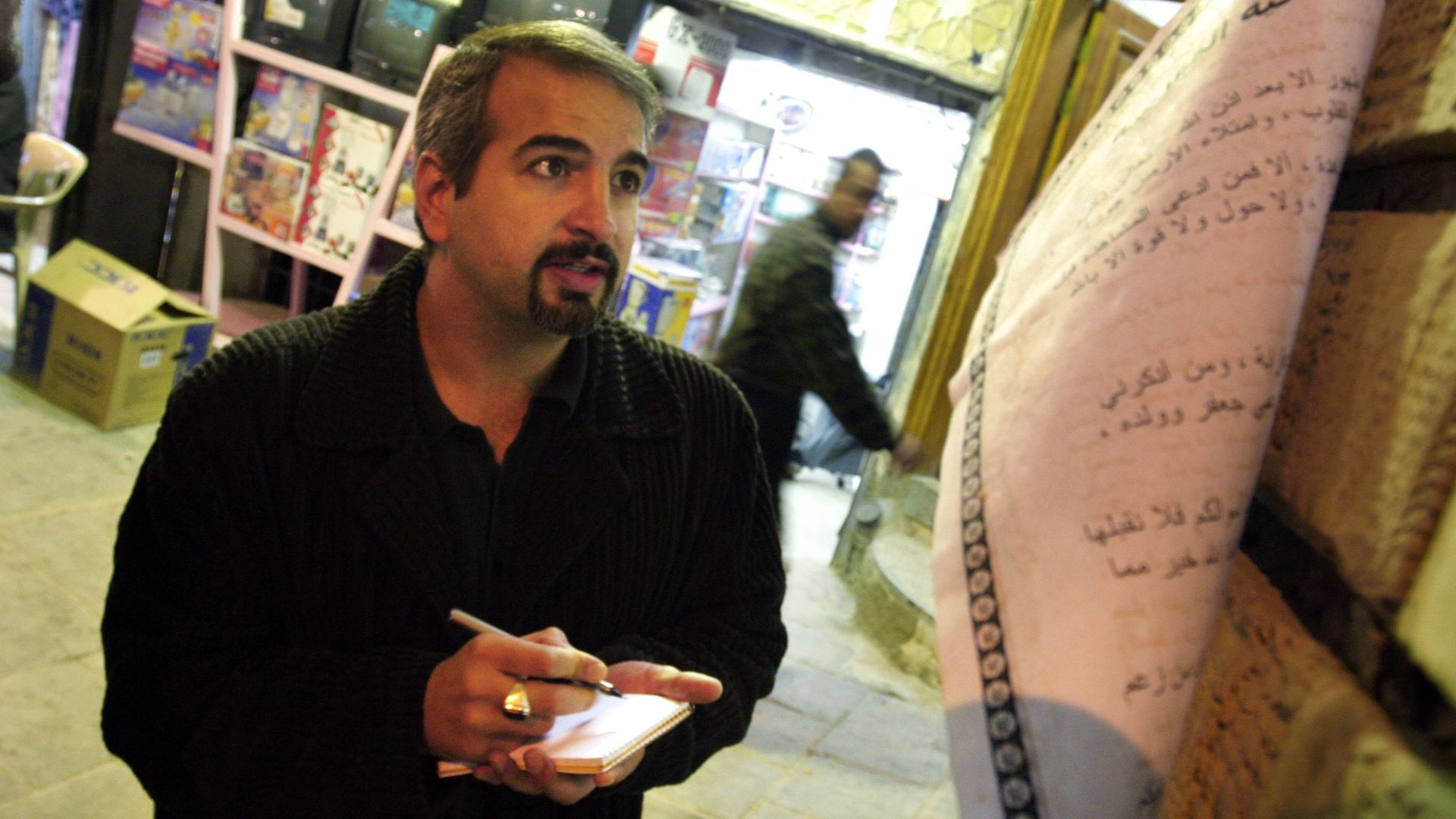 The Sept. 11 terrorist attacks changed the trajectory of many lives, from the people who died to the heroes who responded, to everyone who watched — including one journalist for whom it marked a career-defining moment.
Why it matters: As the 20th anniversary of 9/11 approaches this Saturday, Axios politics editor Glen Johnson recalls the conversation he had that crisp Tuesday morning with his then-colleague, reporter Anthony Shadid.
What they're saying: "I covered the Massachusetts congressional delegation for the Boston Globe, and when I arrived at the Washington bureau on Connecticut Avenue, I saw our assistant, Cindy Taylor, watching the TV behind her desk.
"'A plane hit the World Trade Center,' she told me.
"As a former aviation reporter, I was trying to digest the news when a second plane hit the second tower.
"Both Cindy and I knew we were no longer looking at a possible accident.
"A short time later, Anthony walked in, his ever-present work bag slung diagonally from one shoulder to the other hip.
"When he asked what we were watching, I said, 'Two planes just hit the World Trade Center. It looks like a terrorist attack.'
"Without missing a beat, Anthony replied, 'Holy sh-t. This is the biggest story of our lives.'
"His instant analysis proved prescient."
In that moment, Anthony was delivered from an ill-fitting assignment — covering New England business interests in the capital — to one for which the native Arabic speaker was bred: reporting about terrorism and Islamic news.
News organizations realized the depth and endurance of the story, and soon Anthony was inundated with offers from an array of papers.
He took one offered by the Washington Post, serving as the paper's pan-Islamic correspondent.
He was in Afghanistan as President George W. Bush avenged the attack, and convinced his editors to let him stay in Baghdad as the U.S. later bombarded Iraqi President Saddam Hussein.
Anthony won two Pulitzers for the Post before moving on the New York Times.
His transformative work as a foreign correspondent came to a sudden and sad end in February 2012. The 43-year-old suffered a fatal asthma attack while covering the Arab Spring uprising in Syria.
In January 2018, his daughter, Laila, wrote about her memory of her father — including her own recollection of his actions on 9/11, as relayed by her mother.
"When smoke poured from the Twin Towers on September 11th, it drifted through our TV and soiled the clean air around us, suffocating our suburban home," wrote Laila Shadid. "My father knew what this meant, he had to go. He was the only one who could tell the real story."
"'There's only one place that this will lead back to,' he prophesized to my mother, their eyes glued to the TV."
"Unsurprisingly, he was right," Laila wrote. "Off he went to the Middle East."
Editor's note: This story has been updated to correct that Shadid won both of his Pulitzers at the Washington Post.
Go deeper