Biden's high-stakes booster tension with Moderna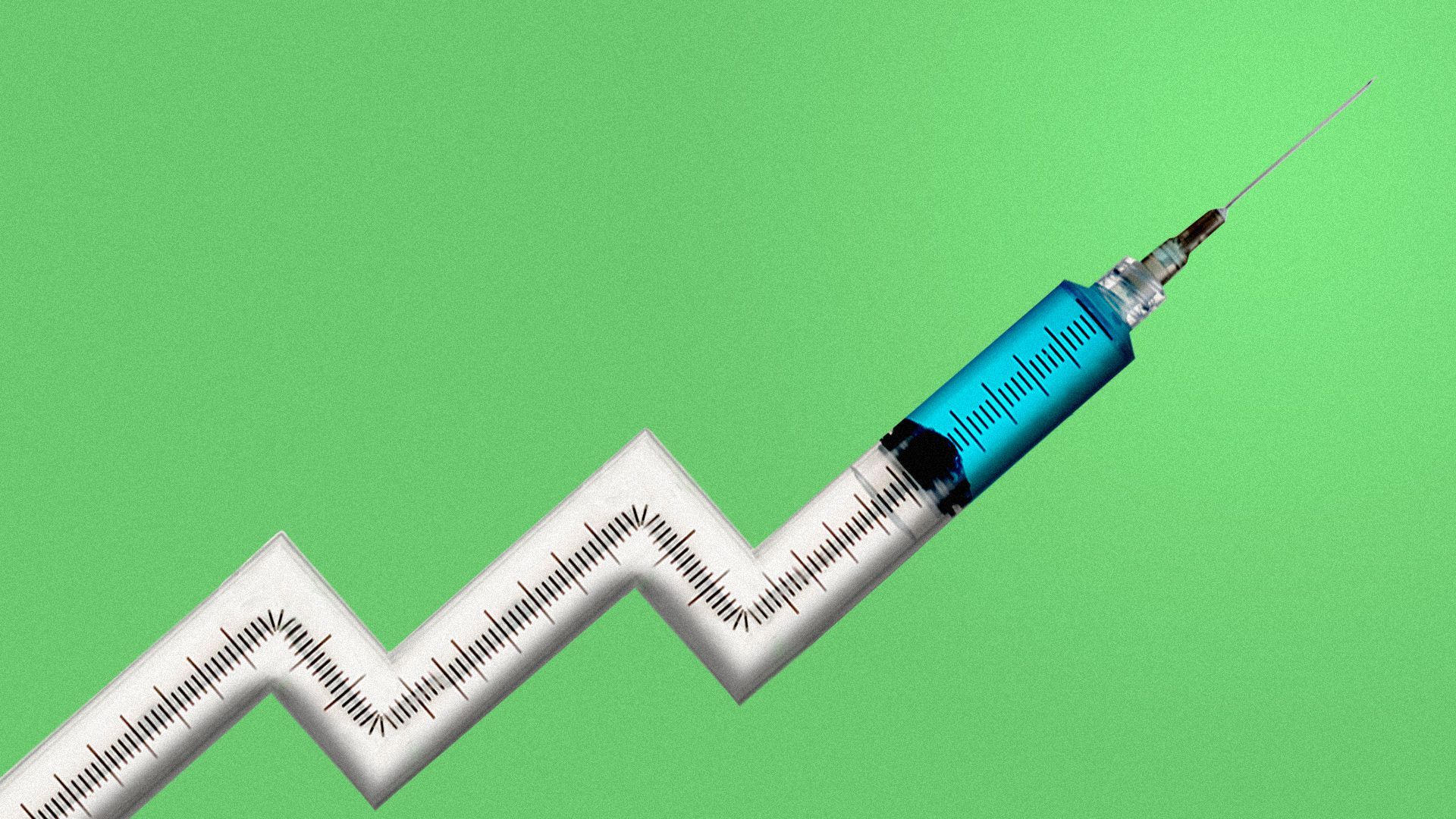 A disagreement between the Biden administration and Moderna over booster shot details has thrown a wrench in the administration's plans, and may result in the booster effort beginning with only some Pfizer recipients later this month.
Why it matters: How the dispute shakes out could have implications for the global vaccine supply chain — as well as for Moderna's bottom line.
State of play: Moderna completed its booster dose submission with the FDA yesterday, asking the agency to evaluate the authorization of a third shot of the vaccine.
But the company's submission was for a 50-microgram dose, or half of the dose included in the first two shots.
The Biden administration wants to see data for boosting with 100 micrograms as well. The FDA needs both datasets to evaluate what elicits a more durable immune response, a senior Biden administration official told Axios.
The big picture: The Biden administration's booster effort is already under fire for getting ahead of the data and for poor messaging.
The administration argues that it doesn't have any time to lose when it comes to staying ahead of the virus.
Between the lines: If Moderna booster shots are a half-dose of the original level, that vastly expands the company's global supply overnight.
That means more shots would be available around the world. But it also means Moderna could make a lot more money.
"FDA has requested Moderna to submit both. Moderna's focused only on its 50. Yes, that increases supply, but it's also in its economic interests," the senior administration official said.
By the numbers: Boosting with a half-dose bumps a person's immune response up to well above the level it was at two weeks after their second dose of the vaccine, the company said in August.
"50 [micrograms] clearly works, and it also allows additional doses to be freed up and offered in other areas," said a source close to Moderna.
Many public health experts say there's no data currently suggesting that most adults who received either the Pfizer or Moderna vaccines, outside of certain vulnerable populations, need a booster shot when much of the world hasn't had a first round.
That's because the vaccines have, so far, held up well against severe disease, even though their effectiveness at preventing infection appears to have dropped significantly over time.
Following that logic, it stands to reason that eliciting the maximum immune response may not be worth foregoing an increase to the global vaccine supply.
What they're saying: "We always said we would follow the science, and this is all part of a process that is now underway," White House spokesman Chris Meagher told the New York Times, which first reported the booster plan may be scaled back initially.
"When that approval and recommendation are made we will be ready to implement the plan our nation's top doctors developed so that we are staying ahead of this virus," Meagher added.
What we're watching: If a third Pfizer shot is authorized before Moderna, that not only complicates the effort, but could also leave Moderna behind.
"The question is whether their strategy is going to [result in] everyone moving on to Pfizer," the senior administration official said.
Go deeper